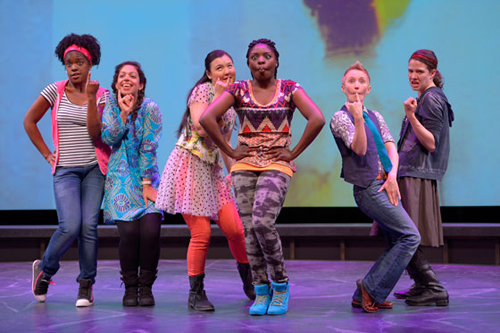 The cast of Emotional Creatures in one of the show's livelier moments. Photos by Kevin Berne
As anyone who has encountered The Vagina Monologues knows, Eve Ensler is a crusader, probably the most effective crusader of all time at using the stage as a medium for social change. That play has been translated into some 50 languages and been seen by tens of millions of people in venues as diverse as South Africa, China and the statehouse steps in Michigan. Among other effects, it has made "vagina" a word that can be freely spoken in most places.
With Emotional Creatures, which opened a few days ago at Berkeley Rep, Ensler has taken a broader focus with her evangelizing. Rather than limiting attention to issues of sexuality, she has attacked a huge gamut of abuses faced by young women. The production is one part of a crusade called V-Girls, which describes itself as "a pathway for girls to be empowered activists in their community and in the world."
Emotional Creatures consists of a series of vignettes reflecting attitudes and actions that terrorize young women, but the immensity of the show's range undercuts its coherence and power. Even as a senior-citizen male, I can recognize the very real misery suffered by high school girls who are shut out by mean little cliques of their peers, or by American adolescents who agonize over fears of becoming fat.
But I can't begin to equate those frustrations with the play's darker elements: descriptions of rape, genital mutilation and murder in Africa; of beatings and sexual abuse by relatives and police in Europe; of the stresses and threats inherent in child labor in Asian factories.
Emotional Creatures touches all those bases and more.
It has to be doubtful that Ensler puts that gamut of abuses on a par with each other, but the show delivers them as a 90-minute theatrical smorgasbord, skipping from one morsel to the next in brisk succession. All are staged with vitality or agony or wit or strength -- whatever the moment demands -- by six young women who can act, sing and move with skill.
Jo Bonney's direction, ably supported by music, dance and especially by stage-wide visual projections, never allows the proceedings to sag. Every moment compels attention, though some obviously do so with more effectiveness than others.
Some of the sketches are genuinely touching, even when the stakes don't involve physical peril. Molly Carden turns the emotional torment of an ostracized teen-ager into something we can easily feel, perhaps because it hits close to home.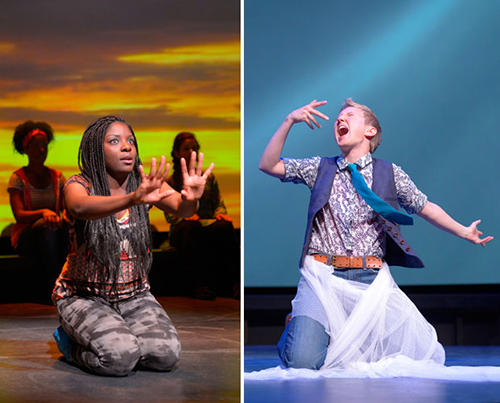 Joaquina Kalukango, left, and Emily S. Grosland offer agonized tales of young women's lives
Others are genuinely horrifying, as in Joaquina Kalukango's recitation of her list of rules for survival in a Congolese prison camp where rape is a constant facet of civil war. (Comparison with Lynn Nottage's Ruined, which was staged last year at Berkeley Rep, is inescapable: Nottage's play dramatizes the horrors of African war through the lives of well-defined characters, and leaves an indelible impact; Ensler's gives us a single girl's narration, briefly fusing terror with fortitude, but dissipating its power in the swirl of accounts that precede and follow it.)
Kalukango strikes another comparably terrible and powerful chord in her description of flight from the prospect of genital mutilation, culminating in a fierce prayer upon a mountaintop.
The production closes with a series of brief salutes to a dozen young women, from Joan of Arc to Anne Frank to 16-year-old Laura Dekker, who sailed solo around the globe a few years ago. Their accomplishments may be memorable, but their connection to the play is flimsy at best. Ensler may have wanted to end on an upbeat, inspiring note, but this one doesn't work.
Taken together, the whole of Emotional Creatures adds up to less than the sum of its parts. Despite that reservation, I'm willing to bet that it will become a huge success on college campuses and in other venues where its message and its opportunities for short bursts of emotional acting will attract a fervent following.
Emotional Creatures runs through July 15 at Berkeley Repertory Theater, 2025 Addison St., Berkeley. Tickets are $14.50 to $73 (subject to change) from 510-647-3949 or www.berkeleyrep.org.
REAL LIFE. REAL NEWS. REAL VOICES.
Help us tell more of the stories that matter from voices that too often remain unheard.