Survivors of the 2016 Pulse nightclub massacre and teen survivors of the recent mass shooting at a South Florida high school shared an emotional moment on Tuesday. 
The Pulse survivors traveled to Marjory Stoneman Douglas High School in Parkland where 17 people were killed last week by a 19-year-old gunman using an assault-style rifle. The small group of Pulse survivors were there to give support and comfort to the teen survivors.
"Y'all got this, y'all strong. Make sure your voices are heard," India Goodman, a survivor of the Pulse massacre in which a gunman killed 49 people.
The Pulse survivors met the group of around 100 students in Parkland before the teens left for Tallahassee on Tuesday to confront lawmakers about gun violence. The Pulse individuals met up with the Parkland shooting survivors again on Wednesday at a rally on the steps of the state capitol.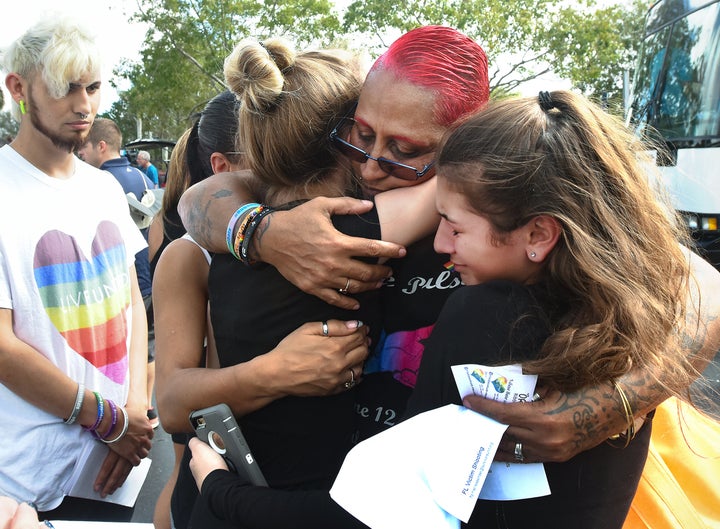 "We'll be with you guys, alright?" another Pulse survivor told the teen survivors on Tuesday. "Your voices are heard!" 
Pulse survivor Sylvia Serrano echoed that sentiment to AJ+.
"I am a Pulse survivor and we come here to show love and support to the children of this tragedy," Serrano said. "We're gonna speak loud ... We're not gonna knock on doors, we're gonna knock down some doors. And we're gonna make sure that we are heard." 
On Wednesday afternoon, thousands of protesters gathered outside the state capitol to hear Parkland survivors peak. The rally, which lasted around an hour, featured students calling for stricter gun laws and other local activists urging lawmakers to act on gun violence. 
Several students spoke at the rally including Florence Yared, a junior at Stoneman Douglas. 
"No longer can I walk the halls I walked millions of times before without fear and sadness. No longer can I walk the halls without imagining blood stains and dead bodies ― all because of the damage that a single AR-15 rifle caused," Yared told the crowd.
"The only purpose of an assault weapon like this is to kill ― and to kill as many people as possible," she continued. "I'm not trying to take away your Second Amendment rights, nor am I trying to eliminate all guns. But we cannot protect our guns before we protect our children."
Anthony Lopez, a Parkland shooting survivor and junior at Stoneman Douglas, was utterly enraged when he heard the news.
"That's infuriating. They're acting inhuman," Lopez told The New York Times on Tuesday. "The one fear we have is that nothing will change."
Calling all HuffPost superfans!
Sign up for membership to become a founding member and help shape HuffPost's next chapter