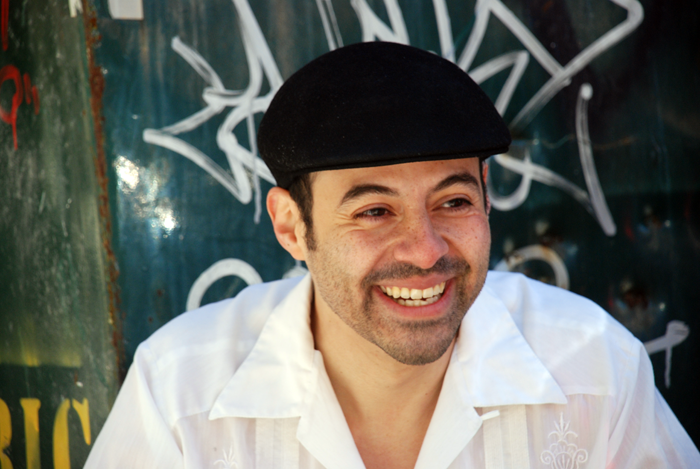 Writer/ Performer Juan Francisco Villa on his solo show Empanada for a Dream, a story about growing up downtown on Allen Street in the Lower East Side, running through 4/29 at the Barrow Group.
There is a fine but distinct difference between solo performers and one-man shows. A one-man (or woman) show highlights the individual, using the device of a first person narrative. A solo performer embodies many characters, creating narrative from others observations, interviews, memories.
Performer and writer Juan Villa has done both. Growing up on New York's Lower East Side, he presents us with the influences that make him who he is today, telling not only his story but the story of a place, time and the people that belonged to it. By acting from a place of acute reflection and empathy for the eight characters he plays, Villa highlights not only that we are changed by listening but that we have the power to change others by speaking, by repeating and sharing stories.
Full disclosure: I've known Juan for a few years, have admired his work and consider him a friend. As many gypsy performers do, we shared a Washington Heights sublet -- along with the talented singer and actress Chantel Cherrise Lucier -- for a brief amount of time. Nights were spent storytelling and philosophising over wine and questions, dreams and good food, but this story was not one that I'd heard. I asked Juan if he would like to talk about this new adventure. Here is the conversation that followed.
JODY: Tell me about growing up in NYC on the Lower East Side.
JUAN VILLA: It was relentless. Either something just happened, something was happening or something was about to happen. You had to always have your guard up. An "open neck" and you were slapped on the neck. When your buddy would point to the sky and say "Oh snap, check that out" if you looked up, you were punched in the crotch. If you flinched you were laughed at and got a "freebie" punch in the shoulder. Mind you, these are the good times of L.E.S. Now if you don't think any of those games were any fun then you wouldn't have enjoyed "The Loaisaida." (The Lower East Side.)
We would play our games in rusty abandoned buildings and chalked out pavement. In duels the choice of weapons were "yo mama" jokes so graphic and so cruel that it would make any liberal blush into becoming a conservative. The amazing food that was created in a four block radius of asbestos ridden section 8 tenement housing had more sabor y corazon than any hipster truck in any square.
Everyone looked out for each other. There was a strong sense of community. Or at least that's the way I remember it. Families were just looking to make ends meet and send money back home. Everyone was a Catholic and religion played a huge role in many decisions. No decision was yours cuz it was dictated by the G-O-D. So when things went well, you must be thankful to God and when things didn't go so well, then God was punishing you for something.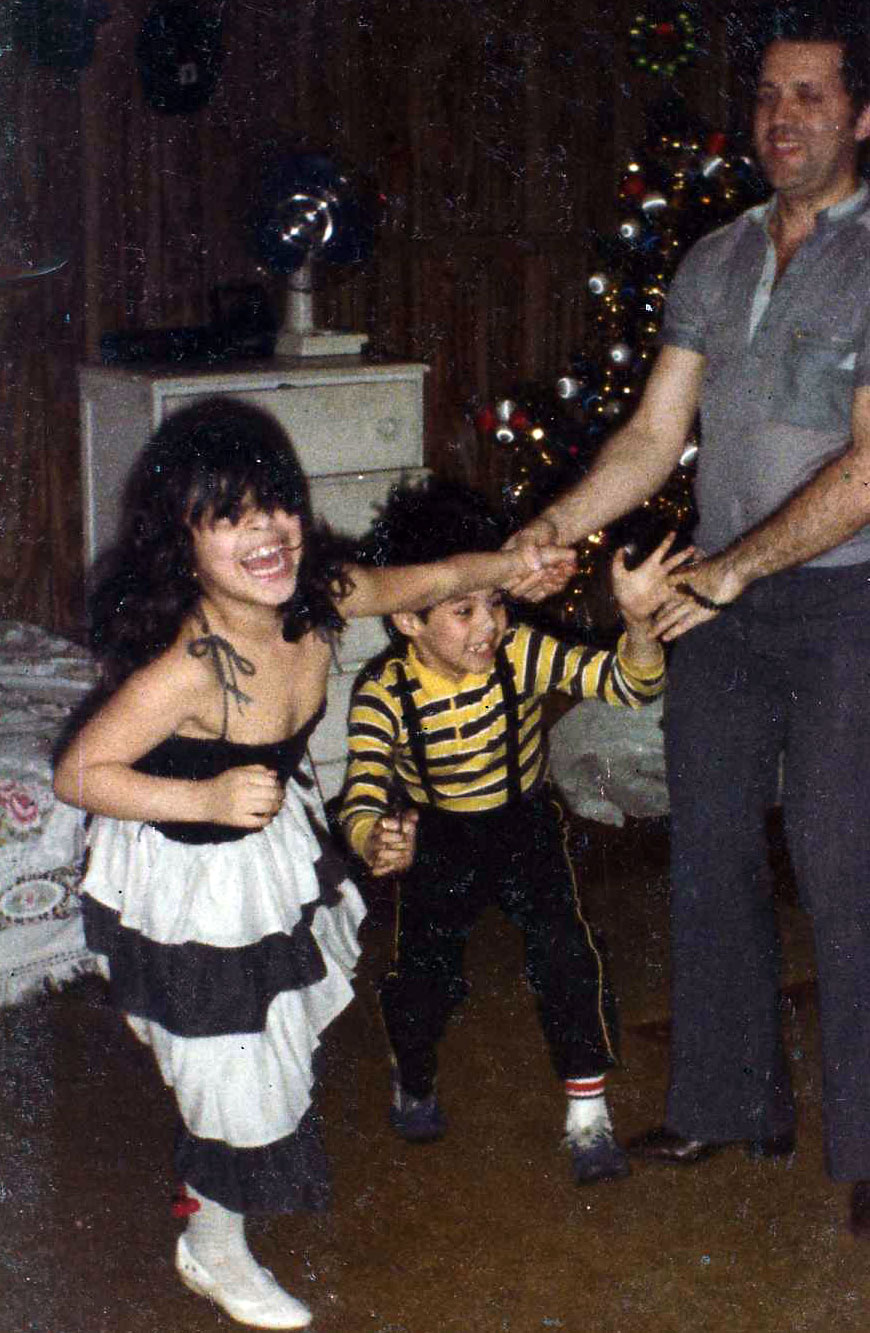 There was so much music on all of the time. Freestyle music or Latin Freestyle kept everyone moving. From the Cover Girls to TKA to Sweet Sensation to Johnny O and George Lamond, which local DJ Hairam captured in his mix-tapes. Rap and hip hop would continue that trend which was led by Double R mix-tapes sold at 555 Soul. Cypress Hill, Public Enemy, Naughty By Nature, Biz Markie, Tribe Called Quest, EPMD, Queen Latifah, NAS, Leaders of the New School, Eric B and Rakim, Salt and Pepper, Gang Starr, Slick Rick, De La Soul, Ice Cube, Snoop Dog and Dr. Dre, Tupac, Biggie Smalls, Heavy D and the Boyz, Wu-Tang Clan, Redman, Brand Nubian, and so many others. Merengue, salsa, cumbia, rancheros and Spanish reggae were also played.
But that was where the generation gap was wide. Those born here listened to English music and those who immigrated here listened to Spanish music. It was a constant battle between who gets to listen to what. There is something empowering about having your music blaring in the entire apartment instead of the solitude of headphones. This was party music meant for all to enjoy.
You always wanted to be doing something. Playing spongeball, baseball, basketball, football, Johnny on the pony, manhunt, whatever, but something. Something to enter, or get away from, or obliterate oneself in somethin'.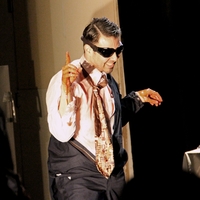 Juan pictured in Nature of Captivity by Matthew Paul Olmos at Mabou Mines.
JODY: Was there a moment that you decided to become an actor? What influenced you to go into the theater?
JUAN VILLA: I acted in high school plays and college plays so I was in theater for a while. I clicked on PBS one night and the first image was John Malkovich plastered on the screen in the messiest home I'd ever seen. Then Gary Sinise crashes on. It was True West. I was so disturbed, but like any gruesome car accident, I kept watching. I learned about the history of Steppenwolf Theater, The Goodman Theater, St. Nicholas Theater, Lookingglass Theater and other Chicago theaters. I was immediately drawn to the blue collar work ethic and potent attitude about "the work." That's when I decided to be a working actor and to leave my grown up job and head out to Chicago to live the dream. I didn't know anyone there and I was scared, but it turned out to be the best choice I could have made.
Chicago taught me that I wanted to be an actor for the rest of my life.
JODY: What's it like writing a show about your life for you? What's your process been like?
JUAN VILLA: Tormenting. I always had these stories. I was always told to write them down, but I didn't understand how writing it down would be beneficial for anyone. I was not comfortable sharing my most embarrassing stories to a room full of strangers. But before I knew it I was getting up there in age and death was looming closer. Men in my family died very young and there was no reason to believe that it would be any different for me
When I was a kid there had been deaths, which made me walk away from my family. But when I was 30 my stepfather suddenly passed away and it opened up a can of worms no one in my family wanted to talk about. I moved back to New York and back in to the apartment I grew up in to help out. It was the first time I got to see first hand how death affected my mother and my brother and sisters.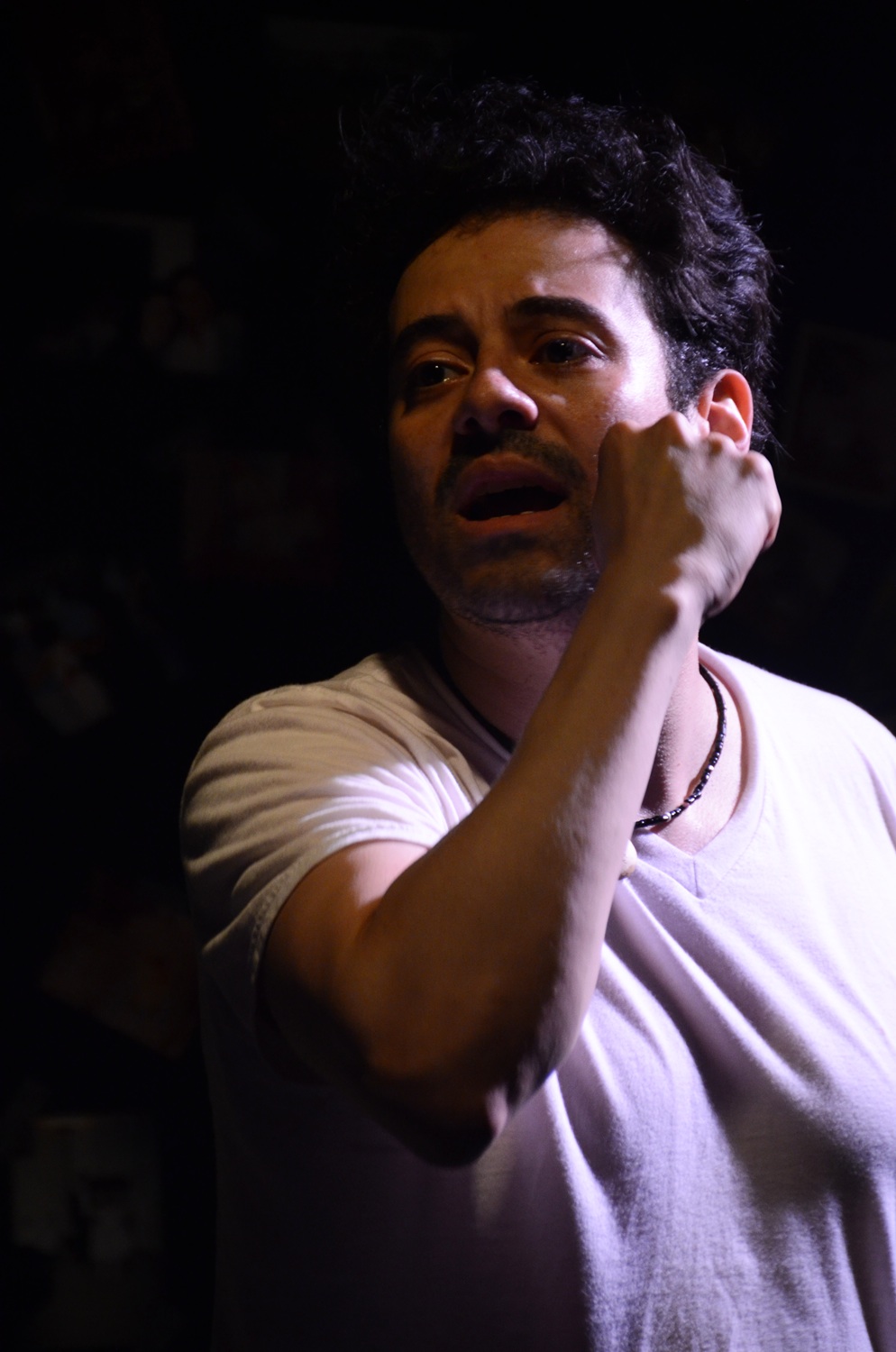 Juan Villa in Empanda for a Dream. Photo by Chantel Cherrise Lucier.
My process has been very fragmented artistically and emotionally. I am figuring it out as I go. Lots of questions. What are the facts about what happened? What is the story of what happened? Does this event serve the overall story? Does my family remember it the same way? Will my family still be okay with me sharing this with the public? Will I be feeding the image of a downtrodden, crime filled inner city Latino? Is it too high brow? Is it too low brow? Can you shake a curse and create your own destiny?
With Empanada, I started with 10 straight mornings of journaling the minute I was awake. That is the major thread of the play and heart of it all. I took a couple of writing classes with April Yvette Thompson on storytelling. The most complete story in the play was written and finessed in her class. I've been cleaning it up thru improvising and just asking and answering actor/dramaturgical questions of the script. Joe Minoso directed me in the 2010 Chicago Fringe and now Alex Levy will direct Empanada in New York. Both are very close friends of mine from Chicago whom I respect as people and as artists. A lot of progress has been made in the past 6 weeks, but that is only because I was ready to continue digging into my memory banks. That can be tough.
I am not writing a memoir for people to privately read or a blog for people to privately view. I am writing it to be performed out loud in front of different people at each performance. There is no denying how they will feel about what I am saying and how I am saying it. There is no hiding. It is the scariest thing in the world, but that is why I am doing it.
JODY: Is this a one man show or a solo show?
JUAN VILLA: I would lean towards it being a solo show with one man show tendencies. I am doing it because I have been wanting to tell these stories for a long time. I wanted to honor the people in my family and people from my neighborhood who were major influences in my life. These were people who lived life to the fullest, but life tested them on their choices. They either gave up, got beat down or persevered. They have never left me. They are legends in my family. My family has a sort of mythical quality due to factual events that are in the play and a lot that are not in the play. Now that I think of it, I would say that I am a storyteller with Empanada For A Dream.
JODY: I know you are a fan of John Leguizamo's Freak. Can you talk about this influence and how your show is unique?
JUAN VILLA: John Lequizamo blazed a trail for latino artists and especially solo performers. His early work was all character driven solo shows then from Freak on, it morphed into a more narrative driven one man show form. I believe Freak is his best work to date because it has an amazing balance between the two. I was lucky enough to get 'The Works of John Lequizamo" as a gift. It went from Freak to Spic-o-rama and from Mambo Mouth to Sexaholix. Reading it caused me a lot of anxiety and filled me up with fear. He had perfected a style. He had perfected characters. He had captured storytelling in its purest form. Why should I bother writing if my work could never be as poignant as his stories, I thought. But then it was freeing because it made me be honest with myself on why I wanted to do this. I would not have been able to write this when I was younger. I was too afraid to fail. Now it's not about failing, it's about honoring.
JODY: If you could have anything come out of this run, what would it be?
JUAN VILLA: I would love to get into the mentorship program at Cherry Lane with John Leguizamo as my mentor. I would also like to be able to take part in the soloNova festival curated by terraNova. That would be great. I am also a big fan of The Hip Hop Festival. I mainly want another life for this show. I would also like to help develop other people's solo shows. Everyone has stories and I think everyone should take a stab at it.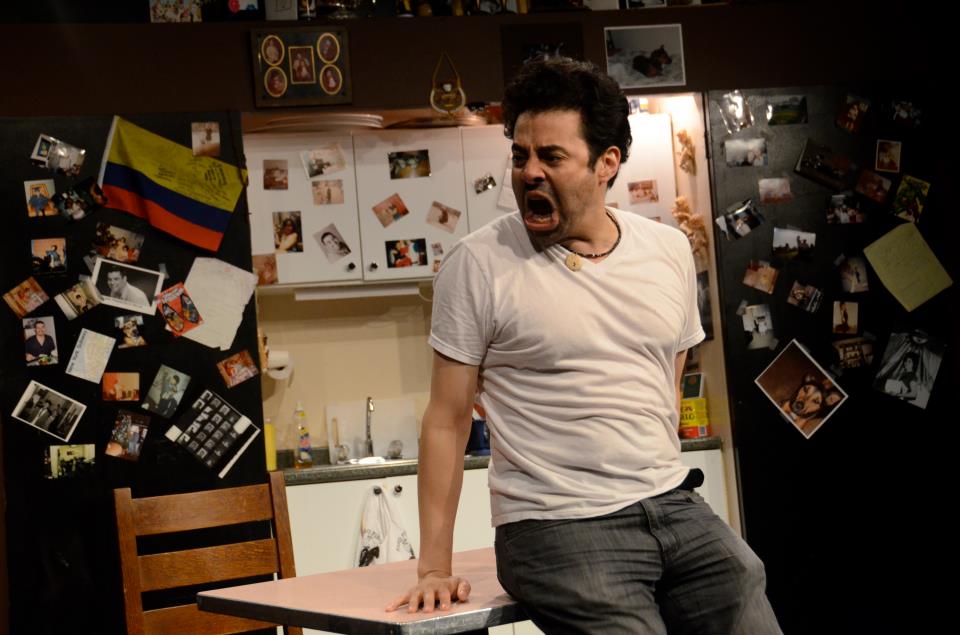 Juan Villa in Empanda for a Dream. Photo by Chantel Cherrise Lucier.
JODY: Advice for others who are writing solo shows?
JUAN VILLA: Just do it. Seriously, just do it.
We can talk in circles as to the reasons as to why you shouldn't, but in the end the reason it is even on your mind is because you really want to do it. The only thing that is stopping you is fear. So just do it.
Buy some wine, beer, coffee, tea and invite some friends over so you can read it in front of them. Share the words so that momentum is being built and before you know it you will have a 20 minute show, a 45 minute show, then a full 60 minute show.
Watch other solo shows. I love watching solo shows. I learn so much.
Be honest with yourself and your thoughts. The more specific and honest you are then the more we will listen and want to understand.
Do it wrong. There is a great exercise that Ruth Maleczech (of Mabou Mines) teaches where you do your monologue the way you think it should be done and it usually is very tame, reserved and uninteresting. She then has you do "wrong acting" with your monologue and it is immediately free, alive and engaging. I say do that with your solo show. You can always cut back. Pushing the boundaries will help you find how far you can go.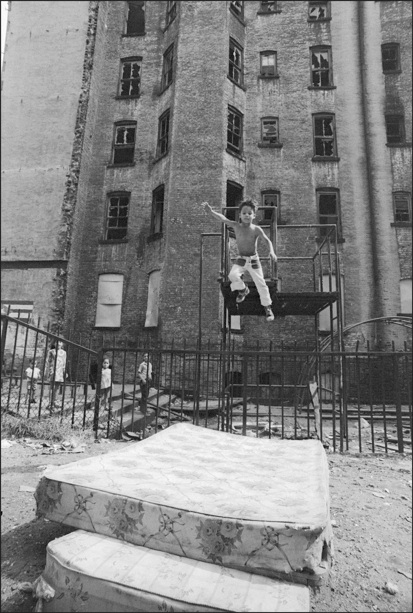 EMPANADA FOR A DREAM: A new play written and performed by Juan Francisco Villa and directed by Alex Levy at the The Barrow Group Studio Theatre in New York.
Popular in the Community