One of the standout moments on last night's episode of "Empire" was the reveal that Gabourey Sidibe's character Becky has a love interest. In a playful, racy scene we find Becky and hip hop artist MC J Poppa (actor Mo McRae) having sex on a rooftop.
The raunchy moment generated a slew of memes last night, one of the most popular was a screen cap with the caption, "Damn some of you people can't even get a text back."
The implication is that someone who looks like Sidibe -- a fat, dark-skinned black woman -- shouldn't be able to have sex with anyone, let alone a man who looks like J Poppa.
Well, that's ridiculous. The reactions were just further proof of why we need to see more women like Sidibe portrayed as sexual beings on television. Pop culture has led us to believe that sex -- and love -- is reserved for thin, conventionally attractive people. But that is in no way real life. Despite what Hollywood would have us believe, fat people in the real world are more than just "sassy big women" or food-obsessed slackers. Shockingly, they are living, breathing human beings who have the capacity for sexual desire just like everyone else.
That's why that moment, however brief, was incredibly important. What's pivotal about the scene is that it's one of the few, badly needed depictions of fat women being sexual and desired on screen. So often, the sexuality of fat women in movies and television is played for laughs (think Melissa McCarthy in "Bridesmaids," or Rebel Wilson in "Pitch Perfect"). But what exactly is so funny about a woman unapologetically getting hers, no matter her size?
So in spite of the haters, kudos to Sidibe and the "Empire" writers for reminding us that, yes, fat women have and enjoy sex, too. Because, duh.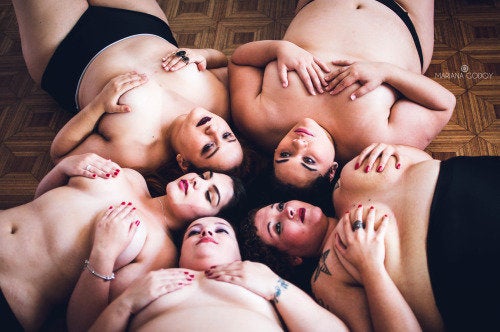 Mariana Godoy's Fat-Positive Photo Series
Popular in the Community