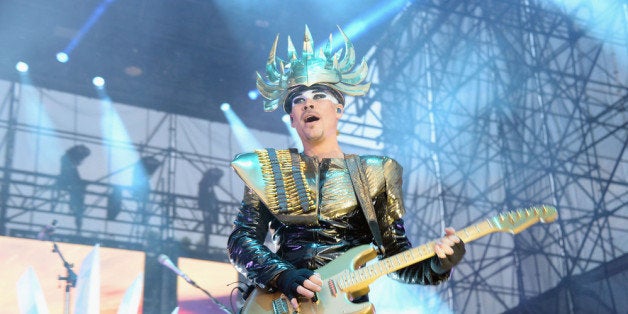 Not even Beyonce can compete with ten-pronged metallic headdresses, a smattering of rave-ready face paint and a genre of music described as "sci-fi synth pop." No, those theatrical assists belong to Empire of the Sun, the Australian electronic music duo comprised of longtime collaborators Luke Steele and Nick Littlemore, who took the stage just after dark at Jay Z and Budweiser's Made in America Festival on Aug. 31 in Philadelphia.
At the end of the 50-minute Made In America set, Steele, the only touring member of the duo, clasped hands with his stage performers and faced the tens of thousands screaming fans. Together they took a bow, as if ending a magic or circus act.
Steele opened up to The Huffington Post about the lag time between records, flying onto stage in a helicopter and a secret single he's been working on for Janet Jackson.
Your act was very much made for festivals. What do you think is the difference between playing your music for a festival and a concert?
You have to be a festival-ready band if you're going to call yourself a live act, really. It's like how I've been brought up. You've got to be able to accommodate your music to all kinds of situations. It's an easy opportunity to reach thousands of people who might be there to see someone else.
You have such a strong fan base that dresses up and wears face paint in order to emulate your look.
That's what we encourage people to do -- to make art and be imaginative and believe in the beyond. That's what a festival is about, to kick your heels up and do some dancing and have a party, you know. Celebrate.
How does this tour feel different than the last time around? It took you 18 months to get back on stage.
It's more professional. Now we're really quite focused on every detail of the show more than ever, down to lighting, smoke cues and the music as well. I think I'm singing better, coming up to a year of not smoking.
Why did you quit?
I couldn't breathe anymore. You know the band's moving, cracking America and the world. Once you finish a record it leaves home. It leaves your house and you can't control her. The record is flying and running all across the world so that's different.
Yeah. What kind of stamina have you picked up from "Ice on the Dune?"
It's a tough record to promote. It's real tough because nothing worked how it should. It's a process. We had to search for the songs. We needed to become world citizens to do it. Some of the record started in New York City and then we had to travel those songs all around the world and they'd end up being finished in Los Angeles five hours away.
Did any of the places affect the music?
Yeah they did. It's probably almost always a paradox. When we started in New York in downtown studios in a tiny little room and it was winter, all we were writing about was California.
How come? You missed it?
Yeah. But then again you're in California and it's such a beautiful place to write music because it's always so sunny and a gateway to the world, that place, with its artists and music and so you're always kind of inspired.
What were people were expecting after your last record?
We had a lot of big fans from presidents to Jay Z to actors to writers to fitness instructors. We had a really big impact on people with the first bunch of songs. When you hold a big responsibility you have to live up to it.
Which presidents are fans of your music?
Heaps of them. Presidents all around the world.
What's your relationship with him like?
(Laughs) I don't really hang out with him. He's pretty busy.
Your shows feel like performance art at times. Do you feel that there's an artistic pressure to give the audience something very specific based on your music and your look?
I think so. We're trying to deliver what we first promised. It will probably take 10 years to get there, though. We want to deliver animals, elephants on stage and tigers in cages, flying in a helicopter, like a kid's show or something. That will come after a few more records, probably. Some people say why don't you and the other guys take all the money and go to Hawaii. But that's not the point. We put everything we get from what we make into developing this experience and always do that.
What do you think you want to convey with all the animals and the costumes? Is there a central point to this?
We just want to blow people's minds really and create something that's never been done before. I think just that, we want to accomplish a wild time.
Has this summer's tour lived up to that?
It's been amazing, it really has. We just played a park in Salt lake City for 20,000 people. Who woulda' thought we had 20,000 fans in Salt Lake City? We're taking this baby to the top.
What does that mean, "to the top?"
I don't know. It just keeps moving. I guess to have the best show in the world.
What can we expect in the future? It took a long time for this record and tour to come together.
I want to start collaborating. I've been in retirement from collaborating for about a year so I want to start working a lot more female vocalists and maybe go to Japan and Korea and record with some of the girls there. I want to start my blues band, bring back The Sleepy Jacksons.
Do you have any specific women in mind?
I'd love to collaborate with Kylie Minogue, Beyonce. I've been writing this song for Janet Jackson for about two years. It's just totally Janet Jackson.
Do you have plans to release it soon?
Yes, but I got to meet her first and play her the song. She doesn't know about it. It doesn't even have a title yet. She's hip and sexy and all the good things. Soon though.
Before You Go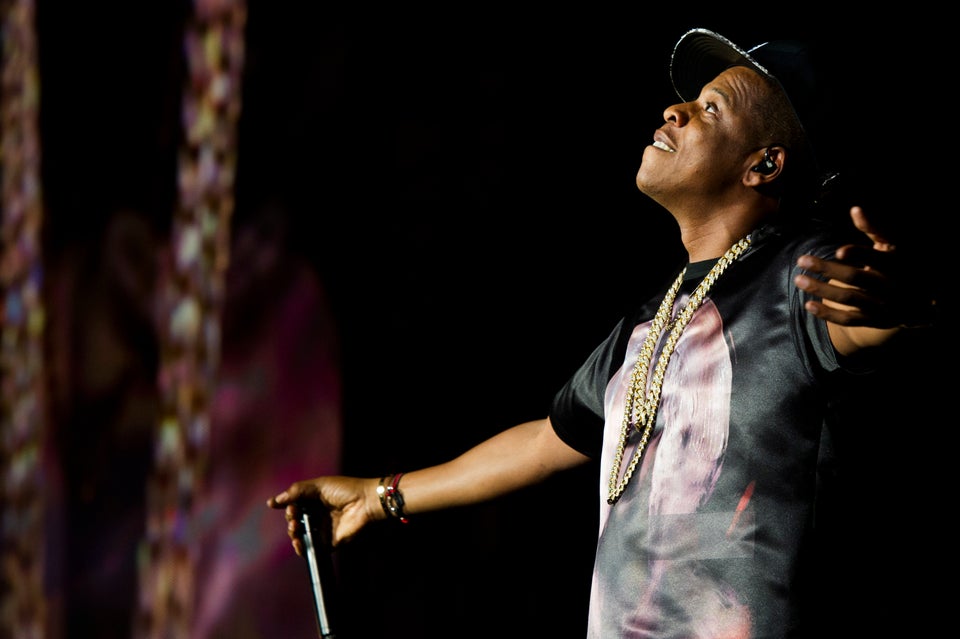 Made in America Music Festival 2012
Popular in the Community