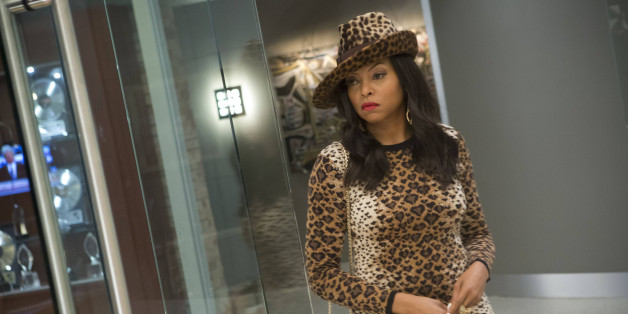 "Empire" is being marketed as a bold, original show from high-profile artists, but it feels strangely tentative in its first episode.
And if I may digress for a moment, it's very frustrating that Fox only sent one episode of the drama, which stars Taraji P. Henson and Terrence Howard as feuding exes who founded an entertainment conglomerate.
For a long time, the broadcast networks often only sent one episode of a new show to the media, though there have been an increasing number of multi-episode exceptions in the past few years, I'm glad to say. Critics sometimes try to make their best guesses about a show's worthiness based on that initial episode, and that's not an invalid way to assess TV (I've certainly done it). But in this day and age, it's intensely frustrating to be forced into that situation when networks very likely could send more episodes but choose not to. Fox announced that it picked up "Empire" last May, and it's simply preposterous to imagine that there aren't multiple episodes that are completed, or completed enough to show the media (it's never a problem to watch a nearly-finished cut, or a cut with temporary special effects, and the latter wouldn't be a factor with this kind of show).
To be clear, Fox is not alone in this practice, and -- regardless of who does it -- it's an increasingly inexplicable way to drum up interest for new shows arriving in a very crowded marketplace. Pilots are notoriously fussed over and have a lot of set-up business to attend to; seeing even one additional episode can give critics a much more concrete idea of a given show's strengths, weaknesses and overall direction.
Let me be clear, this is not about critics wanting special perks, or trying to impose an ironclad rule on the promotion of all shows. This is about those who cover TV trying to do their jobs in the most responsible and informed way. Generally speaking, the more episodes we get to see in advance, the better.
In a world where entire seasons materialize all at once on streaming services and in which cable networks and PBS often send multiple episodes (if not entire seasons), the one-episode approach is almost impossible to justify, except in rare instances. The withholding is almost comical, honestly. As other critics have noted, there is an enormous amount of television programming coming down the pike these days; there's just far too much to watch and assess, all the time. TV critics and writers have to use triage to decide which shows to write about, and for me, only getting one episode increasingly means that I don't write about a show in advance. Thus shows that are stingy with episodes may just fall off my radar altogether -- which is maybe the point? And therein lies the comedic aspects of this whole situation -- major TV networks are making content that they don't necessarily want people to write about? Well, okay then.
At this point, honestly, there's something a little furtive and strange about only getting one episode -- it makes me wonder if something is off. When a show has been in production for some time but only sends the pilot, it's difficult to resist the assumptions that (1) subsequent episodes aren't very good or (2) the network doesn't truly believe in the project. Even if that's not the case, hoarding episodes without extremely good reasons doesn't send a positive message. And I will end this rant with a heads-up for regular readers: Allowing for the occasional exception, if I only get one episode of a program, I'm likely not going to write about it until later in its run -- if it has proved worth writing about at all, that is.
All right, enough with that digression. Before I get back to "Empire," I want to briefly mention "Galavant," another musically themed show that debuted this week (and for the record, quite a few episodes of the half-hour comedy were made available in advance). As I explained in one of this week's Talking TV podcasts, "Galavant" is not my cup of tea, but I'm glad it exists. There are those for whom a light-hearted musical comedy about knights, quests and princesses is just the ticket, and if it works for some viewers, that's great. I didn't think the show was particularly clever, entertaining or memorable, and some members of the cast are unfortunately bland. Still, I'm glad ABC took a chance on something risky and moderately offbeat.
The trappings of "Empire" suggest that it's a risk-taking enterprise, but in many ways, the drama feels strangely inert, as if the creative parties involved couldn't quite agree on a vision for the show and ended up settling on a least-common-denominator version of it. Henson is the most volatile and charismatic presence on the show; she plays Cookie Lyon, the ex-wife of Lucious Lyon (Howard), who helped found a music business that grew into a huge multimedia empire. Unfortunately, Cookie sat out the company's rise in prison, and it emerges that she took the fall for activities she and her husband were both responsible for.
Once she's sprung, Cookie wants to get back what she's lost, and she also tries to connect with her three sons, each of whom entertains the idea of succeeding Lucious as the head of the company. The sons also struggle for their father's approval -- especially Jamal (Jussie Smollett), who is gay -- and between the boardroom drama and the dysfunctional family dynamics, the show certainly does not lack the elements that should, in theory, make a prime-time soap opera work. Unfortunately, the storytelling in "Empire" is often bland and stilted, and it's also surprisingly unimpressive on an aesthetic level. It has none of the assurance, wit or energy of "Scandal" and "Jane the Virgin," and doesn't have the zip or polish that "Nashville" and "Revenge" had at their best.
Those shows all proudly to built on the traditions of the soapy TV melodramas that aired in the '80s and '90s, but even as they commented on the genre's conventions, they added edge and subversive elements to those tropes. "Empire" simply doesn't have that kind of knowing self-consciousness; it takes itself very seriously as it tells a story that is chock-full of stock characters and predictable cliches, and the results are mildly stultifying.
Through sheer force of will, Henson livens up every scene she's in, and Howard gives a credible performance, but the rest of the production often feels muted and rote. Lucious should be a galvanizing, charismatic presence, but in the early going, he is not, and there should be some suspense regarding Lucious' sons and the "King Lear" scenario, but it's hard to care about who'll take over some generic company (unless it's Cookie). Lee Daniels, who co-created the show with Danny Strong, directed the pilot, but none of the dramatic moments or musical numbers land as hard as they should. The music by Timbaland is reasonably good, but, as was the case with the rest of "Empire," I was hoping for more. With this talent lineup, it's not unreasonable to want great things; "acceptable" is not the adjective I was hoping to use.
"Empire" airs Wednesday at 9:00 p.m. ET on Fox.
Ryan McGee and I discussed "Empire," "Downton Abbey," "Galavant" and "Agent Carter" on the first Talking TV podcast of 2015. The podcast here, on iTunes and below.
Calling all HuffPost superfans!
Sign up for membership to become a founding member and help shape HuffPost's next chapter