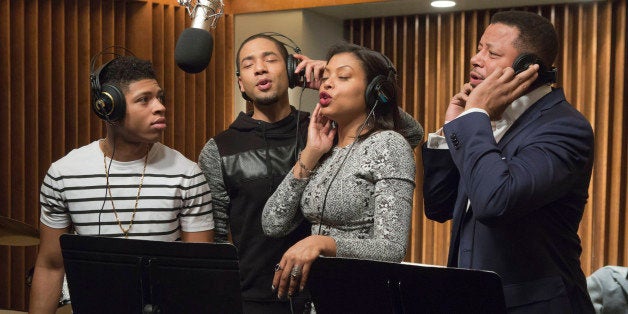 Just nine episodes of "Empire" have aired and it's already the biggest network drama in five years, raking in numbers that haven't been reached since a 2009 episode of "Grey's Anatomy." Created by Lee Daniels and Danny Strong, "Empire" -- which, for the uninitiated, is about an entertainment conglomerate on the verge of an IPO and the dramatic, maniacal family who runs it -- is also positioning itself to succeed in the real-life music industry.
Longtime producer Timbaland serves as music supervisor, and with the help of his protégé, Jim Beanz, he's made "Empire" a hit factory. Season 1's soundtrack drops Tuesday and features 18 original songs. The show's Spotify account lists dozens more that didn't make the cut. There's even talk of taking the show on the road, a la Fox's other music-heavy show, "Glee," and touring with the cast's stars.
There's no critical consensus as to whether the music is actually good -- some tracks are corny and calculated, others are straight-up bangers -- but it's undeniable that "Empire" is sitting on pot of gold. According to Beanz, whose given name is James David Washington, Daniels or directors will give notes on what the songs should sound like, to help convey a feeling or plot point. "Music for television is absolutely different than music for radio," Washington told The Huffington Post. "The idea for the songs can change at the drop of a dime."
To break down some of the tracks on the "Original Soundtrack From Season 1 of Empire," HuffPost Entertainment spoke with Washington and Bryshere Gray, who plays the youngest Lyon, Hakeem, and also goes by his rap moniker, Yazz the Greatest. (Beware of spoilers for Episodes 1-9.)
"They wanted basically Hakeem's version of Lil Wayne's 'Lollipop,' a hip-hop song that has a crossover feel," Washington said. "A little bit suggestive but not too much where it couldn't be played on Fox. That was where the idea for 'Drip Drop' came from. It was my rendition of what Hakeem would have came up with." With lyrics like "Drip drop, drip dripity drop," it's catchy as hell. "It's relevant to the the hip-hop of today," Gray said.
Washington, producer Justin Bostwick and actor Jussie Smollett, who plays middle son and R&B star Jamal, wrote the track for Gabourey Sidibe, who plays "Empire" patriarch Lucious Lyon's assistant, Becky. "We were talking about how when it comes to beauty, it's from the inside out," Washington said. "We had a lot of the words and lyrics and we just took from our relationship with her. We definitely wanted it to be an uptempo record and at the same time, something you could play at BBQs and cookouts, something along the same lines of 'Blurred Lines,' which could relate to the old and the young."
It's also a pivotal song, plot-wise, and becomes Jamal's coming out anthem as he changes the lyrics from his father's previous version to his own: "When a man loves a man."
"That note came from [director] Sanaa Hamri," Washington said. "They wanted a part that was gender specific that would be able to be understood that it was his coming out moment. At the same time we did that record, I also had to do the '90s version with Terrence Howard. So they had to have the same words and make it sound like it was done from a different time period."
"That came from a situation I was going through and oddly enough, it happened to play right into the storyline," Washington said. "It was a record that had to be a duet between the brothers. It had to show how they had each other's backs. But, at the same time, they were a force in their own genres of music." The track is one of Gray's favorites because it brings the brothers closer together. "It's a real sentimental song because we don't know who killed Bunky," he said. "It just felt like a big song for Hakeem and Jamal."
"'Good Enough' was one of the first songs I did with Timbaland for the pilot episode," Washington said. "That direction came straight from Lee Daniels himself and in the beginning process he would call me and tell me exactly what he wanted the songs to be about. 'Good Enough' was the first record establishing within Jamal's life he was never good enough for his father to accept him."
"For 'Keep Your Money,' they wanted a record that was associated with something Jamal would sing to his father in reference to, 'I don't need your money. I'll make it regardless,'" Washington said. "At the beginning of the song, it's my voice and Sanaa's voice, sounding like a backyard fight or something."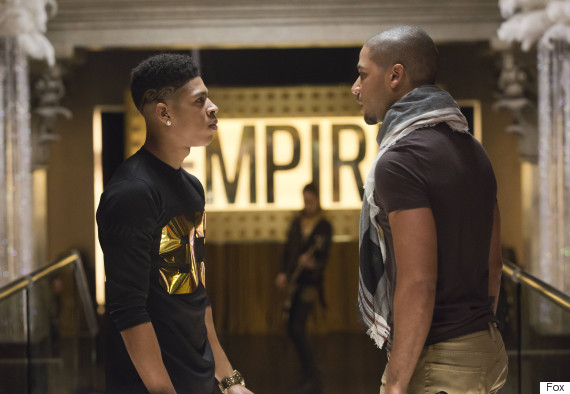 "Power of the Empire," hasn't debuted yet, but according to Washington, it has the potential to be bigger than "Drip Drop." "It has very strong wordplay and it's actually supposed to be something iconic, the kind of record you'd hear from Kanye," he said. "Even the title of alone, you can see it must have a lot of strong lyrical context to make sure it comes across in the episode."
"Conquerer" first appeared on Estelle's album, "True Romance," but "Empire" worked it into a duet for Jamal and Delphine (Estelle) to perform. Washington produced the new vocals to turn it into a male-female power ballad perfect for Delphine's entree into the Empire family.
Washington wrote "Remember the Music" for Jennifer Hudson to sing during her arc on the show as a musical therapist who helps the oldest Lyon son, Andre (Trai Byers), after a manic episode. "I had no idea what 'musical therapist' meant," Washington said. "I had to brainstorm and it was really bothering me. I said to myself, 'What if a musical therapist is simply a therapist who is musical?' I wrote it from a standpoint of a person who is teaching someone how to play an instrument."
Hakeem lets loose on this acidic rap, laying into his anger after finding out his girlfriend and Empire star Tiana has a relationship with a female model. According To Washington, Gray came to "Empire" with the track and his confidence in it shows. "I guess he had gone into his own archives," Washington said. "He felt most connected to it."
"Whatever Makes You Happy"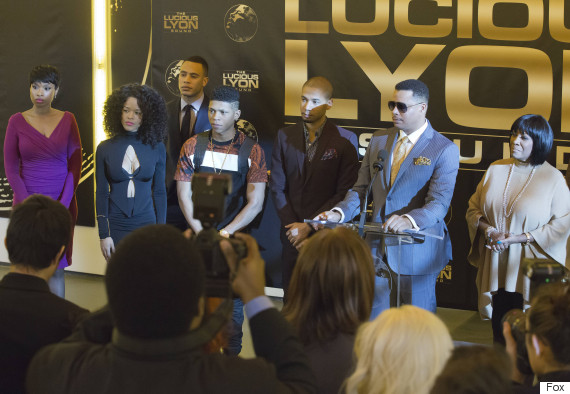 "This was actually a song I produced for Jennifer Hudson for her album that didn't make it," Washington said. "I had no idea she would actually be singing on the show. I thought she was just going to be acting, but they ended up calling me, saying, 'Hey we really need a song for Jennifer.' I thought this song had perfect lyrical content, the perfect message to fit the show. I sent a version of it in with me as [fictional rapper] Titan rapping on the bridge and then they told me they wanted to try Juicy J on it. So it's actually Jennifer ft. Juicy J."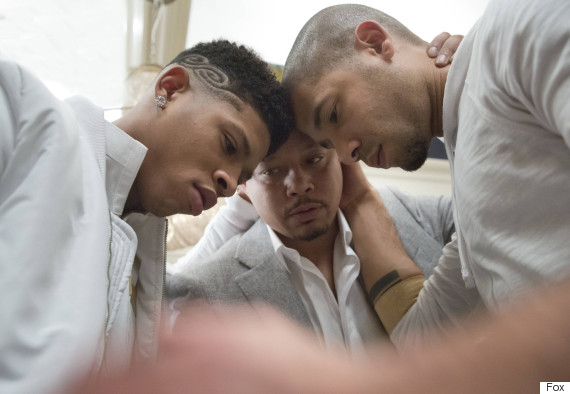 "I wrote that very early in the process," Washington said. "They called me around the end of the shooting of the show and they said they wanted to use it in the finale. I actually forgot about the song, but it's going to shock a lot of people with who's featured on it." The track will be played for the first time during the show's two-hour season finale, airing March 18.
Calling all HuffPost superfans!
Sign up for membership to become a founding member and help shape HuffPost's next chapter
BEFORE YOU GO
PHOTO GALLERY
Empire Season 1