The new Philips Color Kinetic lighting system, according to a press release, allows "customized light capabilities from a palette of over 16 million colors in limitless combinations along with effects previously not possible such as ripples, cross-fades, sparkles, chasers, sweeps, strobes and bursts. In addition to greater control and management of the lighting, the new computerized system will deliver superior light and vibrancy levels in real-time, unlike the previous floodlights."
"The Empire State Building has always been a symbol of what's possible in New York," said Alicia Keys of the show. "And all the dreams that can come true in this city that never sleeps. I'm so excited to unveil the new tower lights that are going to illuminate the city below like never before—shining bright with inspiration. As a proud New Yorker, I'm so honored and humbled to be a little part of its history."
The show was synchronized to the songs "Girl On Fire" and "Empire State Of Mind."
Check out a video from Hoboken below, and some photos.
All photos courtesy of the Empire State Building.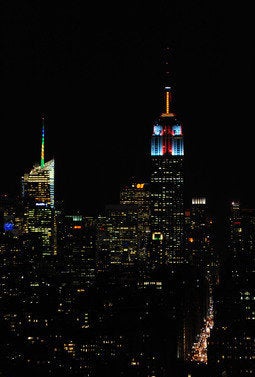 EMPIRE STATE BUILDING LIGHT SHOW
Related
Popular in the Community