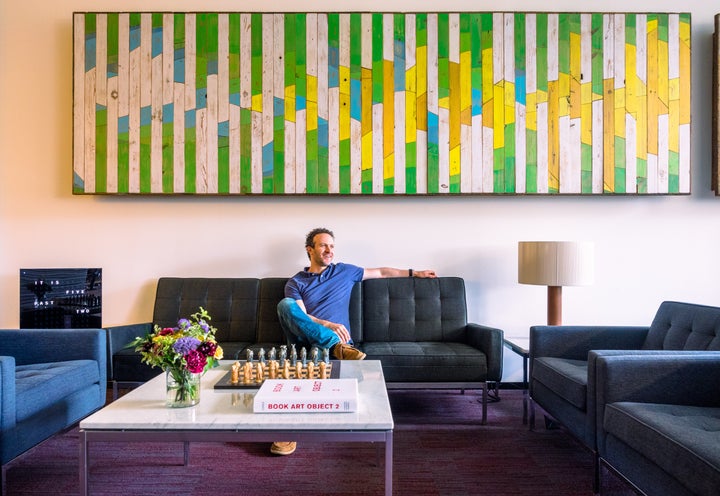 Tech companies are notorious for offering job "perks" that function like gilded handcuffs: fancy benefits like free meals and laundry that keep you tied to the office for long hours.
Jason Fried is a tech CEO with a radically different philosophy. At Basecamp, the 50-person software company he helped found about 15 years ago, the benefits support a culture that urges employees to work reasonable hours (40 a week is encouraged), sleep more, stay healthy and expand their horizons.
"There's a lot of praise around big companies doing your laundry for you and having chefs in-house. The message is, 'Don't leave the office, everything you need is here,'" the 41-year-old Fried told The Huffington Post. "That just grosses me out."
Employees at Fried's Chicago-based company, which develops project management software, not only receive paid time-off to take vacations, but the company pays for their vacations as an annual "gift" to those with at least one year's tenure. New employees receive a paid-for night on the town.
In a blog post earlier this week, Fried detailed a dizzying array of other benefits:
Four-day, 30-hour workweeks in the summer.

$100 a month for fitness, which employees can spend on gym memberships, yoga classes, race fees, etc.

$100 a month for massages.

CSA (community supported agriculture) memberships, so workers get locally grown fruits and vegetables.

The option to work anywhere. Basecamp employees are located all around the country.

A one-month sabbatical every three years.
There's more. Recently, Fried formalized a parental leave policy. Mothers and fathers who are primary caregivers get 16 weeks off fully paid.
Fried, who has a 15-month-old son at home, said he wants his employees to get out of the office and experience the rest of life. Their salaries are in the top 5 percent for the Chicago area, he said. Instead of giving them an extra $100 they don't really need, these perks nudge them to behave in ways that can make them healthier and happier.
The vacation policy exemplifies this rationale. Workers get a total of three weeks off. They can spend some of that time on an all-expenses-paid trip courtesy of Basecamp. This year they can get to choose among travel to such places as Martha's Vineyard, the Grand Canyon, Ethiopia and Verona, Italy. Workers pick from the options in the annual "book" and take the trips, which run five to seven days, alone or with their loved ones. Oh, and Basecamp makes all the travel arrangements because Fried doesn't want anyone to stress over the planning part.
The message is clear: "We want you to take vacation. Please get out of here!" Fried said.
The paid vacations replaced cash bonuses a few years ago. "We're spending the same amount of money and giving people experience they wouldn't have on their own. It makes them more interesting people," he said.
Leaving the office is, unfortunately, a kind of radical notion in the tech world where companies like Amazon are famous for pushing people to the edge.
"I think the industry is kind of perverted. We're an industry that likes to burn people out and not have respect for people's lives outside of work," Fried said. "You don't need to build a crazy company. You can treat people fairly and do well."
Fried's company is privately held. Asked about its finances, he would say only that it makes "tens of millions of dollars" in profit.
Basecamp does have one thing in common with the rest of the tech industry: Its employees are a relatively homogenous group. Two-thirds are men. None are African-American. "We're definitely underrepresented," Fried said, though recently he's been making more of an effort -- and actually managed to raise the percentage of women at the firm. "We're learning as we go."
Things are moving slowly on the diversity front in part because the company doesn't hire often. The people-friendly culture helps keep turnover very low. Only a handful of workers have left Basecamp over the past 15 years, Fried said.
The low turnover helps offset the cost of those generous benefits. Hiring and training new employees is expensive, something that Fried emphasizes when he's touting the upside of offering all those goodies.
Still, even for companies that can't afford the fancy stuff, Fried argued that simply encouraging workers to put in a reasonable 40-hour week would be a huge deal.
"It's a valuable benefit that people don't think of as a benefit," he said. "That alone, and encouraging people to get a good night's sleep, that's going to pay off in big ways."
Related