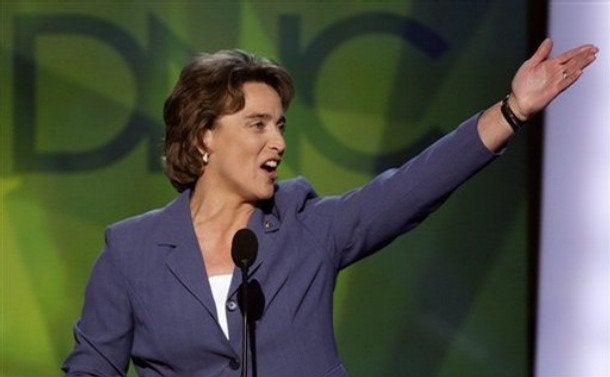 The Employee Free Choice Act was introduced in Congress on Tuesday, marking the official launch of what promises to be a fierce legislative battle.
Labor officials seem confident that the process is in place to pass this union priority. "Obama, Biden, and Solis all wouldn't support it in one week and have introduced the next if we didn't have 60 votes or were really close," said one person working on the bill's passage. But the early feedback presents a more difficult reality.
Several key Senators are on the record Tuesday offering either reservations or merely lukewarm support for the legislation.
Speaking after a fundraiser in Pennsylvania, Sen. Arlen Specter (R-PA) told the press that it was "big stuff" to "take away the secret ballot." It's a false rendering of EFCA (the bill keeps the secret ballot but also allows majority sign-up elections to form a union), but the skepticism from Specter, the only Senate Republican to vote for passage in 2007, was nevertheless noticeable.
"Jobs are being exported," he said. "We have problems with pensions and health care. To take away the secret ballot is big stuff. I'm listening to all of the viewpoints very carefully. I have a hunch we'll vote this spring."
On the Democratic side of the aisle, the Wall Street Journal managed to get both Arkansas senators on the record, though without either expressing a clear preference.
"I have 90,000 Arkansans who need a job, that's my No. 1 priority," said Blanche Lincoln. The legislation, she added, would be "divisive and we don't need that right now. We need to focus on the things that are more important."
And from Mark Pryor came this: "This legislation is not perfect, and while I have been supportive in the past, I will consider amendments to make it better if and when it is considered by the Senate."
Meanwhile, the progressive site DownWithTyranny notes that a whole host of House Democrats, primarily of the Blue Dog variety, have announced that they won't be co-sponsoring the bill -- even though they supported it just one year ago. The list includes:
Artur Davis (AL), Marion Berry (Blue Dog-AR), Mike Ross (Blue Dog-AR), Vic Snyder (AR), Harry Mitchell (AZ), Gabby Gifford (Blue Dog-AZ), Mike Thompson (Blue Dog-CA), Jim Costa (Blue Dog-CA), Ron Klein (FL), Jim Marshall (Blue Dog-GA), John Barrow (Blue Dog-GA), Joe Donnelly (Blue Dog-IN), Brad Ellsworth (Blue Dog-IN), Baron Hill (Blue Dog-IN), Ben Chandler (Blue Dog-KY), G.K. Butterfield (NC), Bob Etheridge (NC), Heath Shuler (Blue Dog-NC), Earl Pomeroy (Blue Dog-ND), Shelley Berkley (NV), Chris Carney (Blue Dog-PA), Stephanie Herseth-Sandlin (Blue Dog-SD), Lincoln Davis (Blue Dog-TN), Bart Gordon (Blue Dog-TN), Jim Cooper (Blue Dog-TN), Steve Cohen (TN), Chet Edwards (TX), Henry Cuellar (TX), and Jim Matheson (Blue Dog-UT).
Popular in the Community