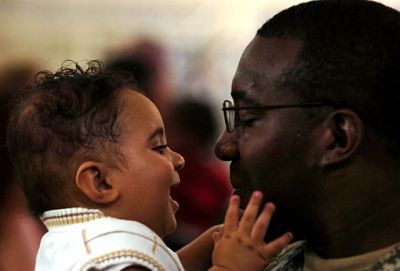 It's been a tough year for this country in many ways. A highly divisive election campaign, culminating in a highly divisive election;  sad tidings about the death of so many American icons, from Mohammad Ali to Prince;  a seemingly endless parade of news about shootings and other senseless violence.
So I wondered what there might be to be grateful for this Thanksgiving, and it was frankly comforting to look back and realize there have been a number of significant strides forward in the world of work-life. Employees are, or will soon be, better off in a few small but important ways than they were just a year ago. And while some of the new policies and regulations that make this possible may occasionally seem onerous to business, I hold firmly to the belief that ultimately when employees are better off, employers are, too.
Here is my round-up of good work-life news from 2016:
Paid family leave is spreading, both as public policy and at the level of individual employers. In April, California passed legislation increasing benefits under its existing paid family leave law. Around the same time, New York passed the nation's first family leave law to provide a full 12 weeks of paid, job-protected leave (the law doesn't go into effect until January of 2018)—bringing to four the total number of states with active paid family leave laws. Cities got into the action as well. A number of local governments enacted policies providing paid leave to their own employees and San Francisco made news by passing a law mandating fully-paid leave for nearly all employees across the city (as opposed to the partially-paid leave mandated by the state.)
Private employers continued their gradual embrace of paid family leave as well. At the start of the year, Hilton introduced two weeks of gender-neutral paid leave as well as ten weeks of paid leave for mothers giving birth—a policy that would be less newsworthy if it weren't that it applies across the board, to hourly as well as salaried workers. In March, Fidelity expanded its paid maternity leave from 8 weeks to 16, and its paid family leave from 3 to 6 weeks. Around the same time, Etsy announced it had expanded its paid parental leave policy from 12 weeks for mothers and 5 weeks for fathers to 6 months for all, including adoptive parents.
These are the work-life wins that stand out for me this past year, but I'm sure I haven't covered them all--what have I missed? What else do we have to be grateful for in these confounding times? And what should we work toward as the year winds to an end, and a new one begins?
Robin Hardman is a writer and work-life expert who works with companies to put together the best possible "great place to work" competition entries and creates compelling, easy-to-read benefits, HR, diversity and general-topic employee communications. Find her at www.robinhardman.com. Follow her on Twitter.
REAL LIFE. REAL NEWS. REAL VOICES.
Help us tell more of the stories that matter from voices that too often remain unheard.
This post was published on the now-closed HuffPost Contributor platform. Contributors control their own work and posted freely to our site. If you need to flag this entry as abusive,
send us an email
.