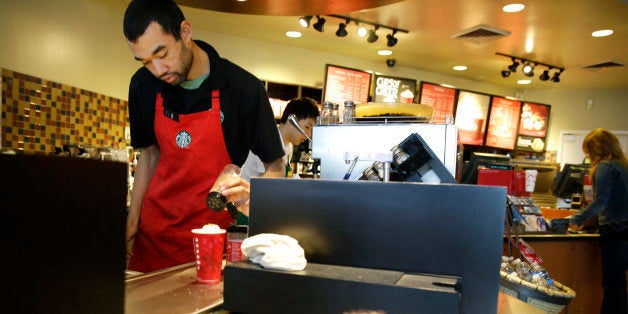 Brandi King, a health plan adviser for Anthem, Inc., eagerly awaited the announcement from the higher-ups.
In June, the insurance company went public about its partnership with College for America at Southern New Hampshire University. The deal? To provide a competency-based online education, at no up-front cost, to eligible workers.
King was one of the first to sign on. "As an employer, I think this would be one of the biggest retention pieces for employees," says King, who starts courses in July.
Anthem's announcement is one of the latest among a rash of employer-educator partnerships grabbing headlines. Starbucks made waves in mid-2014 when it promised to reimburse tuition for workers who attend Arizona State University classes online. Fiat Chrysler Automobiles and Strayer University announced in May that they'd hooked up to provide a free ride to eligible employees at qualified auto dealerships.
Tuition assistance provides many benefits for employees, says Robert Kelchen, assistant professor of higher education at Seton Hall University in New Jersey. And 54 percent of employers offer these programs for undergraduate study, according to a report from the Society for Human Resource Management, often setting aside a maximum amount that students can use at a range of local institutions.
But these company-college unions have an unhappy downside that the traditional, more-flexible models didn't have. Since employees are funneled into one institution, they have little say in the intellectual, cultural or academic match of the college they attend. Instead, their educational opportunities are tethered to a boardroom deal an executive cut with an enterprising university.
"We're talking about monopolistic deals that limit student choice and that, in many cases, don't actually deliver on the promise of a free or subsidized education," says Siva Vaidhyanathan, a professor of media studies at the University of Virginia.
Here's how students can determine the value of one of these employer-educator partnerships.
• Consider cost savings: Free tuition isn't some impossible dream that only an employer-promoted union can provide to low-wage employees. "If you price it out, it might still be cheaper to go to a local community college than to do the ASU program through Starbucks," says Vaidhyanathan.
One way for some low-wage workers to achieve free tuition: Qualify for sufficient Pell Grants to cover costs at a community college. In fact, the maximum 2013-2014 Pell award – the latest year for which U.S. News has community college cost data – was $5,645. That covers tuition, fees, books and supplies at 69 percent of the 936 community colleges for which U.S. News has data.
And even higher-paid workers using old-school tuition reimbursement benefits may land free college. The maximum amount employers give toward tuition reimbursement is $4,591 on average, according to the SHRM survey. Of those community colleges reporting data, 43 percent charge less per year, including books and supplies, than that amount.
• Weigh college choice: "There's no one right way to educate all students," says Kelchen. SNHU's programs are online and competency-based, meaning that students can complete them at their own pace. That may work well for busy moms like King, the Anthem employee, but not for a student who thrives on classroom training. Strayer students at Chrysler can choose between online and on-ground courses.
In a perfect world, even King, who has taken online classes before, would select an on-ground experience, she says. "If I could choose, I would go sit in a classroom," she says. "I did like that environment. I was always the one who sat up front and talked to the teacher."
• Calculate quality versus cost: Another drawback is the quality – or lack thereof – of the educational institution with which an employer partners. "The danger with the current partnerships is that students are limited to working with institutions that might not be well regarded," says Vaidhyanathan. "They just might be really good at marketing and cutting deals with other companies."
The for-profit sector, which includes Chrysler's partner Strayer, has garnered negative publicity and increased federal scrutiny amid reports of high default rates, defrauded students and worthless degrees. But Karl McDonnell, CEO of Strayer Education, says that he doesn't foresee students edging away from for-profits. "What I haven't heard is, 'Oh gosh, this is an institution that has a different capital structure than the one I'm used to,'" he says.
Downsides aside, it will take several years to determine whether these programs are successful at getting employees educated, say experts. "We'll know in three or four years whether these projects help a large number of students," says Vaidhyanathan. "I would not be surprised if they help a small number of students.&quot
Trying to fund your education? Get tips and more in the U.S. News Paying for College center.
Calling all HuffPost superfans!
Sign up for membership to become a founding member and help shape HuffPost's next chapter