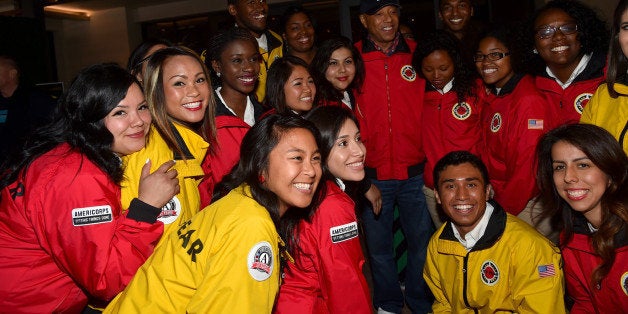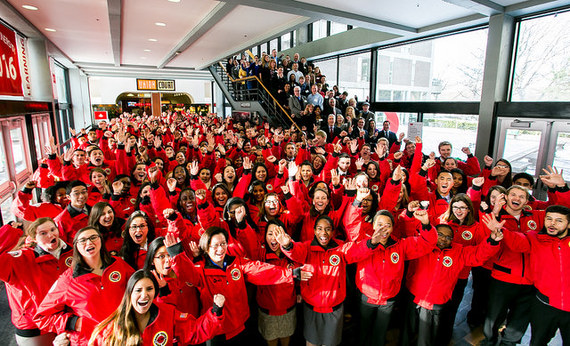 Employers of National Service is a new federal initiative that connects AmeriCorps and Peace Corps alumni with employers from the private, public and nonprofit sectors. It's an important and exciting program for organizations that are part of the AmeriCorps national service network, including City Year, because it addresses a common misperception about young people who give a year of service: that they are somehow taking a year off, instead of using the year to build valuable, marketable skills.
Since City Year's founding 26 years ago, 20,000 young people have given a year of their lives to serve with us. Just this year, almost 3,000 City Year AmeriCorps members served full-time in 262 high-need schools in communities across the country. Employers of National Service further validates what we know to be true: these outstanding, idealistic young people are not only making a difference, they are mastering the skills top employers truly value, including the ability to manage adversity, work well on a team, problem solve and work hard. The dozens of companies, nonprofits and government agencies that are on the record as eager to hire Peace Corps and AmeriCorps alumni, boost our ability to recruit classes of corps members who have varied interests and are geographically, racially and socio-economically diverse.
But you don't have to take my word for it. Chelsea Badeau served with City Year Chicago in 1999. Today, she is the Director of Editorial, Xfinity.com & Comcast Digital Assets at Comcast, which is a charter member of Employers of National Service and long-time City Year partner. Based now in Philadelphia, Chelsea credits her City Year experience with helping her learn the foundational skills underlying her successful career; a career that has also offered her opportunities to continue making a difference in her community.
"City Year helped me grow as a leader," she says. During her year of service she gained experience speaking in public, picked up project management skills, mastered the art of building a spreadsheet and even learned how to file her taxes. She explains that in her career, she's often found herself in a situation where she is asked to work with people who have different backgrounds, experiences and opinions from her own. "Thanks to City Year, I learned how to work with those different personalities," she says. "I learned different ways to work with people and to focus on getting our common goals accomplished."
Chelsea isn't doing this on her own. Her employer, Comcast NBCUniversal, also sees value in her service, which underscores the important connection between nonprofit, employee and employer. This year - and every year for the past eleven years - Comcast has organized Career Days for the teams of City Year AmeriCorps members it sponsors. During these events, Comcast NBCUniversal employees share concrete advice with our corps members to help them grow as professionals. Workshops in ten cities this year included "building your personal brand, "resume revamp," "interview techniques" and "18-minute networking" (a sort of professional speed-dating). So far, 10,000 City Year AmeriCorps members have attended a Comcast NBCUniversal Career Day.
City Year alumni can be found in almost every industry: they are doctors, lawyers, teachers, engineers, nonprofit executives and elected officials. "Service cultivates the critical skills that will ensure young people have the expertise they need to succeed in 21st century jobs and to develop effective leaders for the future," says David L. Cohen, Vice Chair of City Year's Board of Trustees and Senior Executive Vice President of Comcast Corporation.
Chelsea participated in the local Philadelphia Career Day, and she also leads employee service projects, serves as a board member for her local Boys & Girls Club, and is very active in a community gardening project. City Year alumni, like Chelsea, are a big part of City Year's legacy. We're proud that she got her start with us and has found a way to keep giving back through an employer that sees great value in her experience as an alumna of an AmeriCorps program.
Companies that are members of Employers of National Service, including City Year partners Comcast NBCUniversal and CSX, are making the case that a year of service isn't a year off - it's a leap year, for skills, experience and professional development. As President Obama said, "Citizens who perform national service are special. You want them on your team." We couldn't agree more. Let's hope more companies join this important initiative.
Related