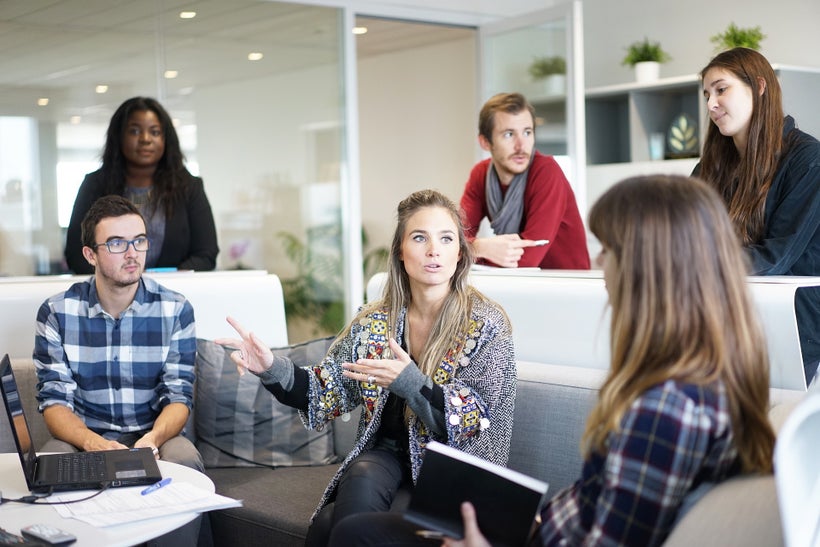 Gender equality is no longer a choice for companies. It is not only about fairness, but about business success.
For investors, this has become so clear that one of the world's largest asset managers has just placed a statue of a defiant girl in front of Wall Street's iconic bull in New York City to remind businesses that the time to fight for gender equality is now.
Why? Because investors have realized that companies that foster diversity yield higher returns. The same asset manager, State Street Global Advisors (SSGA), also sent a letter to 3,500 companies in its portfolio urging them to empower women in order to improve performance and increase shareholder value.
The premise is that more diversity improves decision-making, reputation, productivity, and employee retention and satisfaction, which in turn leads to higher returns. Companies with more diverse workforces are also better equipped to innovate in product development, tapping into new business opportunities, such as the women's market.
A report by MSCI analyzing the performance of more than 1,600 companies in 2015 across 23 countries found that it is more profitable to invest in companies with women on their management boards than in those without. Their findings show that companies with strong female leadership deliver higher returns on equity.
Despite this evidence, progress towards corporate gender equality remains very slow. A recent survey by McKinsey with more than 200 companies in Europe found that only 7% see this as a top strategic priority. Almost two thirds do not know what actions to take to improve gender diversity. As a result, women only occupy 32% of board seats in Western Europe and 18% in the US. In regions like Latin America and the Caribbean, the number is much smaller: only 8.5% of board members and 9.2% of executives are women.
But how can companies take concrete actions in line with what investors expect? The answer is not easy, as it requires looking at your company through a completely different lens. Statements and mere commitments to gender equality are not enough. In today's data-driven world, investors are looking for information to evaluate companies' performance and their environmental and social footprint.
Some of these indexes have investment products to capture the benefits of gender diversity. Since 2014, both Barclays' Women in Leadership Exchange Trade Notes and Pax Ellevate's Global Women's Index Fund enable investors to allocate capital in companies with strong female leadership. As investors' appetite grow, similar initiatives are under way. Last year SSGA and California State Teachers Retirement System, the second-largest public pension fund in the US, launched the SPDR SSGA Gender Diversity Index ETF (SHE) to invest in companies with high levels of diversity on their boards. With over $280 million in assets, Berkshire Hathaway Inc and Oracle Corp. are among its top investors.
For those willing to roll up their sleeves and move beyond good intentions, the first step is knowing where you are and what you are doing. With this goal in mind, the Inter-American Investment Corporation and the Multilateral Investment Fund, members of the Inter-American Development Bank Group, along with UN Global Compact, UN Women and other public and private partners, have created a tool to help companies assess their gender equality performance. The tool follows the UN Women's Empowerment Principles (WEPs) to unleash the potential of women in the workplace, marketplace and the community.
The assessment is free and confidential and can be done by any company from any sector in any country. It looks at corporate policies in place and evaluates the extent to which firms provide equal opportunities, adequate work life balance, support to gender equality in the supply chain and respect to women's rights in local communities.
The tool has far-reaching potential for companies. Designed with the feedback of nearly 200 companies worldwide, the tool has proven to be eye opening for the firms that participated in the pilot phase. Some found that the assessment made them rethink their approach to gender equality in procurement and marketing, while others said it compelled senior management to improve processes. Others highlighted that the tool provided a road map to better integrate gender initiatives into the broader company's strategy.
So if you are ready to face the bull and reap the benefits, complete the assessment and take action. Investors are waiting.
Ms.Sacristan a national of Spain, is currently IIC's Chief Investment Officer. She joined the Inter-American Development Bank in December 2008 as an investment officer in the Structured Corporate Financing Department, where she subsequently became chief of the Financial Markets Division. Previous to this, she held several leadership positions in commercial and investment banks in Madrid, London and New York, such as Director of the Export and Agency Finance Unit for the Americas at BBVA New York and Vice President and Product Manager for Global Trade Finance at Banco Santander in New York.
Calling all HuffPost superfans!
Sign up for membership to become a founding member and help shape HuffPost's next chapter
This post was published on the now-closed HuffPost Contributor platform. Contributors control their own work and posted freely to our site. If you need to flag this entry as abusive,
send us an email
.