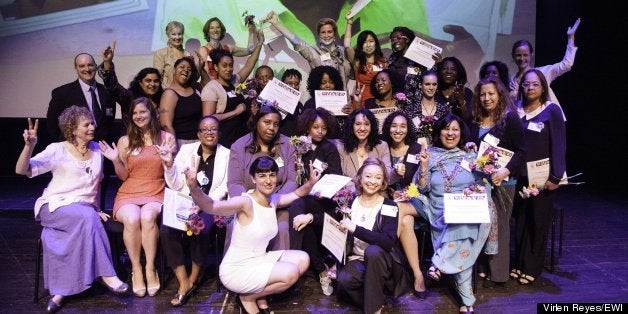 WASHINGTON -- Two years ago, Paulette Mpouma, a Cameroon refugee and working mother of four, enrolled in classes at non-profit organization Empowered Women International to learn how to start her own business.
Mpouma, a resident of suburban Laurel, Md., held a full-time job at the time, but had created her own board game to teach her young children about their African heritage. Through Empowered Women International, or EWI, a group that offers an entrepreneurship program to immigrant, low-income and at-risk women, she sought guidance on how to market her game.
During the three-month program, Mpouma lost her job, forcing her to focus on turning her game into a success. She worked with EWI staff and mentors to craft a business plan targeted to investors and buyers. Today, The Africa Memory Game is sold online and in 16 stores throughout the U.S, with clients that include the Smithsonian, World Bank, and schools and museums around the world.
Mpouma is just one success story that EWI founder Marga Fripp remembered fondly in an interview with The Huffington Post about the organization's growth in the Washington area. Last month, the group graduated a class of 19 women at Montgomery College. They included a native of Venezuela offering translation services tailored to immigrants seeking documentation, and a jewelry maker/artist whose career as a competitive gymnast was halted by a critical form of deep vein thrombosis.
The most important goal of EWI is "transforming immigrant and low-income women's lives through economic empowerment and giving them the opportunity to act as agents of change," Fripp said. The group is funded primarily through private foundations and individual contributions.
Fripp's story is similar to the women she is seeking to help. As a former journalist in Romania, Fripp was banned from broadcasting in 1996 for producing programs that were critical of social policy under the post-Communist Ion Iliescu government. Her work focused on women's equality, human rights, and integration solutions for orphans and street children.
Fripp left Romania in 2001 after giving birth to a seriously ill baby, seeking treatment in the U.S. She found herself struggling to learn English and care for her baby and 8-year-old daughter while her husband often traveled abroad for work. It was the following year that Fripp founded EWI to assist women whose circumstances resembled her own.
The 2013 graduating class members attended 20 classes in Bethesda, Md., and Alexandria, Va., taught by 15 mentors and business coaches. Among the topics were marketing and communication, public speaking, personal and business finances, legal aspects of writing a business and building an online marketing and social media module. At the program's culmination, students pitch their proposals to 13 judges, who in turn selected five winners for cash prizes to start their business.
At their ceremony, Fripp grew emotional while speaking about the latest batch of graduates.
"In only three months of this program, we've seen incredible accomplishments," she said. "Not only that the students have gained business and life skills, but they have developed something stronger and probably more important: Confidence, focus and leadership skills."
Related
Popular in the Community