Editor's Note: This post is part of a series produced by HuffPost's Girls In STEM Mentorship Program. Join the community as we discuss issues affecting women in science, technology, engineering and math.
It recently came to my attention, that throughout the nation, young men and women who are Latino are, unfortunately, caught on the wrong side of the digital divide. I have spent much of my career working on initiatives that provide technology learning opportunities to youth in underserved communities--from a poor urban neighborhood in Roxbury (Boston) in the 20th century during the 80s, to over 30 rural poor counties in West Virginia, as well as poor urban communities in East Austin, Texas, Queens, New York, and San Jose, California, during the second decade of the 21st century.

Whether Hispanic or non-Hispanic whites, they all had in common three-four obstacles for progress: 1) limited or no broadband connectivity in their homes and schools, 2) no engaging opportunities for STEM and Computing education, 3) a "Fixed Mindset" (Carol Dweck's term) about their STEM abilities; and 4) a community/school leadership without initiative to do any sorting and shifting of budgets to afford coaching of educators in order to drive the necessary changes in their community.
The present circumstances are unique in that the Latino population continues to grow rather fast across the United States. Currently the Latino population makes up 17% of the total U.S. population, and by 2050 will grow to 26%. We cannot afford to pass over this largest, youngest, fastest-growing minority group in America with STEM education opportunities.
Latinos and Latinas are the major rising workforce in an economy of too many unfilled STEM and Computing jobs in the tech industry, research, academia, education, health, and politics. So we must respond proactively to this fact to make an impact.
More specifically, and quite unexpectedly, I've become familiar with the opportunity gaps that Latino youth face daily, especially in low-income, socio-economically- and technologically-underserved communities, through my team's work on Globaloria, the first and largest blended-learning platform, an innovative MOOC, for youth (grades 5-12) to master STEM subjects through game design and programming, including designing, prototyping, and coding.
For example, Globaloria was adopted, starting 4 years ago, in the digitally-divided community of East Austin, Texas, where we partnered with Dr. Juan Sanchez, CEO of Southwest Key, the largest Hispanic non-profit in Texas, and founder of one of the most ambitious and innovative charter schools, EAPrep, to focus hundreds of students in the daily learning of STEM and Computing.
In San Jose, California, where Globaloria has partnered with the Silicon Valley Education Foundation and local technology leaders to rapidly expand from impacting 200 students last year to 1000 this year, to 2500 next schoolyear, we have been engaging Latino teachers and students in public middle and high schools, charter schools, and after-school clubs. Though geographically distant, both Austin and San Jose are hubs and leaders in high-tech professional opportunities, but are struggling to provide adequate learning opportunities to their young residents.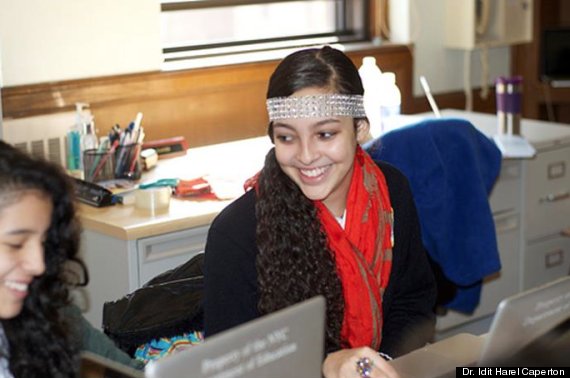 We have learned that Globaloria has been successful at EAPrep because each and every student gets repeated and constant daily exposure to STEM and computing starting young--as early as 5th grade. Through game design, research, prototyping and programming, students engage in STEM learning in a fun, accessible format, while learning to code, along with other professional industry skills. And our researchers have linked Globaloria to significant impacts on the entire school community.
In Silicon Valley, which is home to the world's largest and most innovative tech corporations, Hispanics make up nearly 25% of the working-age population but only 5% of the computing work force. There, Globaloria has been particularly effective because it gives young Latinas multiple role models from tech professions and access to technology. Globaloria not only brings in local guest speakers, advisers and instructional coaching from knowledgeable industry players, and takes students on field trips to local tech and gaming companies, but it also positions teachers as STEM-savvy role models. Globaloria training academies cultivate technical knowledge among the teachers and mentors students interact with daily, and it provides access to cutting-edge technology platforms and curriculum provide industry-standard professional practices for how to invent ad make stuff, how to learn with a MOOC, how to work in teams, how to participate in a learning community online, how to participate in competitions, and how to be a productive and responsible digital citizen. Students can see a multitude of new opportunities for themselves!
The U.S. Department of Labor estimates that by 2020 there will be more than 1.4 million computing-related job openings. At current rates, however, we can only fill about 30% of those jobs with U.S. computing bachelor's grads. Girls (especially Latina girls) represent a valuable, mostly untapped talent pool. - Girls in IT: The Facts. NCWIT, 2013
Latina girls (and Latino boys too) are facing serious challenges and issues when it comes to computing education and equal opportunities for quality, innovative STEM learning throughout the nation. In fact, Hadi Patrovi showed his powerful video at the NCWIT Summit, it includes interviews with notable men and women from tech and entertainment industries, to promote the learning of coding for every student in every school in the U.S. It was already viewed 20 million times (!), however, no Latina computer scientist is featured in it.
We must stop preventing Hispanics from becoming future-ready and "Innovation-Ready" (Tom Friedman's recent term, reaching beyond "college-ready"). Moreover, we have data to show that certain programs, especially if participation starts young, do work well to increase Hispanics' participation, passion, knowledge, and skills in CS-STEM and innovation abilities. Let's not forget that this is a powerful rising workforce, hardworking, vibrant and capable. With computing jobs among the fastest-growing and highest-paying, more women should benefit from these occupations. Let's remove digital-opportunity divides and STEM-innovation barriers for Latina girls, who are one of our most powerful resources of talent in the United States.
NOTE: The Globaloria work to equalize opportunities for Hispanic youth in learning STEM and computing, digital fluency and digital citizenship skills, has been supported in part by: Knight Foundation, AMD Foundation, ESA Foundation, Cisco, Microsoft, Google, Motorola, EA, HP, Konami, Adobe, among others. (To participate as a partner, please contact us: info@WorldWideWorkshop.org.) The National Center of Women and Information Technology (NCWIT) recently published a case study about how to "engage students not already drawn to computing, by creating academic and social environments where these students feel like they belong." Read the full case study here.
Watch a video about Globaloria's impact on EAPrep and the Latino community of East Austin.
Watch a video about Globaloria's transformative effect on the young Latino community of San Jose.
Calling all HuffPost superfans!
Sign up for membership to become a founding member and help shape HuffPost's next chapter