This International Women's Day, I want to recognize the women of rural India who are fighting to pull their communities out of poverty -- one woman at a time.

Women have the power to pull communities out of poverty.
During the past year, I have met countless women who are defying the odds to provide for their families and are slowly but surely changing their destiny and giving their children a brighter future.
There is no better example of the power of women as change agents than those living in India's Bihar State.
Last year, I visited several self-help groups formed with the support of Lutheran World Relief (LWR) in Bihar. Bihar may not look that large on a map, but the U.N. Development Programme (UNDP) reports that it is India's third-most populous state and only 11 countries in the world have a larger population. Nearly 90 percent of people in Bihar live in rural areas, where UNDP reports, the poverty rate is nearly 56 percent.
More than three-fourths of the people in Bihar earn a living through agriculture, which has many challenges of its own. Women working in agriculture often lack the resources, land and inputs to be economically and food secure throughout the year. Many men are forced to migrate to find work so they can send money back to their families for survival. When family emergencies occur or households just cannot make ends meet, people often turn to money lenders who charge exorbitant interest rates, trapping many families in a cycle of poverty.
However, the situation in Bihar is changing. By forming self-help groups, women are not only getting access to much-needed capital, but they are also gaining confidence in themselves and instilling it in their communities.
Last year, I met Palvarti -- a farmer who is learning farming techniques through one of LWR's agricultural projects in India. Instead of just growing rice, she has learned to grow vegetables, diversifying her family's diet and income and giving her higher value crops to sell at local markets. In addition to farming, Palvarti is participating in a self-help group, where each week she contributes a small portion of her income to the group treasury. At group meetings, she and other women vote on how their pot of money will be loaned out to members. Palvarti exuded confidence when she explained the process she uses to farm and how beneficial the self-help group has been to her community. She said, "I want to do more! Nothing is impossible. I can do many things. There is a lot of opportunity."
Even the men in communities where self-help groups have formed are advocating their usefulness. In one community, the husband of a self-help group member told me that at first he thought the women were just meeting to gossip and were not productively using their time. However, after sitting in on a self-help group meeting and benefitting from a loan himself, he saw just how much the group was impacting his family and their whole community. Now, he is proud that his wife is part of such a group.
In village after village, I met women who told me how empowered they felt through the self-help groups. Purni Devi told me that she had never been in a bank before and was very scared the first time she went with members of her group to make a deposit. However, she said, "Now I have the confidence to go even when bankers change."
In addition to gaining confidence, women are taking on a greater role in their country's economic growth and development. One woman explained to me that she thought savings accounts were just for rich people. But, now, she knows that a woman in a small, rural farming community in one of India's poorest states has the same right to open and have a savings account to provide for her family as anyone else.
Taking what they have learned, women told me that they want to reach out to other villages to share their knowledge and build solidarity with other rural women who are fighting to pull their families from poverty every day.
On International Women's Day, I hope that you will share this story and the story of millions of women defying the odds in rural India. One woman at a time, communities are fighting to break free from the cycle of poverty and inequality. As Sarasoti Devi told me of her self-help group: "This work is good... It is worth my time and very important. It will have a long-term impact on my community."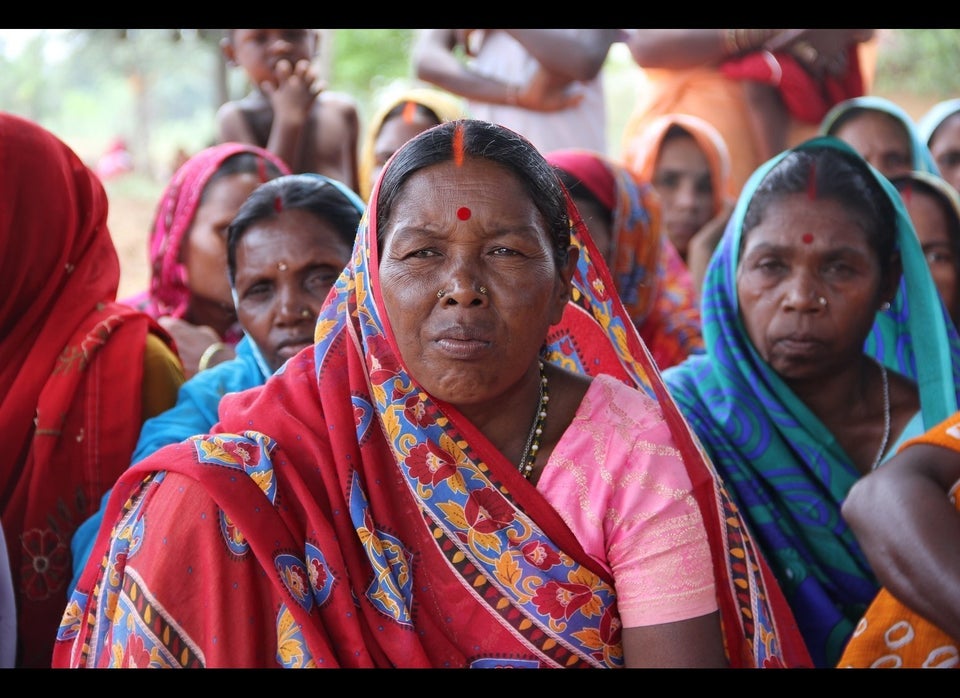 Self-help Groups in Rural India
Related