Every day of the week, The Pollination Project provides $1000 in seed funding to an individual who is working to make the world -- or just their own community -- a better, more peaceful and more sustainable place. Here are the extraordinary people and ideas changing the world this week:
Maria Omare founded The Action Foundation in the Kibera slums of Nairobi, Kenya, to assist children with physical and intellectual disabilities.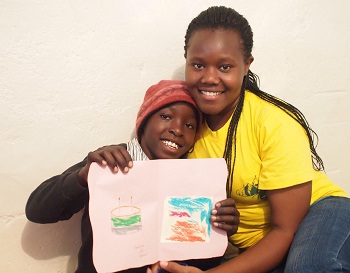 Her facility provides free physiotherapy, health care and activities for children with autism, Down's Syndrome and cerebral palsy. Through her work, she is also preventing social stigma and discrimination against special-needs individuals in the community. Maria estimates that through the center, 150 or more children with disabilities in Kibera will have access to therapy and support in the next 12 months.
Farmers in Bududa, Uganda have banded together to empower rural communities through Hands of Action, which will alleviate poverty and provide environmental education by planting one million fruit trees and wood loads in the community. Students in four local primary schools will be taught skills in indigenous environmental practices, and the program will supply wood and food for the school so the children can eat a midday meal and promote sustainable agriculture.
The Pollination Project has also begun awarding $1000 grants to educators in the U.S. and Canada who are committed to bringing a humane education perspective into their schools. We'll tell you more about this program in the upcoming weeks, but for now, here are introductions to some teachers who are seeding the change inside their own classrooms:
Oliver Schinkten teaches science and leadership at Oshkosh North High School in Oshkosh, Wisconsin. Oliver's approach emphasizes hands-on learning by teaching students content, while engaging them in projects that benefit the community. Seventy-five students have already completed projects on sustainability, alternative energy, war veterans and more. With his guidance, this collaborative group of altruistic and passionate lifelong learners will surely change the world.
Lyn Gatz is a Spanish and yoga teacher at Mount Desert Island High School in Maine, a diverse socio-economic student population where she strives to build knowledge and reverence for other cultures, critical thought and awareness of self and surroundings in addition to academics. She participates in a service program where students participate in a language learning and volunteer work trip to rural Guatemala.
Lisa Mer teaches French at Central Middle School in Eden Prairie, Minnesota, and is a National Urban Alliance (NUA) coach who raises questions of social justice in her work. She seeks to help people become more aware of their perspectives and assumptions around diversity and oppression, and she advises campus student groups focused on cultural diversity and acceptance.
Marietta Bonaventure is a language arts teacher at Pleasant Hill High School in rural Oregon, where she strives to create healthy and empowering learning communities both inside the classroom and out. Last year, Marietta helped build Operation: Impact, a student-led campaign to create dialogue around issues affecting the local community, generate solutions and connect students to action. The group has raised awareness about generational poverty in rural Oregon, and this year will address the issue of food production.
Bernice Osorto teaches Spanish at Aspire Pacific Academy, a charter high school in the East Los Angeles community of Huntington Park, one of the most underserved communities in the country. Bernice teaches her students to love education, their cultures and their community as a process of their own liberation. She has also established animal rights clubs in two Los Angeles schools called Students for Animal Rights Education and Advocacy (SAREA) where students volunteer and fundraise for local shelters and rescue groups.
Congratulations to our grantees this week for their outstanding work.
These are just a few examples of what a little seed money can do when put in the hands of someone with a vision and a plan to change the world.
If you were given $1000, how would YOU seed the change?
The Pollination Project makes $1000 grants every day, 365 days a year to individual changemakers. Please go to ourwebsite for funding guidelines and application.
REAL LIFE. REAL NEWS. REAL VOICES.
Help us tell more of the stories that matter from voices that too often remain unheard.