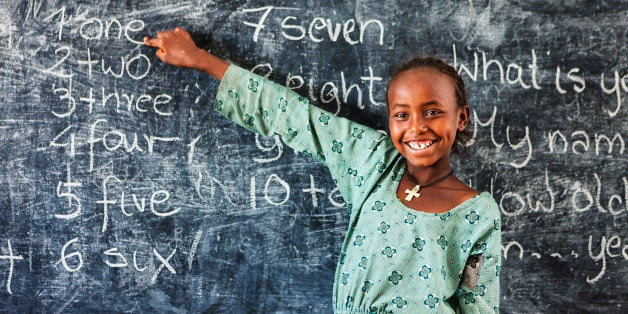 Sokha, a skinny orphan girl in Cambodia used to pick through garbage to survive. But thanks to series of events, she was able to enroll in school and excel. Her tale is one of the nine inspiring stories in Girl Rising, a documentary that aims to raise awareness about the plight of girls in the developing world.
On April 18, Girl Rising was screened at the World Bank in Washington, D.C. in an event to give a greater momentum to girls' education and empowerment.
Watch the recap of the event:
The documentary shows stories of girls from India to Peru who successfully fought to get an education in the face of extreme poverty or unforgiving societal tradition where girls are not encouraged to attend school. Empowering girls and educating them is close to my heart. I have seen the challenges faced by a woman first hand because she never got a chance to get any education. My mother is uneducated. It's hard for her to do basic things like open a bank account or use a phone to call me in an emergency.
Just before the screening of the documentary, I had the chance to speak with Basij-Rasikh, a fearless champion of girls' empowerment in Afghanistan. In a firm voice, she told me investing in girls education "is in fact the most inclusive cause you can embrace," because it impacts everyone. Basij-Rasikh was born and raised in Kabul, used to dress as a boy to escort her older sister to a secret school under Taliban rule. Now she helps girls in Afghanistan get an education. "Let's not call the fact that girls don't have access to education a cultural norm," she added.
Watch her inspiring TED talk:
It is well established that investing in women's education is imperative if we want to tackle global challenges whether it is extreme poverty or child mortality. We know that a girl with an extra year of education can earn up to 20 percent more as an adult. The rise in women's education prevented more than 4 million child deaths between 1970 and 2009.
Despite overwhelming evidence, 32 million out of 62 million children who are not in school are girls. This must change. And there are already good examples to learn from. We know that in places like Yemen, cash transfers programs have helped increase school attendance of girls. Or, in places like Bangladesh, girl's enrollment increased by 44% with the introduction of school meals. Programs like these should be launched in other applicable places.
When girls get education, it benefits them and the whole community.
With education and increased income, they will be able to invest more in their child's well-being. It will lead to a more prosperous and responsible society that, in turn, will tackle global challenges more efficiently. The World Bank Group President Jim Yong Kim outlined five critical steps that the world can take to achieve learning for all.
Let's ensure that wherever a girl is born she won't have to struggle like the nine girls in Girl Rising to attend school and succeed. As Basij-Rasikh said the benefits of investing in girls "are so high we just cannot afford to miss it."
Note: The event was co-hosted by 10X10, Intel Corporation, Vulcan Productions and the World Bank Group. President Jim Yong Kim, UN Secretary-General Ban Ki-moon, Justine Greening, Secretary of State of International Development, UK, Holly Gordon, Executive Producer of Girl Rising, Frieda Pinto, an actress and Shabana Basij-Rasikh, Founder of SOLA, an organization hoping to expand education and leadership opportunities for Afghan women shared their thoughts on need of girls' empowerment.
This post originally appeared in YouThink! - the World Bank's online space for youth to learn and discuss development topics. Follow YouThink! on Twitter.
Calling all HuffPost superfans!
Sign up for membership to become a founding member and help shape HuffPost's next chapter