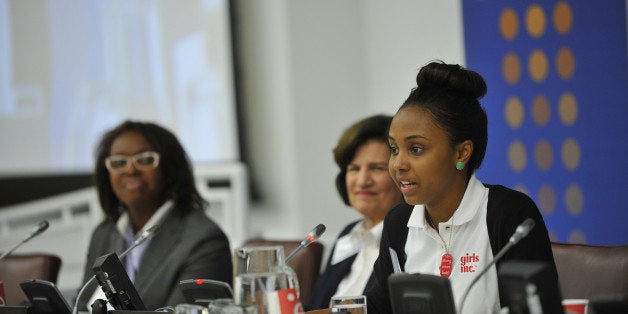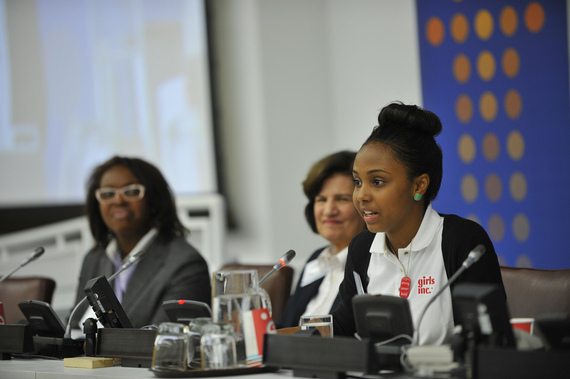 Earlier this year, a remarkable video, "We Are #WomenNotObjects" received significant attention for raising awareness of the objectification of women in advertising. From television and film to magazines and marketing campaigns, girls are often bombarded with messages every day that tell them how they should look, act, and who they should become.
At Girls Inc., we know media literacy is a fundamental skill to help girls build positive body image and self-perception. This year, we are dedicating Girls Inc. Week, May 2-6, to media awareness and how we can empower girls to critically examine what they see and hear and how they can advocate for positive and diverse portrayals of girls and women.
In the top 100 grossing films in 2014, only 12% of protagonists were female. And, females comprised just 29% of major characters. In addition, research from the Geena Davis Institute on Gender and Media found that girls and women in global films were twice as likely as men to be shown in sexually revealing clothing, partially or fully naked, thin, and five times as likely to be referenced as attractive.
Even from an early age, a girl's interests can be shaped by the media she consumes and the toys she plays with. Many of the toys manufactured for girls are associated with physical attractiveness, nurturing, and domestic activities. However, girls - and boys - need toys that encourage a wide-spectrum of abilities: empathy, exploration, creativity, and spatial and cognitive skills. Just last month, Girls Inc. attended a conference at the White House to explore how to break down gender stereotypes in media and toys. Our commitment to this important issue is a top priority.
The media girls consume also have a profound impact on their social and emotional development. As girls enter adolescence, they receive powerful messages about sexual behavior, violence, and substance abuse - much of which is depicted as more prevalent than in reality and as having no serious consequences. Social media and digital technology have only added to the precarious environment in which our young people are growing up. So how do we respond?
Throughout Girls Inc., girls are learning to critically examine how and why messages are constructed and how they reflect and/or shape social values. They can talk openly in a safe, girls-only space, about the messages they receive, pressures to conform to certain images, and how to make informed decisions about their health. They explore the business side of media. And they produce their own media messages about issues important to them.
As a nation, we've seen some improvements. There are more women as leaders and creators of media and retail products, serving as writers and producers, marketers, and CEOs. Yet, there is still a long way to go. The fact remains that stereotypes, limited messaging, objectification, and gender imbalance continue to thrive in the media we consume every day.
As we celebrate Girls Inc. Week, I encourage you to discuss the portrayal of girls and women in media and marketing with a girl in your life. By teaching girls to think critically about what they see and believe, we empower them to discover their own values and speak out for themselves and others.
Calling all HuffPost superfans!
Sign up for membership to become a founding member and help shape HuffPost's next chapter