14-year-old Nadeen's dream was to become a fashion designer. Coming from a small village in southern Lebanon with limited resources to pay for expensive tuition at design schools, her dream turned into wishful thinking. Over the years, Nadeen became discouraged and eventually stopped sketching clothing designs. This is the case for many youth who, like Nadeen, show signs of passion and talent, but lack access to the resources needed to realize their full potential, only to end up fostering a lack of hope for the future.
The growing youth populations in the Middle East, in which 60 percent are under the age of 25, will significantly impact the region's future. As the crisis in Syria persists, the growing number of marginalized youth has increased, and will be critical to shaping how the region shifts politically, socially and economically. Empowering youth aged 15-24, goes beyond just addressing unemployment in the region, which now stands at just above 27 percent -- the highest in the world. Empowerment also includes reversing the impact that years of poverty, war and instability have had on these youth.
When Zeina Saab, the founder of The Nawaya Network, moved back to Lebanon in 2008 from the United States to work on youth empowerment initiatives with various international organizations, she saw that few programs actually provided the tools needed for youth to achieve their own passions and dreams.
"When I met Nadeen, I saw that one day, she could be the next biggest designer, but she simply had no source of support around her, and it was likely her talent would die without the right tools and resources," Saab said.
To address this gap, Saab began an NGO, The Nawaya Network; 'nawaya' meaning 'intentions' in Arabic. The Nawaya Network aims to discover the hidden potential of disadvantaged youth, and empower them to shape their future by connecting them with resources such as mentorship and training courses to pursue their passions in design, music, athletics, writing, performing arts and even coding and robotics. Youth not only learn important hard skills and technical skills, but also improve their ability to engage effectively in school and learn key personal development skills, such as teamwork, communication and leadership. The Nawaya Network, measures their success not only on the number of youth mentored and trained, but also the number of youth they help to find internships and employment via their online platform.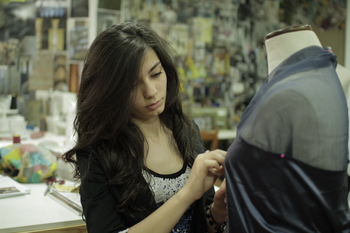 Helping disenfranchised youth achieve their personal goals through mentorship, especially ones they didn't think possible, has long-term impact by giving youth a renewed sense of purpose. According to the Harvard Mentoring Project, youth with mentors are 53 percent less likely to skip school, 33 percent less likely to engage in violence and 46 percent less likely to begin using illegal drugs.
After The Nawaya Network was established in 2012, Zeina went back to find Nadeen, who inspired her to start the Nawaya Network. She enrolled her in a fashion academy in Beirut, where her blossoming design skills have impressed people countrywide.
"By enrolling with Nawaya, I've been given the opportunity to take fashion workshops and classes," Nadeen said. "I've been taught by top fashion instructors, and have even had the opportunity to see firsthand how jewelry, clothing and handbags are made during my position as shop manager at Vanina Boutique," she said.
For the past year, Nadeen has been meeting with a Nawaya mentor, Amany, who has become like her "older sister" to her. "[Amany] continuously inspires me and challenges me," said Nadeen. "I'm so happy that I'm now able to pass on my design skills to Khaldoun, a new member of Nawaya, whom I have been hired to instruct," she added.
As the program grows, engaging regional and international partners, especially among the diaspora, is key in order for the Nawaya Network to reach the next level.
Although Nawaya is currently based in Lebanon, we have a vision to expand our platform throughout the Middle East in order to reach thousands of youth," Saab said. "To do that, I believe engaging the diaspora is a critical element for success, whether it's through funding, media exposure, offering pro-bono or in-kind support, or connecting us to partners who can offer opportunities for our youth," explained Saab.
Nawaya's goal is to bring on 500 members of the diaspora with sponsorship of ten dollars per month or $120 per year by the end of 2015. This will provide 50 youth, like Nadeen and her mentee Khaldoun, with continuous funding needed to develop their talents and skills. You can become a contributor to The Nawaya Network through their Global Giving page.
Nadeen has one more year before she graduates, and as soon as she establishes herself as a designer, she wants to become a mentor for someone else. The Nawaya Network is now in the process of seeking an internship for Nadeen this summer with a leading fashion designer in Lebanon to get her prepared for the professional world of fashion, as well as to become a role model and leader in her community.
Expanding local solutions like The Nawaya Network are key to addressing major regional challenges, and engaging youth in a more productive way that empowers them to not only reach their own goals and dreams, but also lead others to do the same.
Related