L'Oréal USA celebrated its annual Women in Science awards on Thursday, September 13 at the Morgan Library and Museum in New York City. The whole night was dedicated to the celebration of women in science and geared toward empowering girls and young women to explore their interests and curiosities.
I was invited to the event as a part of Girl Up, and as soon as I walked into the Morgan Library and Museum at 6 p.m., I could tell that the evening was bound to be filled with excitement. The strikingly exquisite glass interior of the museum caught my eye as I walked in, wondering what the night would hold.
Right from the moment I arrived, there was a stir of action amongst the guests and hosts already there. As I was the youngest at the event, people wanted to know more about me and about my experiences and wanted to make sure I was noticed. Photographs of me were taken professionally, with the help of lighting, cameras, and a L'Oréal USA Women in Science backdrop.
The first night of the event involved speeches and an awards ceremony. I walked into a large room with 75 other guests, glass awards shimmering alongside the stage. Rebecca Caruso, the executive vice president of corporate communications at L'Oréal, opened the ceremony. Walking up the steps to the stage, Ms. Caruso's high heel slipped off her foot. A gentleman, creating a sort of Cinderella story, soon slipped it back on. Though this was unintentional, it sent a message to me. Cinderella stories, with men saving women, are the kinds of things that L'Oréal USA works to reinvent with their Women in Science program.
Throughout the evening, Rebecca Caruso made a point of addressing my generation, the future women in science. In a poll conducted by L'Oréal USA, a majority of girls in middle school who were interested in science chose not to pursue it "because science isn't cool, or because scientists are nerds." Ms. Caruso wondered, "What if, instead of The Real Housewives of New Jersey, it was 'The Real Scientists of New Jersey'? What if we could make science something that's fun and cool for young girls who have the impression that scientists are simply glued to their microscopes?"
Well, with the recognition of five incredible women in science, and with the launch of their new website, For Girls in Science, L'Oréal hoped to do just that. This program aims to get women more represented in male-dominated fields, like those of STEM, for although women earn over 50 percent of PhDs in the life sciences, for example, they represent less than 25% of the workforce in that area. The Women in Science event empowered women and girls to get involved in science, and the five fellowship awardees being honored that night are living proof that women can and do succeed.
Guest speaker Christine C. Quinn knows a thing or two about taking charge in a usually male-dominated field of work. As the first female speaker of the city council, Christine Quinn has spent her life proving herself as an equal to men. She has worked tirelessly to find innovative and fiscally responsible ways to spark job creation, advocates investment in early childhood education, and works extensively on issues of justice and equality. As she praised the honorees, her words stuck out to me: "I am delighted to honor these women today. Beyond what these women do in their daily work, they are actually achieving something much larger: They are showing the world that women can excel in anything they want to do."
Following Ms. Quinn, Dr. Shirley Malcom, head of the Directorate for Education and Human Resources Program at AAAS, presented the 2012 L'Oréal USA Fellowships for Women in Science and introduced the fellows. The fellows included Dr. Christina Agapakis in synthetic biology, Dr. Lilian Childress in physics who studies optomechanics, Dr. Joanna Kelley in genetics, Dr. Erin Marie Williams who investigates the decision-making processes and abilities of our early human ancestors, finally Dr. Jaclyn Winter, who focuses on exploiting the chemical diversity of biologically active natural products produced by filamentous fungi. All of these women are making "What ifs" realities, showing young girls all over that science is innovative, creative, fun, and yes, cool.
After Rebecca Caruso's closing remarks, we were all invited upstairs for a mixer. The entire museum and all its exhibits were opened to us for viewing. Additionally, hors d'oeuvres were served and iPads previewing L'Oréal's new FGIS website were spread throughout. Everything looked beautiful, and a three-piece band composed of a flautist, guitarist, and cellist was playing in the background.
Later in the night, more pictures were taken, and I was given an interview, camera, microphone, and all. I was asked about my school, my interests in STEM, the support of my family, and Girl Up. Going to an all-girls' school, I have never exactly understood how or why people shy away from opportunities in fields like STEM because they are predominantly male-dominated. For the past 11 years of my life, I have been nothing but encouraged to explore and pursue my interests, no matter what they might be.
The experience of that one night will definitely stay with me. I learned a great deal about science and the issues of women struggling in science. I have built connections and a newfound love for programs like L'Oréal's program that empower women to do what they want and show them not to be afraid. Women are easily just as capable as men of doing what they love and in succeeding at it. So, in the words of L'Oréal's executive vice president of corporate communications to my generation, "Go out there, discover what interests you, turn criticisms into motivations, and you will succeed. You will not regret it."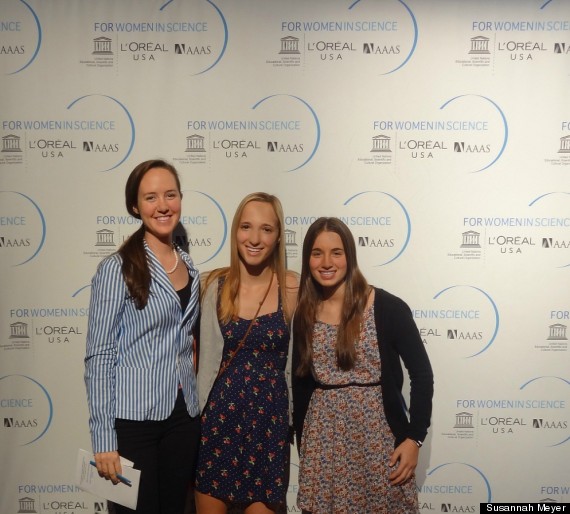 At L'Oreal's event with Girl Up consultant Katherine Arnold (left) and fellow Hewitt student Jamie Russo (right).
Calling all HuffPost superfans!
Sign up for membership to become a founding member and help shape HuffPost's next chapter