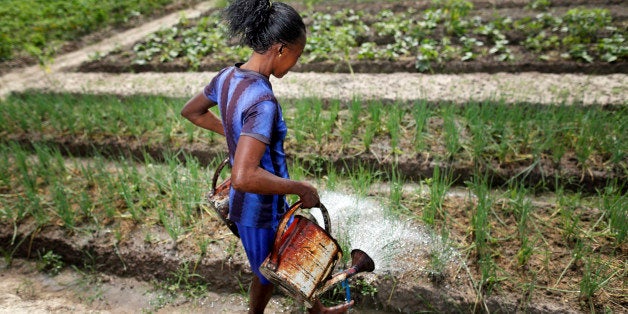 There is very little left to discuss when it comes to gender parity in the workforce. The statistics are clear. According to McKinsey, companies across all sectors with the highest numbers of women on their boards significantly and consistently outperform those with no female representation -- by 41 percent for return on equity and by 56 percent for operating results. More generally, companies with more diverse workforces perform better.
Many businesses understand the advantages of gender parity. An overwhelming number of studies have shown time and time again that it's good for talent development, culture, innovation, leadership and performance. Not least for a business like ours whose consumer base is 70 percent women.
But growing consensus on the importance of gender parity in business doesn't mean that there are easy or quick fixes -- the retention and promotion of women in business remains a challenge. In our case, Unilever is a company committed to gender parity and a diverse workforce. We are vocal and active supporters of initiatives and pledges that empower women. And we constantly review our policies to ensure that our business is an attractive place for women to build their careers.
Yet, we've still got a lot more work to do. While women represent nearly 45 percent of our management and we have gender parity on our board, women make up only 32 percent of our overall workforce. By achieving equal pay for equal jobs, balanced shortlists, implementing maternity and paternity support and development and mentoring programmes, we're determined to meet that challenge.
Our responsibility -- and the opportunities -- go beyond our boardrooms and payslips. Companies can make an even bigger impact by leveraging their extended value chain. With operations in over 190 countries, reaching more than 2 billion consumers a day, our global scale and reach means that we have an opportunity and an ambition to empower five million women throughout our value chain, and improve the livelihoods of 800,000 smallholder farmers.
The biggest opportunity for us all is in Goal 5 of the Sustainable Development Goals - achieving gender equality and empowering all women and girls. It permeates all of the other goals and it's critical to economic growth, our best weapon to end poverty by 2030.
Allowing women to participate equally in economic and social life, with equal access to key drivers like education, land rights, finance and training, will positively impact all of the other Goals. In fact, not doing so will put all other goals at risk. When we empower women, society benefits, grows and thrives. According to the UN Foundation, women reinvest 90 percent of their income back into their families, while men reinvest only 30-40 percent. If women were to play an identical role in labour markets to that of men, as much as $28 trillion, or 26 percent, could be added to global annual GDP by 2025.
But there are numerous barriers to women actively participating in economy and realising their full potential.
Take smallholder farmers -- the Bill & Melinda Gates Foundation estimates that women in sub-Saharan Africa and South Asia have crop yields 20-40 percent lower than those farmed by men because they lack access to improved seeds, best practice and technologies, and markets.
To address these roadblocks, we are taking a holistic approach.
Across our supply chain, we insist on 50 percent of our sustainable farming providers to be made up of women. To help them overcome barriers, we have worked with partners to provide or support training for around 168,000 women in our extended supply chain including smallholder farmers and small-scale retailers. These programmes empower women to increase their yields and incomes, allowing them to better support their families and communities.
In certain cases, empowering women starts with making their lives easier and removing unnecessary burdens. For example, our Sunlight brand has worked with Oxfam and Technoserve to develop ten Water Centres run by women entrepreneurs in Nigeria, serving a total of 30,000 women and providing communities in rural villages with a sustainable supply of safe and clean water for domestic tasks. Crucially, these centres have enabled women to claim back as much as 80 minutes a day -- adding up to 60 working days per year -- time they would otherwise have lost to water collection.
Via our Shakti programme in India, we provide rural women with the opportunity to become entrepreneurs by distributing goods to hard-to-access rural communities. Empowered with training on basic accounting, selling skills, health and hygiene and IT, over 70,000 Shakti Entrepreneurs distribute our products in more than 165,000 villages, reaching over four million rural households.
We are not alone. Other businesses have begun to grasp the urgent need to support gender parity and put in place practical solutions like these to unlock the economic and social potential within their business and value chains. For example, leaders from Vodafone and Tupperware to Twitter have backed UN Women's HeForShe campaign, alongside political and academic leaders, to drive change from the top.
These public commitments and training programmes are encouraging -- but it's just a start. On current trends, it will be 2096 before women have the same economic opportunities as men. That can't be right! We must do more to speed this up.
If we work in partnerships and leverage the size and scale of organisations and work through global value chains like ours, we can achieve a breakthrough.
It isn't just about empowering women and girls because it's the right thing -- our vision of a poverty-free world depends on it.
This post is part of a blog series produced by The Huffington Post in conjunction with International Women's Day, celebrated on March 8, 2016. A What's Working series, the posts address solutions tied to the United Nations' theme for International Women's Day this year: "Planet 50-50 by 2030: Step It Up for Gender Equality." To view all of the posts in the series, click here.
Paul Polman is CEO of Unilever and Chairman of the World Business Council for Sustainable Development. You can follow Paul on Twitter @PaulPolman and on LinkedIn.
Related