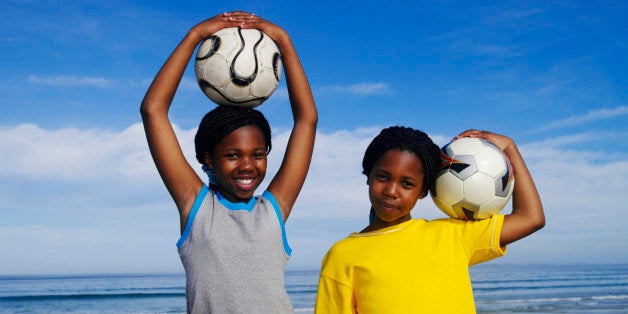 My name is Makatleho Pitso, but everyone calls me Puky. I'm a footballer for one the leading women's soccer teams in Lesotho, a small Kingdom in southern Africa. Women's football is at an embryonic stage of development here, but we are hoping to help create a formal league structure, not only because we love playing, but also because women's sport can help empower women and break down discrimination in our male dominated society.
It has certainly changed my life.
Lesotho is a beautiful, mountainous country. We, the Basotho people, have a reputation for being friendly and peaceful, but there are also many challenges. There is a high rate of poverty and the third highest prevalence of HIV in the world, with more than 23 percent of the population infected. Many children grow up without their mothers or fathers because they died of AIDS and young girls are always vulnerable to the disease as multiple-concurrent and older partners (sugar daddies) are commonplace.
My home is in a rural district called Mafeteng, but I spent my teenage years in Maseru, the capital city. I lived with my aunt and her children while I attended high school. My aunt and I had a difficult relationship and looking back I was selfish and unsupportive. She had HIV and told me because she trusted me, but when we fell out I told her she deserved it.
I was a troubled and confused girl, and I was engaged in a variety of risky behaviors, primarily having much older sexual partners. I grew up without knowing my father until in 2009 when my mother told me where I could find him. At my first visit to my so-called dad I encountered a big challenge. His friend raped me. I couldn't talk about it until I opened up to a counselor at a local health clinic. I had recently tested for HIV and I was OK but she asked me to do it after the incident. I didn't want to. I was in denial.
In 2010 I was with two friends at the mall when we met people from a soccer-based social development charity. They asked us to attend a health education and life-skills course, with the incentive to play with soccer. I'd always loved football so I went along, and to be honest that is all I was interested in beforehand. However, I ended up loving the whole thing, understanding more about HIV, and I began to realize that I had indeed been a bad girl and that I was applying stigma and discrimination to my own aunt when she needed me most. It was, however, too late because she had already passed away. That really touched my soul as I felt like I owed her all of my support. I told one of the counselors at the charity about the rape and she asked me to test for HIV, I agreed and it came back positive. I was not shocked, but it was hard to tell people. The charity supported me through this process and also referred me to the clinic, and I have adhered to my treatment ever since.
After completing the course I applied to become a volunteer coach-educator in my community. This really changed my life, and every day was a learning day for me as I started to care for other people. New opportunities then started to come from every direction. I joined another program within the same organization called Women4Women that provides a range of support for young women from vulnerable backgrounds including those forced into prostitution. I made a lot of friends here. I was also chosen in September 2012 to represent Lesotho to climb Mount Kilimanjaro in a campaign sponsored by the United Nations to end violence against women and girls in Africa.
Last year I attended a program in South Africa called YES -- Youth Empowerment through Sports. It was here that I learned who I want to be and what I want to do with my life. I am passionate about sports, and I believe sport has the ability to transform other people's lives as it did mine. I would truly like to stay involved in Sport for Development.
No one ever thought I would be where I am now working full-time as a Regional Site-Coordinator of an HIV prevention program and a dedicated soccer player for Kick4Life Ladies. As the World Cup kicks off in Brazil, it is important that we remember in many parts of the world, football is still a privilege for women, not a right. This is the case for many women and girls in Lesotho, and I am proud to be playing a part in challenging the stigma and discrimination that exists, just by doing what I love -- playing soccer.
This post is part of a series produced by The Huffington Post and Kick4Life, which is a non-profit that uses soccer as a vehicle to address social disadvantage and transform the lives of youth in the nation of Lesotho. To see all the posts in the series, read here. To learn more about Kick4Life and their World Cup Challenge on Crowdrise, read here.
Calling all HuffPost superfans!
Sign up for membership to become a founding member and help shape HuffPost's next chapter