In cooperation with our longstanding partner, Crowdrise, The Huffington Post is celebrating its 10 year anniversary by focusing on the promise of the next 10 years ahead. We're highlighting causes that are near and dear to our ethos -- causes where we believe meaningful strides can be made in the coming decade -- and empowering readers to act and take part. Join us!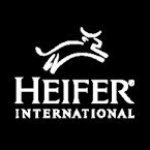 By Cindy Jones-Nyland
Cindy Jones-Nyland is the Chief Marketing Officer at Heifer International. In this position, she leads the organization's global marketing and fundraising strategy, including digital marketing, communications, branding, education and community engagement. Heifer International works with communities to end hunger and poverty while caring for the Earth.
As we celebrate 10 years of the Huffington Post, it seems fitting that we look to the next 10 years to envision what is possible, rather than revel in the past. Arianna Huffington is a living example of women in leadership, vulnerability and pioneering.
I applaud her bravery and example.
If we desire an end to global poverty and hunger, the next 10 years must focus on empowering women around the world, because they play a critical role in our efforts.
Much progress has been made in moving the needle to empower women and create opportunities for improvements in maternal health, education and equality. But we are nowhere close to a position where we can become complacent.
There is much more work to be done. Exponentially more work.
We spend a lot of energy convincing audiences that empowering women is critical, and I get the sense we have a good level of buy-in. But something I have witnessed firsthand in my travels to visit women in many deeply poor communities is this: we must also embrace the men and boys and work to change cultural values deeply woven into the fabric of societies around the world.
Women must be valued and respected, not only by so-called donor countries, but also in the communities where our fellow women live.
This requires a significant cultural and interpersonal shift. Change runs deep, and it is why organizations must focus on work with entire communities, not only the women.
I saw this shift in action quite recently in Malawi - a country with deep patriarchal traditions. I had the pleasure of visiting the Mtika family in the Kasungu District, about a three-hour drive from the country's capital, Lilongwe.
As Mr. and Mrs. Mtika showed us around their successful family farm, they shared the changes they have made over the past several years since receiving livestock and training from Heifer International. They eat three times a day instead of two, they have improved their grain storage dramatically, they now have a cookstove that burns less wood and puts out less smoke, and all four of their children - two boys and two girls - attend school.
What was most striking was how often Mr. Mtika referenced his wife and how her involvement and support were key to their family's success. We asked Mr. Mtika which of Heifer International's 12 Cornerstones - the set of principles that guide Heifer's work with communities - was the most difficult to adopt, and his reply was Gender and Family Focus. It was humbling to hear him admit to how hard, but how necessary, it was to challenge the cultural traditions that marginalize women and girls.
We must change deep cultural norms and help all people learn to value and respect one another - men and women, girls and boys learn by example. We must allow men and boys see value in progress and societal change that comes as a result of a shift in behaviors and traditions, and we must empower women and girls to feel safe, valued and respected.
In too many corners of the Earth, women are not seen as valuable, contributing members of society. Yet the facts prove the direct opposite. Sometimes it is impossible for me not to be filled with anger and frustration at this.
Gender training and cultural development are critical as part of long-lasting change for women and girls. And it means including the men and boys in all aspects of global development. If we don't, the struggle will continue for women and girls everywhere.
I applaud Emma Watson and her bravery in beginning the discussion with the He for She campaign. She is using her voice to raise awareness for a critical component of progress. I urge development practitioners to take this message to heart and to include men and boys in the gender discussion at all levels.
We cannot end global hunger and poverty without empowering women. We cannot empower women without engaging men in the dialogue.
To make the next 10 years count, we must help men and women - together - find the willingness to be vulnerable and brave, and to stand against the cultural norms that stall the very progress we seek to achieve.
When I think about 10 years from now, my own daughter will be 15 years old. I have to believe we will have come so much farther by then. For her sake, and for the sake of girls and boys, women and men everywhere.
Photo Caption: Mr. and Mrs. Mtika, of Kasungu District, Malawi, share what it means to them to work together to have a successful farm and family. Photo by Karen Walrond.
Calling all HuffPost superfans!
Sign up for membership to become a founding member and help shape HuffPost's next chapter