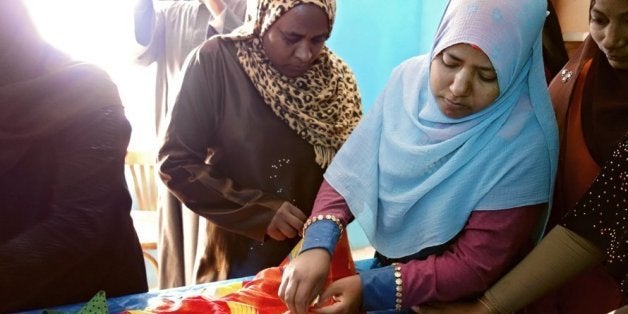 Saaeda Atta Ahmed thought her destiny was set in stone as a young woman living in a poor rural village of Upper Egypt. But with education and training provided by UNDP, she now envisions a different future.
Saaeda, like so many others, had to drop out of school, since education is still considered a luxury for girls in the region. In rural Upper Egypt, there remains a significantly high rate of out-of-school students and a large gender gap in education. Recent surveys show that some 22.1 percent of young women aged 10-29 have not had an opportunity of a proper education (ENID Case Study 9). The village Saaeda lives in only has one primary school and no institute for secondary education or vocational training. Without a proper education, young women like Saaeda become one of the most disadvantaged groups in rural Egypt. They are more likely to continue to work in poorly paid farms, to be married off early and to face greater risks in nutrition, health and overall well-being. It seemed like an impossible task for women like Saaeda to escape a life of poverty.
But, with a turn of events, Saaeda has found another path. Hope came when the Egypt Network for Integrated Development (ENID) partnered with a local NGO to provide literacy and skill training for dropout girls in their village of el Makhzan. She enrolled in the literacy class for nine months with 24 girls. Following the literacy class, they are now enrolled in a vocational training course to teach girls how to sew garments. After their training of some 10 months, Saaeda and her colleagues hope to find jobs in the garment industry or become trainers themselves for girls facing similar conditions.
"The course will enable me to produce and sell. And I think that great things will happen in my life now. I hope to continue working with the local NGO to help increase my experience and train more in marketing. If I cannot work with the NGO, I will buy a machine and start to work by myself at home," Saaeda says.
ENID's innovation in this project was to link literacy education with vocational training to ensure a strong incentive for women to enroll in the course and become literate. Literacy is not only a human right, but it also enhances the potential for success in finding a job and starting a business. There are still many challenges that Saaeda would have to face, but ENID's literacy and skills training for young women have given her a better perspective on how she can shape her life going forward.
As its name suggests, ENID is by essence a network that partners with various actors at the local, national and international levels to boost Egypt's productivity and employment opportunities, to provide basic services to the poor and link local practices with research and policy making at the national level. ENID was first set up in mid-2012 by UNDP with generous support and cooperation from national and international partners to support integrated development in the most vulnerable regions in Egypt, with a special focus on women and youth. Since its inception, ENID has focused its work on supporting integrated development in the governorate of Qena. Located along the upper Nile River, Qena is one of the most disadvantaged governorates in Egypt with more than half of its population (58 percent) living below the national poverty line. Moreover, some 34.5 percent of the population in Qena are illiterate, and around 13.5 percent are struggling to find a job (CAPMAS 2013, ENID 2012).
To boost development in Qena, ENID has started vocational training and job creation projects in 21 villages. It has also opened up youth centers, pre-schools and a mobile health unit in the most disadvantaged villages of the region. Furthermore, the Network has drawn on these local practices to shape policies at the local and national levels by issuing some nine case studies and 13 policy beliefs on subjects ranging from promotion of Egypt's ready-made garment industry to improving sanitation in rural Egypt. Moving forward, ENID announced that 2014 will be a "year of implementation," which will draw on its past studies and experiences. It has also expanded its operation to the neighboring governorate of Luxor and hopes to go further to reach all the southern governorates of Egypt. Through its extensive networks and innovative approach, ENID is providing much needed support for the women, youth and local communities of the Upper Egypt region.
The UNDP/ENID Projects is implemented through generous contributions from the UK Department for International Development (DFID), Swedish International Development Cooperation Agency (Sida), Sawiris Foundation for Social Development, Rockefeller Brothers Foundation, Italian Development Cooperation and UN Women.
This post is part of a HuffPost series in collaboration with UN Women, in recognition of the 20th anniversary of the adoption of the Beijing Declaration and Platform for Action. To see all the other posts in the series, click here. For more information about UN Women's Beijing+20 campaign, click here.
REAL LIFE. REAL NEWS. REAL VOICES.
Help us tell more of the stories that matter from voices that too often remain unheard.