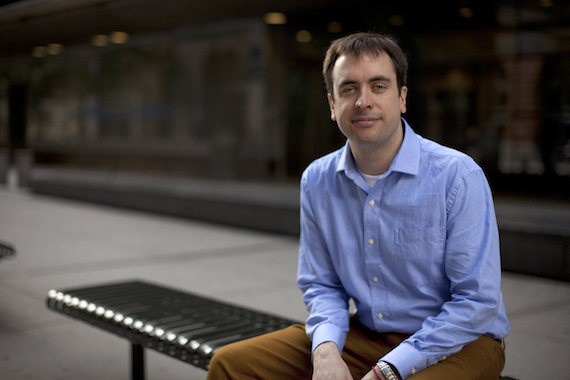 Dave Lyons, photo courtesy of Julie Hassett-Sutton/Frantic via Global Kids
I started attending Global Kids meetings when I was 12. They took me in even though I must have been at least three years younger than the next youngest member. No one felt that I was a child interrupting things. I was accepted despite all my differences. There's a photo from the Global Kids Conference at Riverside Church in 1990 where I might be the only Caucasian member in the entire group. I was the only one who went to private school. I was the only one from Greenwich Village.
That conference at Riverside Church was a galvanizing experience. It was full of energy. Participants felt they could speak their minds. It was our space. In Global Kids, unlike some other youth groups, we had the feeling that we were the ones in charge, that we were the ones who decided what we would say and what we would do. The facilitators empowered us to do that rather than give us activities that only required filling in the blanks.
When I joined Global Kids in the early 1990s, it was a different time in New York City. There was the crack epidemic. There was HIV. There was more gang activity. The city felt like a more dangerous place, and Global Kids was an opportunity for youth from different parts of the city with different backgrounds, different perspectives, to come together and learn from one another about what was happening in New York, our mutual anxieties, our mutual fears and our mutual hopes.
I think the real role that Global Kids plays is that not only is it about helping youth who come from disadvantaged backgrounds, it's about involving everyone from all walks of life, not just in New York City, but in the world. It's the old cliché that if you're not part of the solution, you're part of the problem. You don't solve problems in the less advantaged parts of society by simply filling voids and filling gaps. You also need to be building connections between every part of society. You need people of all walks of life to understand one another.
Global Kids still influences who I am, working in education, working with younger people, working on bridging gaps between different societies or different parts of society.
Popular in the Community