Co-authored by Doug Ragan, Chief of UN-Habitat Youth and Livelihoods Unit, and Olivia Labonte, UN-Habitat Youth Advisory Board Member for North America
Empowering Youth in Sustainable Urban Development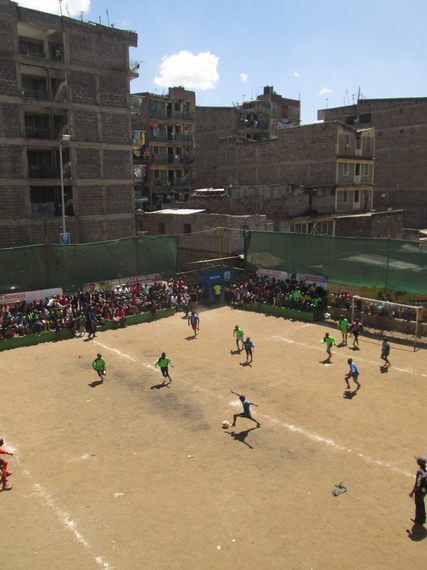 Image of soccer pitch in Mlango Kubwa. Photo courtesy of the Mathare Environmental Conservation Youth Group.

Barcelona is one of the most beautiful cities in the world, and what defines the city is its public space. From Antonio Gaudi's Parc Guell, "a sprawling complex of towers, galleries, pavilions and decorative landscaping on a hill overlooking Barcelona", to Las Ramblas, the world's most well known walkway that runs 5,000 feet from the Placa de Catalunya to the Monument a Colom, public spaces help define this city's unique spatial identity.
Barcelona was thus the perfect backdrop for the UN Conference on Housing and Sustainable Urban Development's (Habitat III) Thematic Meeting on Public Space. Running from April 4-5, this consultation is arguably one of the most critical discussions held in the lead up to Habitat III in Quito, Ecuador this October. For those who use public space most - youth, women and children - there is nothing more important to discuss than the space in which they use for a range of activities, from recreation to transportation to small business. Yet sadly for all citizens, especially those most marginalized, urban space is becoming less and less accessible.
However, interesting work is being done in Spain and around the world to include marginalized and excluded groups in public space, and to democratize urban planning. For example, Factoria Joven, located in Merida, Spain, is a youth-inspired built space created from recycled materials. It holds a skate park and offers resources that empower and encourage young people to participate in public space and community-building. Nonetheless, mobilizing youth remains a challenge when adults hold most of the public forum. Lack of youth empowerment can lead to tokenism; therefore, the question remains: how can we create inclusive public space that leaves enough room for marginalized groups to have their say and contribute to society in equitable and meaningful ways?
Though it is hard to quantify, there is a strong perception that there is less public space in cities globally, especially in the Global South. What was once a park has now become a strip mall, a gathering place for the local community has been paved over for a thoroughfare, and a safe street has now transformed into a dangerous highway. This is the experience of most urban denizens who no longer feel safe sending their kids to school or to play in the local area.
One of the most challenging places to create public space is in informal settlements and slums, areas where land is in high demand. This fact creates intense pressure on public spaces. Land in slums is a highly contested issue, and commercial land developers continue to contribute towards the increased privatization of public space.
Despite this, the best example of how place-making can occur in slums is highlighted in UN-Habitat's Youth and Their Needs for Public Space report and the accompanying video that tells the story of the creation of a youth centre and football pitch in Mlango Kubwa, a neighborhood of the Mathare informal settlement in Nairobi.
Mlango Kubwa is home to approximately 40,000 dwellers, and historically has had little or no public space. This began to change in 1997 with the establishment of the Mathare Environmental Conservation Youth Group (MECYG), a social youth enterprise group that undertook community cleanups and established a garbage collection service, which had never existed in the past, for the community. Stemming from this the group was an effort to gather resources to build a youth centre and a football pitch. Today, thousands of young people access these sites per month, demonstrating both the need for public space, and the resilience, ingenuity and perseverance of youth to create that space.

"The soccer pitch and community centre is used every day by the youth of Mlango Kubwa," stated Isaac Mutisya Mukasa, founding member of the Mathare Environmental Conservation Youth Group (MECYG). "There has been a decreased amount of violence in the area, and everyone seems happier and more positive."
On his visit to Kenya, Ahmad Alhendawi, Envoy on Youth to the UN Secretary General, noted he "was honored to be able to visit the youth of Mathare Environmental Conservation Youth Group." He added, "The work they have done in establishing the centre and the football pitch is a shining example of what youth can do to create positive spaces within slums."
This project highlights how young people have both the desire and talents to pursue sustainable urban development projects that can create lasting positive changes for all residents. The thematic meeting in Barcelona, as well as Habitat III in October, must recognize the important role young people have in place-making and in making real differences in the quality of life available to those around them.
Although youth engagement can often be challenging depending on when and how they are approached, Barcelona provides a timely opportunity for actors in the international arena to focus on the importance of public space and consider ways young people can be better incorporated in place-making. Involving young people and other excluded groups will facilitate better planning that will benefit a range of social groups. The time is now to democratize urban development and create space for marginalized populations, especially youth, to contribute their ideas in ways that can produce lasting impact.
Calling all HuffPost superfans!
Sign up for membership to become a founding member and help shape HuffPost's next chapter