by Bathylle Missika and Alessandra Fiedler
When Emmeldah walks through the dirty lanes of the Mathare Valley in Nairobi, what she sees is far from a success story of how progress on the MDGs have lifted her and her peers out of extreme poverty. The slums of Mathare Valley, just a short distance away from Nairobi's bustling business district, lack access to basic services such as electricity, running water and sanitation, combined with high levels of crime.
Yet Emmeldah walks through these streets a different person from just two years ago: she is no longer a dependent, but the main breadwinner of her family. She has a stable job as a data management operator and is completing a bachelor's degree in commerce at Kenyatta University, both opportunities thanks to the social enterprise Digital Divide Data (DDD). The DDD program scouts talented adolescents and employs them in computer and management positions, while providing them with a scholarship to enroll in the degree of their choosing. These youth earn an income and get to do more than just dream about what jobs they will end up having access to, in an environment where the odds were not in their favor.
"Impact Sourcing" models such DDD's work-study program, are one of the many innovative initiatives aimed at digital employment and youth empowerment. Impact sourcing refers to socially responsible businesses seeking to leverage the highest possible impact by offering employment opportunities to disadvantaged individuals. In addition to full-time employment, these include complementary measures such as education and financial services.
Supporting social entrepreneurs with proven impact is also the goal of the Skoll Foundation's Social Entrepreneur Challenge that DDD is currently participating in. The challenge encourages social entrepreneurs to achieve new financial goals through an ambitious 8-week crowdfunding campaign, with funding matched by Skoll's own resources. Participating groups are recipients of the Skoll Award for Social Entrepreneurship and represent some of the most successful social businesses in the field.
The Social Entrepreneurs Challenge will enable DDD to empower hundreds of disadvantaged youth in Asia and Africa to gain work experience, graduate from university and leave poverty for good. The money raised will be matched by the Skoll Foundation, and could go a long way to changing the lives of young people like Emmeldah.
Another champion in this emerging field is the Rockefeller Foundation. They work with innovative social enterprises that create ICT-related employment as part of their Digital Jobs Africa Initiative. And, they are not the only ones: other foundations such as the Mastercard Foundation, the Tony Elumelu Foundation in Nigeria, the Sawiris Foundation in Egypt and the Emirates Foundation for Youth Development in U.A.E. are also recognizing the pivotal role of youth for development and have shifted their focus and support to this target group, investing in training, skills development and leadership.
A group called netFWD, the OECD's global network of foundations working for development recently studied this area. The emerging findings on Foundations' Innovative Approaches to Youth Empowerment confirm this emerging focus and demonstrate how foundations are increasingly employing innovative approaches to youth empowerment. Combining market-based solutions with traditional grantmaking, and bringing together a diverse set of partners from the private, public and non-profit realms, foundations are developing exciting new approaches to empowering youth. The study also suggests that foundations have unique potential to provide critical seed capital for risky but promising enterprises that benefit youth.
For example, The Mastercard Foundation launched the Learn, Earn, and Save Program in 2011, under which they created partnerships with three implementing organizations (CAP Foundation, Fundacion Paraguaya, and Swiss Contact) that supports holistic approaches to creating opportunities for disadvantaged young people in Kenya, Tanzania, and Uganda. A fourth partner, the University of Minnesota, serves as a learning partner; they have designed a common monitoring, evaluation and learning framework to share insights across the program.
"Flexibility is one of the considerable comparative advantages foundations have vis-à-vis other development actors in addressing complex themes like youth empowerment. They are increasingly using this flexibility to forge 'smart' partnerships that transcend traditional public vs. private sector thinking," explains Mario Pezzini, Director of the OECD Development Centre, which hosts netFWD.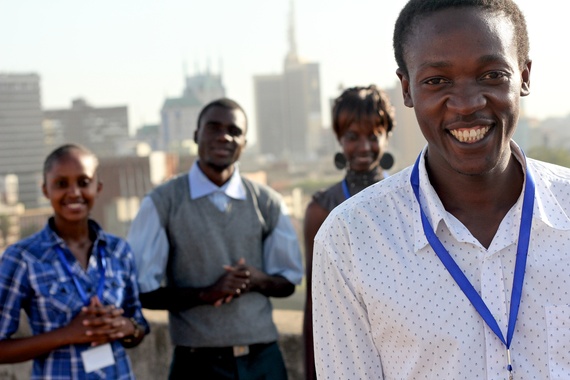 REAL LIFE. REAL NEWS. REAL VOICES.
Help us tell more of the stories that matter from voices that too often remain unheard.