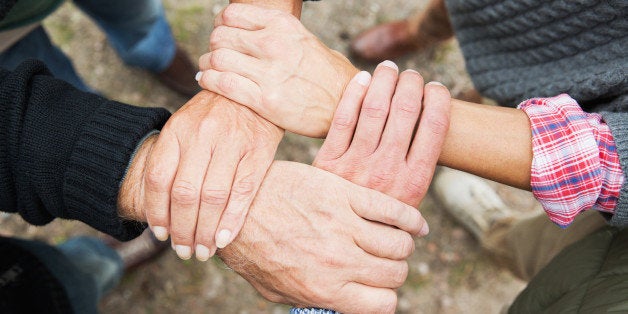 This is a blog about sisterhood, written in collaboration with Donna Larner-Lavery. Since my co-writer comes from her perspective as a journalist, I will write from my experience as a psychologist and sex therapist, with years of leading women's groups that empower the participants with direct experiences of sisterhood, often while sharing their most vulnerable stories of relational and sexual wounding. Donna will write first and my perspective follows.
I've considered writing a piece about sisterhood for some time now because I've been contemplating how to bring us together as a society in order to care for one another and our planet. As a consumer advocate, I am excellent at conflict resolution, so being solution-oriented is a part of my nature. Additionally, I'm currently producing a film called The Shift that deals with how humanity will navigate the changes to our planet and social systems that are breaking down across the globe.
As fate would have it, I recently had the pleasure of meeting Dr. Linda Savage -- another HuffPost blogger -- and I felt moved to propose to her that we write a piece together on 'sisterhood,' both from her perspective as a sex therapist and all things goddess, and mine as an advocate. We're now envisioning an interactive dialogue with our readers here about the transformational process of assisting the harmonizing energies of the divine masculine and feminine back onto a more balanced path of co-creation in our world -- presently a world of enormous paradoxical contrasts (our patriarchal society and its huge wage disparity, for example).
Mothers, daughters, grandmothers, aunts, sisters, girlfriends, co-workers, neighbors... perhaps the key to balancing life lies in how we relate to one another as women. How would it feel to lay down our own internal pitchforks of competition and judgments and embrace one another? Those internal pitchforks of self-bullying -- I'm not good enough, smart enough, pretty enough -- which often lead into judgments of others who cross our path? These barriers perpetrate division -- division within oneself, our sisters and our brothers.
Feel into the word "division" and then feel into the word "unity"... which one feels more aligned within you? It becomes a practice of mindful awareness in what thoughts we choose to embrace. In our understanding of this choice, how do we mentor young girls in ways that will help them connect with their inner divine and then hold that powerful love-energy to heal any division? Perhaps we all attend a school of love (A USM -- University of Santa Monica comes to mind, but made for our youth). For certain, bullies would be sent to the school of love, where love is applied to their wounds and they are nurtured back into wholeness and a feeling of connection. Sometimes it's only a matter of remembering that we are truly brilliant beings and that we possess the capacity to lift one another up.
It's strictly our choice. We can choose whether we'll act, react or even remain still and do nothing. It's a mindful practice of awareness to hold ourselves in alignment with kindness and love, and this conscious practice can begin now. Try it. Watch for mind chatter. Is it gentle? Is it loving? And watch for moments when the unexpected occurs and how quickly you react. Will it be in kind? Think about how kindness in the office, daily, could eventually blow the lid off that glass ceiling that sometimes seems impenetrable. And may bullying -- mental, emotional or physical -- become unconscionable instead of the norm.
So here's our challenge: Can we empower each other in sisterhood and, from that place, raise the roof of the collective consciousness?
There are many ways women experience the loss of power, not only from early experiences of abusive situations, but also from everyday moments when they are confronted with subtle or not so subtle demonstrations of their diminished value, from bosses, strangers, family members, and even partners. Sadly, some of these experiences come from other women. For several millennia, women have been pitted against each other, giving rise to countless stories of women's cruelties perpetuated against their own gender. We all know the mean girl traditions that abound in schools and the workplace; to me they are as appalling as they are puzzling because women could get so much more of what they want through genuinely caring for each other.
I would like to write about Sisterhood as a very real antidote to these competitive games that persist in patriarchal cultures. Sisterhood is a true source of empowerment for women; not to gain power over anyone or anything, but to experience the power within. Women have been cut off from their sexual power for so long, and a vital source of empowerment comes through women recognizing their sisterhood with each other and being encouraged to reconnect to their sexual energy. What I mean by "sexual energy" is not the current cultural images of "hot sex" based on novelty and virtuoso performances; it is not seduction techniques or special tricks to entice men. Sexual energy is that deep connection to self, partner and spirit. For women, it is that connection to our pulsing life force that is available in our bodies all the time; it is what fuels our creative juices. This life force is sexual energy.
For over a year, I have been leading weekend intensives entitled "Energy, Power and Sexuality." The intention of these weekends is to provide a safe container for women to heal their old stories and connect to their sexual energy and to their embodied divine feminine power. It is an opportunity for healing blocked or broken life force energy; this energy which connects us to our authentic power and creativity. Over the course of an intensive weekend, the safety of weaving together in community encourages them to build new stories of alignment with themselves and to embrace a turned on sexuality. This reconnecting to their sexual energy offers them a different type of confidence that makes it unnecessary to compete with other women. They dance, connect within, and activate energy centers which lead to an embodied feeling of "I rock as a woman" that does not exclude loving their partners deeply, in fact it makes that possible, often for the first time. They experience what is so very special about the feminine in the company of their sisters and that it feels like coming home to themselves.
We invite your feedback and hope we've struck a chord within you that may compel you to chime in.

Donna Larner Lavery, MA Spiritual Psychology, is an Emmy-award winning investigative journalist, consumer advocate, entrepreneur and Producer on The Shift www.theshiftmovie.com.
Linda E. Savage, Ph.D. is a Licensed Psychologist, Marriage and Family Therapist and AASECT certified sex educator who brings the wisdom of her 30 years of experience leading women's groups and treating couples. She is the author of Reclaiming Goddess Sexuality, a blend of current clinical knowledge and ancient wisdom. www.goddesstherapy.com
Calling all HuffPost superfans!
Sign up for membership to become a founding member and help shape HuffPost's next chapter