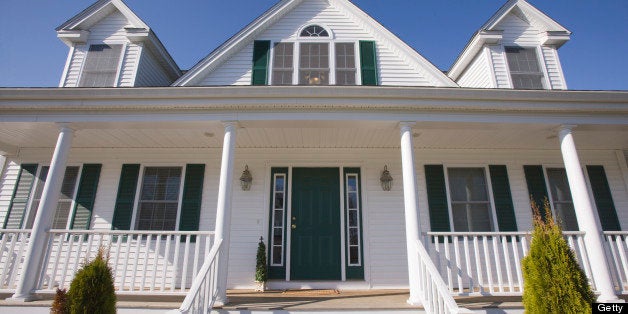 My youngest child left for college last fall. Since then, I've been trying to de-clutter my house. I'm not an extreme hoarder, but I have boxes and boxes of old artwork, graduation certificates from the fifth-grade D.A.R.E. program and a host of school directories and yearbooks. And that's not to mention the memorabilia I have from my life before children -- wedding response cards, old Playbills from shows I don't remember seeing and datebooks from 1979 with appointments that mystify me.
I often spend hours trying to throw away some of these items and still only fill one or two garbage bags. It seems an impossible task: After all, my son might someday want the never-used thank you notes I ordered for him when he turned 13, and my daughter might regret not having a copy of her first-grade graduation poem. But I also recognize that my inability to get rid of items from the past reflects my ambivalence about my life and the future.
Surrounded by the past, I am forced to reflect on the fact that my role as a mother who is needed 24/7 is over and that my place in my own community has changed. I have lived in my small suburban town for 21 years, but it's different now. The nearby houses are filled with families with young children who are in the throes of recreational soccer and learn-to-skate programs, and with mothers who converse about the noise levels in the kindergarten cafeteria. I no longer recognize all the faces on the street or in the neighborhood Starbucks, and I am not asked to volunteer in the local schools. Many of my friends are selling their homes and moving to enjoy lower taxes or to live near their grandchildren. There's a sadness to the recognition that a long and wonderful phase of my life is over and a question mark as to what comes next.
So, I've decided that along with de-cluttering the house, I need to do some spring cleaning and perhaps a little redecorating of my life. But how? Well, here are a number of ideas that have been working for me.
Often, we become unwilling to meet new people or even have photographs taken, because we have gained excess weight over the years (I know that was the case with me). You don't have to look like a model, but if you feel healthy and are in good shape, you'll have the energy and the desire to go out and participate in more activities. So, cut out the snacking, join a gym or start training for a 5K race -- your life will become better.
Many of us have interests we neglected while we raised our children. In my case, it's a love of music and theater. It's not that I didn't go to concerts or the theater over the years, but I went infrequently and generally only to see well-reviewed shows or favorite performers. Now, I'm going to experimental theater and stadium concerts where I'm the oldest person in the audience (and by the way, many of these experiences are free or available at very reduced rates). I've waited in line for free tickets to Shakespeare in the Park, gone to a staged reading of a friend's play and have even written a few songs. So rediscover an old passion or find a new one: It's exciting and stimulating and will make you feel more vital.
When you're raising your kids, you often lose your appetite for new activities or for going places on your own. My unofficial policy now is to say "yes" when friends ask me to join them, whether it's going hiking or attending a protest march. Moreover, if there's something you want to do, don't be afraid to go solo. I have found that some of my favorite recent experiences have occurred while waiting in line by myself or going to a book discussion alone. I've not only met funny and insightful people, but I've also gotten the impetus to sharpen and expand my skills, including writing.
Some of the friends we make while raising a family are what I call situational: You become friends with people because you have children the same age, share the same local concerns, live in the same community. But these friendships sometimes become attenuated when our children leave home and we discover how little common ground we truly share. Rather than bemoan the fact that some of your friendships are not as close as before, I think you need to focus on strengthening your connections with people who will be your friends in the future. Yes, it would be wonderful if all our friendships were long-lasting and meaningful, but that's not always the case. So, don't dwell on your situational friendships, but search out and create opportunities to spend time with true friends and don't be afraid to make new ones.
The older I get, the more I believe that people are fundamentally kind and there's no shame in admitting your weaknesses and flaws. Many of us wear masks, pretending we're happy or content when we're not. You certainly don't need to be negative constantly, but actually answering the question "How are you?" with the truth is not such a bad idea.
By trying to follow these suggestions, my life is slowly taking a new shape, and I'm excited about the future. And who knows, maybe my newfound confidence will inspire me get rid of school progress reports and misshapen pottery (although some of those boxes and vases are really pretty cute!).
PHOTO GALLERY
5 Tips For Empty Nesters With Newly Empty Nests
REAL LIFE. REAL NEWS. REAL VOICES.
Help us tell more of the stories that matter from voices that too often remain unheard.