Just over a month ago, my oldest child left home for his freshman year of college. My husband drove him the four and a half hours it takes to get to Boston from our house. Since I had already visited the university twice -- and knew I'd find it tough to keep my emotions in check-- I didn't go. Instead, I cried. I cried in the shower and in bed at night so no one would see. I cried so much and for so many days that I was sure someone at work would comment on the tattletale puffiness around my eyes. But no one ever did.
I admit it. I'm emotional. I've shed tears at every preschool/elementary/middle school graduation -- for all three of my children. I cried when my oldest walked out the door to attend his last day of high school. I cried at the heart-rending moment when Andy leaves for college at the end of "Toy Story 3." I even grew misty-eyed during the finale of "Breaking Bad" when Walter White takes one final look at his son.
But nothing prepared me for the moment on the morning of Thursday, August 29, when I had to give that final goodbye hug to my son in the driveway, already dreading the walks by a now quiet but not-quite empty bedroom. As I held him tight, I truly understood for the first time exactly how my own mother -- gone many years now -- must have felt when she wrapped her arms around me 32 years ago in the same situation.
Clearly, I wasn't alone in my feelings.
In a column titled "Saying Goodbye To My Child, The Youngster," published recently in the Washington Post, writer Michael Gerson wrote that dropping his eldest son off at college was the worst thing that time had done to him.
"With due respect to my son's feelings, I have the worse of it. I know something he doesn't -- not quite a secret, but incomprehensible to the young," he wrote. "He is experiencing the adjustments that come with beginnings. His life is starting for real. I have begun the long letting go."
There are lots of things no one ever tells you about becoming a new parent. For one thing, nobody ever told me how much breastfeeding can hurt. Babies without teeth are still "biters;" they just use their gums. And there also are lots of things no one ever tells you about becoming a parent of a college freshman.
Besides the depth of emotion that goes along with the process, here are four of them:
1) How confusing the shifting of roles can be. Do I text my son every day... once a week... or not at all? Do I book him a train ticket to come home for a visit or wait until he asks? I went from knowing what he ate for dinner each night to not knowing whether he's eating at all. Lots of people have said to me, "Oh, don't worry... they are home so much during the first year that it's almost like they never left." WRONG! The end of August to the last week of November has never felt so long. Obviously I've been excited to see my son strike out on his own. But I've also been grieving over the reduction of my own role in his life.
Now that we're a few weeks in, I've had to work hard to hang back and let my son make the first moves when it comes to communication. I'd be lying if I said it was easy. My son may not have been home a lot during his last year of high school, but a few texts a week is a whole different ballgame than being able to look someone in the eye every day.
2) How hard the absence of one child is on the siblings. Having a child go off to college changes the whole family dynamic. Not only has it impacted me, but it's impacted my husband and my other son and daughter. My three kids have always been thick as thieves and so no doubt they "feel" the empty seat at the dinner table just as much as I do. To compensate, I've encouraged them to communicate regularly with their older brother and to join us for an upcoming "parents weekend" so they can see their sibling's new environment for themselves.
3) How important time with just the family unit really is -- especially during your child's last year of high school. The night before my son left for college, we had a quiet dinner with just the five of us. We cooked his favorite foods: fried chicken and mashed potatoes. I realized these kinds of evenings were about to become a very rare thing, and I wished we'd done a lot more of them over the summer. Meals or activities don't have to be long or expensive. They just have to include the whole family. After all, the quiet company and support of loved ones make up the foundation on which any child's future rests.
4) How you're not going to be the parent you think. I actually figured this one out a long time ago. For example, before I had my own children, I looked askance at other parents who let their toddlers watch TV. Then I found myself the mother of three children ages five and under. Now I'm embarrassed to admit that I once plopped them all in front of the boob tube beside a big bowl of M&Ms so I could finish a phone interview for work. I've always had this magical image of the type of parent I wanted to be, but I never quite lived up to it. In the months before my son left for college, I thought often about the wisdom I wanted to make sure I imparted as a "perfect parent." But in the end I could never say exactly what I wanted with the desired level of equanimity. Nothing about parenting ever happens in a predictable fashion or as you imagined it -- including the sendoff to college.
In short, I always knew this phase would be hard. But I guess I never knew it would be this hard. A few weeks ago, I was melancholy down to my bones. Even so, writing this now, the fog has lifted somewhat. The range of emotions I feel has shifted away from grief and moved more towards excitement over what's to come. A chapter has ended but another has begun.
And besides, it's only a brief 10 days between Thanksgiving and winter break.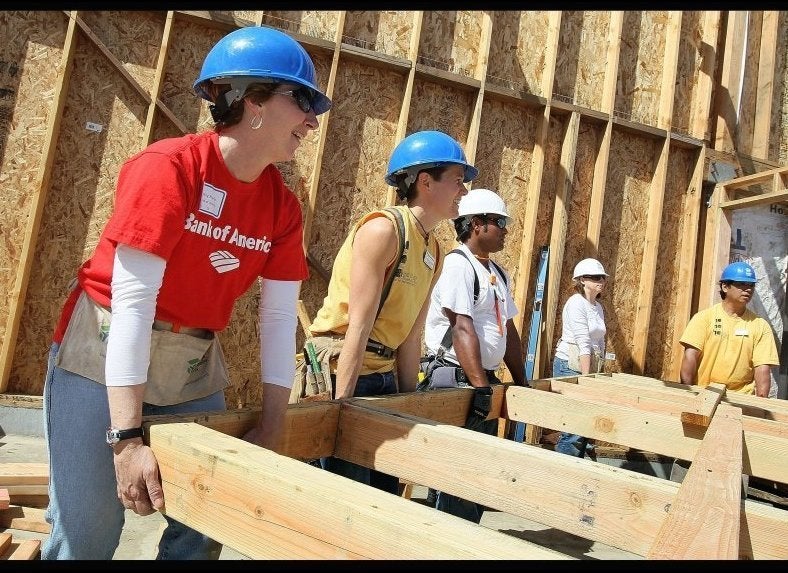 5 Tips For Empty Nesters With Newly Empty Nests
Related
Popular in the Community