Add Radar to the growing list of magazines featuring the Obamas on their September covers. The September issue of the magazine, which hits newsstands next Tuesday, features Michelle Obama on its cover (asking "What's So Scary About Michelle Obama?") and offers what it calls "an insider's guide to America's next First Lady."
The meticulously footnoted insider's guide, a semi-controversial FAQ penned by Ana Marie Cox, asks questions like, "Why does she hate whitey?" ("there is no public evidence of her ever using the word whitey"), "When was the precise moment she became proud of America?" ("Michelle Obama's pride in America is long-standing, diffuse, and organic"), and "Why is she so angry?" ("She's not angry; she is passionate").
There are more standard questions as well, ranging from her childhood to her salary to her domestic skills, but the highlight of the 10-page spread is a sidebar by Stephen Sherrill that compares Michelle Obama to Hillary Clinton on topics like "Style Icon" (Jackie Onassis for Michelle, Carol Burnett for Hillary), "Battle Experience" (Michelle dodged vicious sniping from talking heads, while Hillary dodged imaginary sniping in Bosnia), and "Retro Accessory" (fake pearls for Michelle, Bill Clinton for Hillary).
The full cover of Radar's September issue is included below. For an excerpt of the article, visit Radar's website, and for the full article (including the Hillary Clinton side-by-side comparison) pick up the issue on newsstands starting August 19.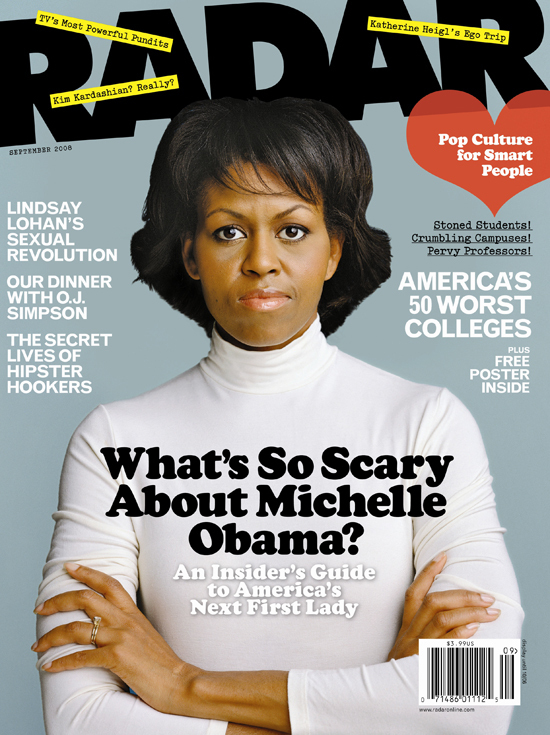 REAL LIFE. REAL NEWS. REAL VOICES.
Help us tell more of the stories that matter from voices that too often remain unheard.