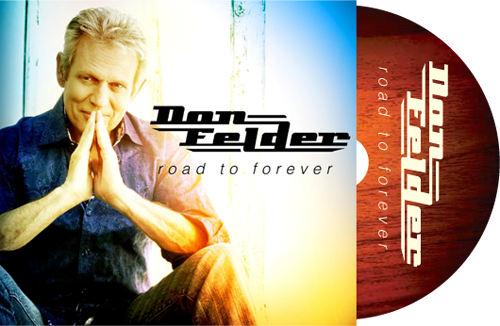 A Conversation with Don Felder
Mike Ragogna: How are you, Don?
Don Felder: Hey Mike, I'm doing really well. How are you?
MR: Really well as well, thanks. Okay, let's dig right into your new album, Road To Forever, which is your first in a while. Can you go into what went into its creation?
DF: When I left the Eagles in '01 I spent a couple of years trying to figure out how I got from this little road in Gainesville, Florida, starting to play guitar when I was ten. The course of that path had led me through many other musical experiences, and eventually to the Eagles. It had become such a huge part of my life, and within the same twelve month period, I also went through a divorce with my wife of twenty-nine years. I really had all the identities I had assumed over the last twenty-something years just kind of stripped away, and I needed to find out how I had gotten to this place in life, and how I could center myself and deal with a lot of these issues before going forward. So I started doing these daily series of meditations about specific parts of my life. When I came out of those meditations I would write down on legal pads those specific recollections. My fiancé read those and realized that it would be an interesting book, so she hooked me up with a guy named Michael Ovitz, who had a company at the time that had a publishing division. Next thing I know, I had a contract to write a book, which became titled Heaven And Hell: My Life In The Eagles, and went on to become a New York Times best seller. During the process of that writing and recollection, as I would go through periods of my life where I had really emotional situations like the divorce with my wife, not only would I write it in text, but I would go into my studio and write songs about it. The musical release, for me, is the greatest expression of emotions, more so for me than just writing text. So I started writing these songs about life experiences and things that I had been through kind of simultaneously as I was writing this book. When I had finished promoting the book, I decided that I needed to finish some of these songs and have some new music to play at my live show. I went back through this list of twenty-six song ideas I had made sketches and demos of, picked the best sixteen songs, and said, "I'm going to take this to the studio with some friends and put it out as a CD." So that's sort of how it all came together.
MR: Don, you have a song on this album called "Heal Me." Is that related to the meditations that you were talking about?
DF: It's really relative to everyone who goes through life, whether they are battered by childhood trauma or the loss of a loved one--just all the things that life barrages us with over time--we all wind up with these scars on our hearts and souls. There was a point in this process where I wanted to find a way to kind of heal myself from those scars of life. Meditation was a big help, and writing these songs and the book was a big help, but it kind of happens to us all. As a matter of fact all these songs have a very human quality that I think people can relate to and identify with. "Heal Me" has that feeling of wanting to find a way to release yourself from the scars that life has battered us with.
MR: Can you go into the first track, "Fall From The Grace Of Love"?
DF: You know, I think we all go through times in our life when we're badly in love with someone or something, and no one really likes to go through that painful plunge, which is the "Fall From The Grace Of Love." It's the dark part of the beautiful light that comes with love--nobody wants to experience that. In '01, when I left the Eagles and my marriage ended, it was a very difficult time to deal with emotionally, so I thought that was a great way of putting all of that into one song idea about, in an optimistic way, not wanting to "Fall From The Grace Of Love." If you're going to take that leap of faith and try to reach out and experience love, you run that risk, and as we all know, that can be a very painful experience, but it comes along with the joy of your heart being inflated with the wonderful feeling of love. It's kind of hand in hand, like the light and dark, Heaven and Hell, love and love lost.
MR: Beautiful. The song "Wash Away" with Tommy Shaw--how did that come about?
DF: Well, it was kind of the same thing. It was about trying find a way to release myself from the painful experiences I was going through. I had written a lot of lyrics for that song and just wasn't particularly happy with them. So I called up Tommy, who miraculously happened to be in Los Angeles. As you probably know, Styx is on the road almost all the time. I told Tommy that I was writing this song and that I needed him to let me know what he thought. Tommy was gracious enough to come over, and we spent three days working on three songs actually, "Heal Me," "Wash Away,' and then we wrote this other acoustic piece that sounded so much like Crosby, Stills & Nash that we couldn't really use it on the record. It was just a little out of context. Tommy did a wonderful job of just getting to the point, musically and lyrically, of what I was trying to say, and helped me clean up some of the lyrics I had written in a really poignant, but non-preachy way. He's a great singer, so I had my tech set up a mic in my studio, and I had him record the choruses for me. So, Tommy wound up helping both write the songs, and he sang the choruses with me.
MR: Is that the first time you've worked with Tommy?
DF: I've known Tommy for a while and we've played together live, but this is the first time we've sat together in the studio and worked together on some music. It was a delightful experience. It really just kind of unfurled in a very easy flowing, non-critical way. It was nice to have ideas, both from him and myself, and to be able to sort through them and decided jointly what was working and what wasn't. We were just delighted. It was a very happy experience.
MR: You were a member of one of the most important bands that America has ever offered. How do you feel about that?
DF: Well, it's really particularly flattering to have been on this path, wind up with that band, and then be a part of it in a substantial way; to have brought the idea of the music for "Hotel California," to have been a part of that is really flattering. I have some really fond memories of being in that band, and the music we made with each other was spectacular. I don't think any of us have gone on individually to surpass any of those efforts that we did jointly. You look back at your life and you go, "Well, we wrote some great songs together." Was it difficult? Yes. Were there times of arguing, frustration and contentious behavior? Yes. But the end result was a lot of really great music, so it was all worthwhile.
MR: When you get a bunch of artists--all people who constantly create--it makes sense that you're going to be bumping heads sometimes.
DF: You know, you're absolutely right, Mike. Anytime you have five extremely talented, "A triple-plus" personalities in the same band where everybody writes, sings and plays really well, you basically have five front men. Anyone of us could have--have and are--fronting our own bands. So, you wind up with these issues of who's going to be in control, who's lyrics are better, who's going to play guitar? It's not like one leader, it's a bunch of people. The band was originally formed as "no side-men." Everybody had been side-men in other acts, and we decided there were no side-men in this band. Little did we know the power struggles down the line would kind of replace that philosophy with a different approach to dealing with the issues. It's a difficult thing to have so many artists in the same room, all wanting their song, their lyrics, their voice heard and their ideas put across. It was a tough challenge, you're right.
MR: Don, do you have a favorite track from your Eagles catalog?
DF: Yeah, I think my favorite track would have to be "Hotel California." It started as such an abstract little piece that I wrote in my little beach house in Malibu on a four track tape machine. As a matter of fact, I just found the original demo cassette that I gave Don and Glenn, and transferred it to digital. It was really kind of astounding just how close to the original record it was. Every time I hear that song, I think fondly back to those days on the beach, and then standing in a huge stadium in front of a hundred thousand people, playing that song. As a matter of fact, I just did a show for the United Nations last Fall. There were about four hundred Heads of State from all over the world, and when I went onstage and played "Hotel California," I got a standing ovation for that song. What really astounded me the most was that half the people in that audience did not speak English, yet they knew and recognized the song. Every day, that song continues to amaze me.
MR: It is one of the most memorable and iconic pop songs that there's ever been.
DF: Thank you very much. Like I said, it has just been a great honor to be a part of a project that produced music of that quality. Everybody participated and wrote parts, including our producer, Bill Szymczyk, who had some of the suggestions of how things got recorded. It was a real team effort and we made some really incredibly music.
MR: What advice do you have for new artists?
DF: I think the best advice I could give any new artist is to be as prepared as you possibly can. I spent years in the recording studio, learning how to make records, working six days a week and making fifty dollars a week. But it wasn't about the money, it was learning how to make records. I spent thousands and thousands of hours teaching myself how to play guitar, how to sightread, how to compose...everything. So when I finally had the opportunity presented to me, I could go into any studio and know how it worked, I could walk onto any stage and play as good as a I possibly could. At that point, if your talents aren't up to par or you aren't artistically relatable to people, then there's nothing you can do about it. But the key is to prepare, prepare, prepare. Even today, I play guitar anywhere from thirty minutes to a couple of hours, just looking around and trying new things. It's like a keyboard on a typewriter. It's not the keyboard, but what you write with it, and it's not the characters that you type, but the words that you say. So the more you prepare for that opportunity when it presents itself, the better chance you'll have of being successful.
MR: You are going out on the road in support of Road To Forever, and that includes supporting a Stephen Stills project, Light Up The Blues.
DF: Yeah, I have dates that start in the middle of May and go through the middle of November at this point. My booking agent and manager are filling in some of the holes, so I'll be working all year. Stephen and I have been friends since childhood. One of the first jobs I had when I got to California was working with Crosby & Nash. They also came in and sang on my record on "Fall From The Grace Of Love." Stephen has been a strong advocate--as well as myself--of this organization called Autism Speaks. The latest numbers show that one in fifty males born in America have some form of autism, on the scale of autism, from Asperger's to full autism. It's become a national if not a world-wide epidemic. A guy named Bob Wright, who was president of NBC Universal, when he found out his grandson was diagnosed with autism, dedicated his life to trying to find a cause to this problem. He actually puts together a lot of fundraisers and benefits, and this is one of them that Stephen and I will be doing April 13th in LA. Every chance I get to support that organization I do, so when Stephen mentioned it to me, I said, "You can absolutely count me in. I'd be glad to come down and play some songs for you."
MR: We wish you all the best with that. Don, lets do this again in the future.
DF: It would be my pleasure to speak with you again anytime.
MR: I appreciate it. Take care, Don.
DF: Thanks Mike. See you later.
Tracks:
1. Fall From the Grace Of Love
2. Girls In Black
3. Wash Away
4. I Believe In You
5. You Don't Have Me
6. Money
7. Someday
8. Heal me
9. Over You
10. Road To Forever
11. Life's Lullaby
12. Give My Life
Transcribed by Ryan Gaffney
SPIN DOCTORS' AUDIO EXCLUSIVE "ABOUT A TRAIN"
The song "About A Train" is about to be released on the new Spin Doctors' blues-rock CD, If The River Was Whiskey. The album comes out April 30th, and the band has confirmed East Coast tour dates with a NY concert at Brooklyn Bowl on May 7th and a live in-store performance at J&R Music the same day. Also, for all you Fox-TV fans, Spin Doctors will perform on Good Day NY on April 29th.
Here are some upcoming tour dates with more to follow:
May 2nd Neptune's Virginia Beach, VA
May 4th Allure Nightlife Greensboro, NC
May 5th The Jefferson Charlottesville, VA
May 7th Brooklyn Bowl New York
May 8th Ram's Head Annapolis, MD
May 9th World Café Philadelphia, PA
May 10th Mohegan Sun Casino Montville, CT
And now for that audio exclusive, "About A Train"...
Popular in the Community