Hip hop is an art movement. Despite its mainstream appeal, the effects and associations visually and musically echo accredited fine art movements throughout history, and it's been forcefully crashing through the layers of the art establishment over the last decade. But where are you going to go to experience a true celebration of the visual impact of hip hop in its anti-establishment form? Hit & Run crew has been launching events/happenings that showcase the visual side of hip hop culture expressed in a variety of different forms. Created in 2005 by SoCal artists Brandy Flower and Mike Crivello, these curated events showcase in a single night their exclusive screenprints (a compilation of designs from a network of underground artists), live musical talent and street painters. They introduce talent throughout the country as they have a fully booked schedule taking them coast to coast.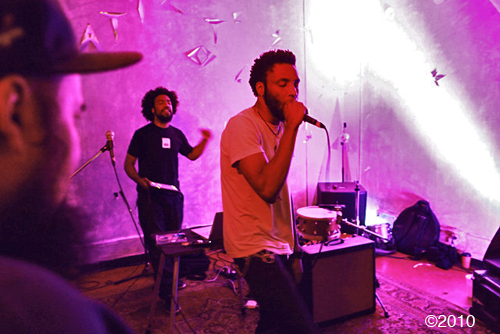 Blackbird w/ Thavius Beck performing- Black Electro, 2010
(photo by Koury Angelo)
Traditionally it is no secret that visual art and sonic art have fused to inspire and create cultural art movements. A few examples are John Cage's influence of chance and electronic music in the Fluxus movement, the experimental rock of the Velvet Underground's influence on Pop art, Phillip Glass and Steve Reich's impact on the Minimalist movement to name a few. The anti-bourgeois, anti-war and anarchistic Dada movement in the early 1900's is the groundwork to abstract art and sound poetry, a starting point for performance art, a prelude to postmodernism, an influence on pop art, a celebration of antiart to be later embraced for anarcho-political uses in the 1960s and the movement that lay the foundation for Surrealism. In this movement Kurt Schwitters developed what he called sound poems and composers such as Erwin Schulhoff, Hans Heusser and Albert Savinio wrote Dada music, while members of Les Six collaborated with members of the Dada movement and had their works performed at Dada gatherings.
I asked the following questions to Brandy Flower (Hit & Run curator and screenprinter), Thavius Beck and Blackbird (musical talents headlining at the next H&R event), and MEARONE (visual artist live painting at the upcoming H&R show) to get a perspective from the artists participating in the hip hop art movement...
1. What is it that inspires you to create/participate in events in the way that you do?
Brandy: It's a phenomenal feeling to be able to collaborate with some of the best artists, musicians and minds of our time. Throughout my life, I've enjoyed connecting people to things that I feel are next level art. The universe has aligned me with certain people, and I've done my best to creatively connect and build with them beyond limitations.
Thavius Beck: I just appreciate being a part of events with like minded artists who are pushing their chosen medium forward.
Blackbird: I create from a position of no boundaries.
MEARONE: I feel a deep urge to experiment and there is no truer expressing the experiment better than to create Live in front of an unsuspecting audience and the intentional void of direction.

2. What is it about the intersection of art and music that you want those attending these events to walk away with?
Brandy: We've taken creative processes that in the past have been restricted to an artist's studio, and presented them to the public for the first time ever. Ultimately I want people to be empowered with art and creativity, and acknowledge both of their importance in society.
Thavius Beck: Music is art... the former is one of many forms of the latter... music lives in the master bedroom of the home that art owns. I've always had a good time when I've done live performances while a visual artist created a live piece inspired by the music and the moment... ultimately it's about creating a memorable experience that is unique, engaging, and entertaining.
Blackbird: I believe music, as in art, travels on the same wavelength. And one medium to another are just variations of that one wave.
MEARONE: I want to summon the essence of art and instead of showing a finished piece I want to share my process of painting and show what it is to paint. This becomes a soulful experience because creating is the highest action we beings can do and I want to evolve the art form away from pretty art for pretty couches.
3. What is your creative process leading up to these events - to the point of execution... is it a predetermined process, or one that is fueled by synesthesia or both?
Brandy: Its definitely both...our events are planned out months in advance, but are art pieces in themselves and often become larger productions throughout the journey. Each participant has a firm understanding of the long term artistic impact we can achieve together, not disillusioned by fiscal rewards. A giant amount of inspiration is accumulated, and then radiated at a HIT+RUN event.
Thavius Beck: I play all of my own music, and every show varies based on the crowd, how I feel, how much new material I want to play, etc. I never really know how the set is going to go until I actually start... and even then it can go anywhere. I wouldn't say it's necessarily fueled by syntesthesia, but it's closer to that than anything predetermined. I tend to think in music instead of words, so maybe you're on to something...
Blackbird: I rehearse my lyrics. What I do physically the night of the show is spontaneous.
MEARONE: My Idea is that I can inspire others to become critical of the world and themselves. My art is my way of protest and communication.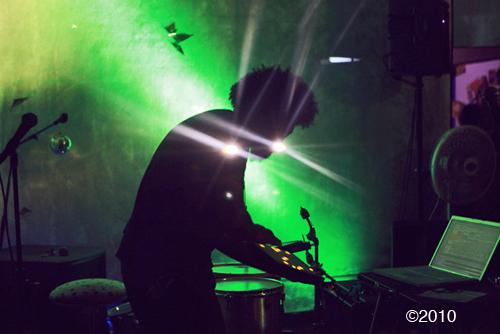 Thavius Beck performing, 2010
(photo by Koury Angelo)
The relationship between graffiti and hip hop culture arises from the appearance of new and increasingly elaborate and pervasive forms of the practice in areas where other elements of hip hop were evolving as art forms, with a heavy overlap between those who wrote graffiti and those who practiced other elements of the culture. "In the arts the concept of synaesthesia is more often defined as the simultaneous perception of two or more stimuli as one gestalt experience." (Campen 2009) The lines of artistic explorations of synesthesia and scientific research into the subject have become closely intertwined in the last decade. The seventeenth-century physicist Isaac Newton tried to solve the problem of finding a mathematical system to explain the connection between music and color by assuming that musical tones and color tones have frequencies in common. He attempted to link sound oscillations to respective light waves. The first known experiment to test correspondences between sound and color was conducted by the Milanese artist Giuseppe Arcimboldo at the end of the sixteenth century. He consulted with a musician at the court of Rudolph II in Prague to create a new experiment that sought to show the colors that accompany music. He decided to place different colored strips of painted paper on the gravicembalo, a keyboard instrument (Gage, 1994).
The relationship between the aural and visual representations of hip hop has been very well documented over the years, since Taki 183 graced the New York City streets and got Times coverage in 1971. In the 1990s and 2000 decade, live painting became a hallmark of street art and graffiti artists. Influential books such as DEFinition: The Art and Design of Hip Hop illustrates this history in a well documented compilation written by Bill Adler (the Director of Publicity for Rush Artist Management and Def Jam) and Cey Adams (Adams (a graphic designer who had his come-up around the Zephyrs, Basquiats, and Harings, and who did SO much of the cover art for Def Jam releases). Come out to the event at The Echo this Thursday August 12 from 9pm till 2am for Hit & Run's event "SOUNDCRASH" for an amazing line-up of djs and performances by BLU, BLACKBIRD, THAVIUS BECK, RAS G, ZACKEY FORCE FUNK, TEEBS, KOFIE plus live screenprinting by H+R CREW and live painting by MEARONE.
Related
Popular in the Community