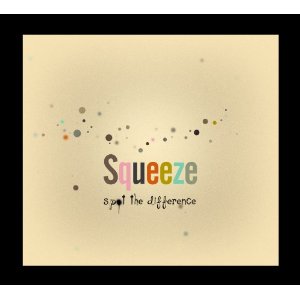 A Conversation with Squeeze's Chris Difford & Glenn Tilbrook

Mike Ragogna: Your new album Spot The Difference is a revisit of previous hits and classics. And as your title suggests, it's literally hard to spot the difference on many of these songs. Why did you record a project like this?
Chris Difford: Well, Squeeze has never owned our own copyrights because, obviously, they're owned by a major record label. We thought it might be fun to re-record our songs to make it possible for us to own a little bit more of our own history. So, Glenn went in the studio, and did most of the work. I have to bow down to his achievements as a producer because he's done a great job of making them sound pretty much like the originals.
MR: Master licensing is usually buttoned-up when most artists sign with a label. They rarely retain licensing rights to their music, and that goes way back.
Glenn Tilbrook: I feel really sorry for people like Little Richard who were stitched up with their original recording deals, and then they went in to make inferior, and sometimes, multiple remakes.
MR: For a while, re-records were being churned out by many acts, especially those in R&B.
GT: Yeah. There's also something else happening. I was on, I think, Spotify, and I wanted to hear "Moving On Up" by Curtis Mayfield. It started playing and it was brilliant, but some ways in, I thought, "This isn't the original." But it was fantastic! They'd obviously re-recorded it at some point, but it was really great. It had a really good vibe, and it was like the original, but there was something a bit zippier about it. So, there was that, and there was Brian Wilson going out with his band, you know?
GT: Perfect versions of songs that deserve respect. So, I sort of took those two things as the inspiration for what this record should be. It should be a record you can sit back and enjoy by itself. You may or may not think of the original versions, but regardless, I think this record stands up by itself.
MR: These re-records certainly represent a creative statement by the band, so they're serving a duel purpose.
CD: Yeah, I think so. I think Glenn has done an absolutely marvelous job of putting it all together.
MR: Glenn, can you discuss what went into the production of the songs on Spot The Difference?
GT: You know, the analogy I would use is that it's like investigation a crime scene. You're trying to piece together backwards from a room with an unmade bed, an ash tray, some spilled drinks, and you're trying to think, "Well how did that get there? What were they drinking?"
MR: Amazingly, some of these re-records are so close to their original versions, "Take Me, I'm Yours" being a perfect example.
GT: Chris and I are lucky in that we actually sound the same as we did then. And that's not through years of exercise. It's just absolutely a matter of luck that we can still sing in the same key, and we sound the same when we sing.
MR: How did you approach the tracklist?
CD: It was pretty simple, really. We just picked the ones that were on the greatest hits package over here in the U.K. They kind of speak for themselves, these Squeeze songs. So, we just chose the ones that we thought would be the right ones to put in the mix, so to speak. They're the ones that we're playing out on the Spot The Difference tour. It's all making sense, and it's really nice for the band to be able to support our material before we go off and start working on any new stuff. And it's a way for us to get to know each other again, I guess.
GT: We didn't sit down and plot out a list, we just did tracks as we felt like doing them--whichever ones we thought would be fun to do. I think this is an ongoing thing. Sometimes, it's sort of like looking into your soul with all the pleasure and discomfort that that can involve. You think about how you made records thirty years ago, and that's a weird process.
MR: Let's talk about the tour. Where is it taking you?
CD: Pretty much all over the United States. We're doing the East Coast, the West Coast, a little bit in the middle, and then we're going up to finish in Toronto, Canada. We're out on the road with Cheap Trick, doing some shows with them. It's fun. It's July, it's going to be hot. So, what are you going to do? You can't sit at home doing your gardening, you've got to go out on the road.
MR: Who are some of the other acts you might be on the road with this summer besides Cheap Trick?
CD: The English Beat, I think, are going on the road with us.
MR: Any favorites from this new album?
CD: "Loving You Tonight," I think, is my favorite because Glenn sang it as a new version and it's getting lots of radio play. I think that's the one I'm going to go for, I think it's brilliant.
GT: "Black Coffee In Bed," it's a personal thing. I know people loved the original record, but I couldn't sing at that time. We made that record after Paul Carrack left, and I dearly wanted to sound like Paul Carrack, but I couldn't do it. My singing is a bit weird, you know? Let's say it's a personality vocal, it's good for that.
MR: We all want to sound like Paul.
GT: And I'm really, really pleased about that.
MR: "Some Fantastic Place" also is one of my personal favorites because it's less like the original.
GT: We just ran with it. We made it what it should have been. I love the original record, but this one is more joyous, more gospel-y, more "Oh Happy Day" meets "My Sweet Lord" meets "Some Fantastic Place." It's a song to commemorate a dear, dear friend of ours who died nineteen years ago. So, we wanted to make it joyful, and we really have nailed the joyful vibe. I'm really happy with that.
MR: What's your favorite original Squeeze recording?
GT: I guess "Tempted." "Tempted" was sort of our first, proper, grown-up song. When I heard it, I couldn't quite believe it was us.
MR: Do you ever get sick of people calling Argybargy one of the best pop albums ever made?
GT: Argybargy--what a great pop band we were at that point, you know? Absolutely fantastic.
MR: Can you give us a quick history lesson on Squeeze?
CD: Well, Glenn and I met in '74, formed the band in '78, and had our first record deal with A&M Records. We were with them for pretty much all of our career. We've played over fifty American tours, and had fourteen albums released. It's been, you know, a journey--up and down hills and through dark valleys, but most of the time, we've been out in the sun, and this is one of those times. So, it's good to be in the moment and celebrate the music we've made over these past years.
MR: How did you get hooked-up with Elvis Costello?
GT: We'd been managed by Jake Riviera who was Elvis' manager, and Elvis had loved Argybargy. So, that was a nice pat on the back from him. Then he ended up producing us, and it was a great process. We went into the studio and we played the songs. It was that simple. We worked out the arrangements, recorded them, and got on with it. It was very much, to use an overused word, an "organic" recording.
MR: Your Difford & Tilbrook collaboration was a great experiment that basically kept the Squeeze sound.
CD: Yeah, Glenn and I were very fortunate to be able to go off and do that record. It gave us a break away from Squeeze, and we came back with renewed vigor. And that is kind of where we are now.
MR: Is it fun to watch what's going on with Jools Holland's career?
CD: I always watch his career. He's a fascinating character, and he's very talented. It's lovely to watch him. I still write songs with him, and we get along famously.
MR: What have you guys been up to since your last album?
CD: Well, Glenn's been doing solo recordings, and so have I. I've got a new solo record that's just come out, and I've formed my own label, which is an internet label called Saturday Morning Music Club where you can download the tracks one by one, each week, like a music club used to be like. So, we're being young and innovative, and we're trying to keep the wolf from the door. And then we're doing Squeeze stuff, too. We're very busy boys.
MR: Have you guys already started thinking about new material or writing songs for a new project?
CD: No, we haven't yet. We're trying to put some time aside so we can concentrate on that, but I don't know when that is going to be.
MR: Do you have any advice for new artists?
GT: I think that most of the artists who are great love what they do, I think. There are a few who are commercially minded who are great at doing that, too. But I think all the best art is about doing what you love, and writing about what you know.
Tracks:
1. Another Nail in My Heart
2. Black Coffee in Bed
3. Cool For Cats
4. Goodbye Girl
5. Hourglass
6. Is That Love
7. Labelled With Love
8. Loving You Tonight
9. Pulling Mussels (From the Shell)
10. Slap and Tickle
11. Some Fantastic Place
12. Take Me I'm Yours
13. Tempted
14. Up the Junction
(transcribed by Ryan Gaffney)
DON HENLEY SETTLES DAMAGES CLAIMS AND GETS APOLOGY FOLLOWING COURT RULING THAT POLITICIAN INFRINGED SONGS

After winning a federal court ruling that the use of their copyrighted songs in campaign ads was infringing, musicians Don Henley, Mike Campbell and Danny Kortchmar have agreed to settle their damages claims against California politician Chuck DeVore and campaign worker Justin Hart for an undisclosed amount.

The lawsuit was filed after DeVore and Hart made videos using the Henley hit songs "The Boys of Summer," written by Henley and Campbell, and "All She Wants To Do Is Dance," written by Kortchmar, to promote DeVore's recent attempt to run for the U.S. Senate.

DeVore and Hart posted the campaign ads on YouTube and other sites. Rejecting the defendants' claim that the videos were fair use "parodies," the court found that the defendants' use of the songs violated the plaintiffs' copyrights.

DeVore and Hart issued the following statement:

"We apologize for using the musical works of Don Henley, Mike Campbell and Danny Kortchmar without respect for their rights under copyright law. The court's ruling in this case confirms that political candidates, regardless of affiliation, should seek appropriate license authority before they use copyrighted works.

"Further, we regret all inaccurate, derogatory or disparaging remarks made about Mr. Henley during the course of this dispute."

Don Henley commented, "My colleagues and I brought this lawsuit to protect our music from being taken and used, without permission, to promote someone else's agenda. It was not a question of political ideology, but the right of artists to control the use of the works they create, and protect their livelihoods."


Calling all HuffPost superfans!
Sign up for membership to become a founding member and help shape HuffPost's next chapter