WILLIE NILE'S "ONE GUITAR"
Willie Nile's new "One Guitar" debuts here with some explanation by the artist...
"'One Guitar' is a song about what one guitar and one voice can do to help make things better in this world. Even if it's just a small step forward it's worth it. I believe that music has the power to make change happen. Woody Guthrie was a perfect example of this. He took one guitar and one voice and helped inspire a generation of musicians and songwriters to help try to change things for the better. Pete Seeger, Bob Dylan and Bruce Springsteen are just a few of those who've followed in his footsteps. The Beatles helped change society with their music.
"Live Aid, Farm Aid, Hurricane Relief, Light Of Day Parkinson's Research Benefits and a boatload of other events undertaken to help those less fortunate, all by way of music, are beautiful examples of how music can make a difference.
"This video of 'One Guitar,' taken at the Highline Ballroom in NYC, has many voices all raised as one. James Maddock, Tommy London (of The Dirty Pearls), Thom Chacon, and other guests joined my band and I that night all singing as one voice. The audience was singing along and clearly understand what the song is about.
"Here's to better days ahead for the human race. We have a long way to go, that's for sure, but you've got to start somewhere. And one voice and one guitar is not a bad place to start."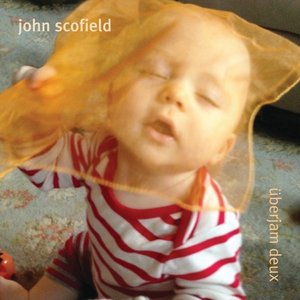 A Conversation with John Scofield
Mike Ragogna: John, let's start with your new album Überjam Deux, which already has some history. Can you go into what launched this project?
John Scofield: Well, it really started when we put together the Überjam band back in 2000. We made the first Überjam album, then we made another album after that called Up All Night, and then we toured for a few years and worked on music together. Like a lot of jazz musicians I have a lot of different projects, so I did a bunch of other stuff since then and I thought it was a good idea to go back to it. I love playing with these guys and I thought it would be fun to come up with some new music for that band and see what we could do.
MR: What's the creative process? Did you jam together and things stuck?
JS: That's what we did on the first album, but this one was a little different. Avi Bortnick, the other guitarist, and I co-wrote about half the tunes together. Those were tunes that Avi had written. He's also the sampler guy in the band who knows all the electronic loops, so he had written these tunes and they were fully formed with grooves and sampled parts and everything, really fleshed-out demos. He was nice enough to give me a bunch of tunes, I picked the ones that I liked, took sections from them, and added to them. That's about half the music, which is different from the other songs that were jammed out. Then I had a few tunes that I just plain out-and-out wrote. So this is more compositions rather than compositions that came from jams.
MR: What percentage of the recording process was improvisational?
JS: Half of it, let's say. It's just like jazz tunes, really. They're set up to have sections where there's a solo and we're free-jamming over it, but then we'll have hues to go to different sections that are more or less composed.
MR: Let's get into a couple of the songs. "Endless Summer" might as well have been inspired by the poster of Endless Summer.
JS: That's exactly where it came from! We wrote the song, and half of it was Avi's from a tune he wrote and then I added some other sections to it The place where we were rehearsing had the Endless Summer poster up on the wall while we were playing the tune, and we said, "Oh my God, look at that, that's kind of a cool name for the song," because it has a summer vibe to it.
MR: Now, you happen to have a song titled "Al Green Song" on the album. Coincidence?
JS: Avi and I wrote it and it just has this kind of rhythm that we said, "It's kind of like an Al Green rhythm," and then we thought, "Did we actually steal an Al Green tune subconsciously?" We haven't been able to find an Al Green tune that has that melody or anything. It's coming from one of those Memphis recordings from the late sixties, early seventies.
MR: It does have that Willie Mitchell thing going on.
JS: Yeah, with the organ, it's got some of that, and the groove, and the chords. Those songs had beautiful progressions and melodies and all.
MR: And there's another groove, "Cracked Ice."
JS: Yeah, it's Avi's vamp and I put a melody on it. I put on some little bridges, when it changes off the vamp and then goes into the release, those are my part.
MR: As far as covers, you did The Main Ingredients' "Just Don't Want To Be Lonely." What made you choose that one?
JS: Yeah, that's a song that I've always loved and I thought I could play it on my guitar, play the melody, and it would work and then we'd just groove out and play on that. It's a nice setup for an old-school groove. Avi's rhythm guitar, we mix it up, and it sounds almost like "Clean Up Woman" to me.
MR: Speaking of grooves, you play another kind of groove on the record, Afro-Cubano, with "Camelus." Nice title too.
JS: It's a sub-genre of animal that the camel is part of. It's a North-African reference, I guess. It reminds me of the camel walk with dunes. It's kind of a slow Afro beat.
MR: And you added another creature into the mix with "Snake Dance."
JS: [laughs] There you go. "Snake Dance," that's up somewhere in Mali, also. Those are Afro beat-inspired tunes.
MR: Was there a pecking order as to what was recorded or do you just love to experiment with everything?
JS: Oh, man, I don't love everything, and there are a lot of kinds of music that I have no business playing. But all this stuff, it kind of comes from the African diaspora--reggae, groove, funk, Afro beat... You know, I started out with blues guitar, and that kind of sound is still with me. I like to bend notes and articulate and all that works over those kinds of rhythm grooves. It's all jazz to me.
MR: John, you came up in a really wonderful period, and you're one of the great pioneers of fusion. Where do you think fusion has ended up these days?
JS: Well I think it's with us, in Überjam and Medeski Martin & Wood. I think the problem with fusion, if there was a problem, was that about in the eighties, there were these "fusion" bands that weren't that good at playing jazz. The original fusion bands were people like Joe Zawinul and Miles Davis and Wayne Shorter and John McLaughlin. These were incredible musicians that were just playing another kind of modern jazz, really, mixing it with rock and things like that. I think that continues with us and especially Medeski Martin & Wood. I think they're really creative, absolutely committed to the real s**t, the music being really good and coming from that special place it can come from when you have a magic moment with other musicians and the improvisation takes over in a way that's coming from this jazz tradition, really. That's what I think.
MR: John, as you're looking at what you've done over the years, where is your very unique creativity coming from?
JS: I think that's just because I've chosen to put myself in situations that are a little different. I still sit down and practice "All The Things You Are" all the time. I'm a jazz traditionalist, but I also feel a little bit freer when I get away from the history and fusion music and blending jazz with these other forms doesn't have the weight of the history of bebop, you know? So even though I love that other kind of jazz, sometimes I feel better when I'm playing this other music. It's completely intellectual, because I love to play bebop and everything, too, but I think about it and I think about how we're going to get to something that's somewhat fresh, you know?
MR: When I think about stuff like Dave Brubeck and Miles Davis and Mingus from that golden age of jazz, when I listen to that stuff it still sounds as challenging and fresh today as...
JS: Absolutely fresh! And it's because it's been preserved from that time. I remember Miles and Gil Evans, who I was lucky enough to get to know and play with in the early eighties, those guys were saying, "Oh you can't do that again." Miles was like, "You can't play a twelve-bar swing, you can't play a twelve-bar blues, you can't play 'Billy's Bounce' even though it's the greatest music in the world. You can't do it because in 1951, it was absolutely in the air and that time's over." I'm not saying that he's right, even. I think that's a little bit too harsh, but I know what he means when you listen back to music that was more from an era. When we play and I see people dancing and relating to it in this really pretty basic way, I feel like it's right.
MR: When you play live, are your improvs and parts you're playing feeding off of the audience?
JS: I don't think it's feeding off them like I'll see a person with a hat on and I'll play some musical reference to that hat, not like that. They used to talk about that in bebop, like Charlie Parker would actually play some song title when a beautiful girl walked in the room. I don't improvise like that, but the vibe you get from other people is absolutely important to the music and that's just the same as when somebody walks into the room and has a positive energy. You feel good, you know what I mean? That relationship between the artist and the audience is really important. We all thrive on it whether we say we do or not.
MR: Speaking of playing live, you're touring for this album, right?
JS: Yeah, we're on tour now. We're going all over the place this summer and into the fall and into next year!
MR: Beautifully said. How much does your instrument add to the mix? How much is the instrument playing itself? You play a JSM100, right?
JS: Yeah, yeah, I play the John Scofield Ibanez guitar model and I've got to say, it's your fingers, not the instrument. It's the person, not the brand.
MR: As far as a John Scofield alone on guitar solo project, are you looking at something like that?
JS: I've been thinking about that for many, many years and I would like to do it, but, you know, guitar is really hard to play solo. It's not like a piano. On piano, it's right there, the bass and the treble, you've got two hands. Guitar, you've got to do all these incredible through-the-hoop things. That's my cop-out. But yes, I'd love to do it someday. I think about it all the time, but I'm just a little chicken.
MR: [laughs] What will steady your nerves?
JS: If I got good at practice twelve hours a day for a couple of years.
MR: Wow. John, what is your advice for new artists?
JS: Boy, my advice is stay true to what you believe in musically, what feels good. Your instinct is everything, it's all we have not only musically but as human beings, you know? We think about it all the time, but ultimately, your instinct will tell you what's working. Practice a whole lot because nobody in this kind of music got good without spending many, many, many hours on it. Thousands of hours. It gets easier to practice until when you're an old fart like me and you actually love to do it every day.
MR: I know this is asking which performance is your favorite child, but is there a particular thing that you've played on that haunts you as one of the things you're really proud of?
JS: Well I think certain projects just came out better than other ones, and I'm not even sure why. Some of those projects are with groups of people that we went back and did other stuff with that wasn't quite as good. But my record, A Go Go with Medeski Martin & Wood, another record called Time On My Hands that I did for Blue Note with Joe Lovano, Jack DeJohnette and Charlie Haden, those records came out well. It's almost like it was just the right time or the right material. We had the right songs for the right people and we happened to have a good day when we recorded it. It's just like playing gigs when you're making these jazz records, even the Überjam stuff. We don't spend that much time on it, it's pretty much just capturing a performance.
MR: Is it also because you guys play together so often?
JS: Yeah, and also the more you work on it, the worse it gets sometimes, so you've got to do it quickly!
MR: What is the future for John Scofield other than that great solo album I tried to nudge you into?
JS: Well, I would like to do that sometime. I'm continuing with the Überjam thing, Medeski Martin & Wood... Those guys are supposed to make another record next year and tour some, so we're going to work on that. I also have another trio with the great Larry Goldings on organ and Greg Hutchinson on drums. So I've got all these different groups. I still play with Steve Swallow a lot with Bill Stewart. I've got all these different bands, but I don't have a project that I have in mind for my next "big record" or whatever. I've got to figure that one out.
MR: Just curious, is there a jazz artist you haven't played with yet or one you would really like to play with?
JS: Hmm. Not really! I've gotten to play with all my idols when they were alive, and some of the guys that are younger than me that I'm just so into. Now I just enjoy playing with like-minded people. I like to play more than once, so many of the all-star things are like you get to play one time on a recording with somebody and you hardly even met. It's usually not as good as you would think it would be. But boy, I'd like to go back and get to play with Elvin Jones again. That for me did it a little bit, but he's gone. I blew it, too, because in 1979, I did a tour with The George Gruntz Big Band, this European guy who organized big bands, and Elvin was the drummer. I said, "Elvin, would you ever go in the studio with me and make a record?" and he said, "Okay, yeah, I can do it at the end of this tour." I already had another recording session planned with some other musicians and I didn't want to cancel them, so I said, "Elvin, could it wait for a minute?" and I never did it with him. But no, I can't think of anyone right now that I'm dying to play with, but I'm dying to play with any great musician that wants to play.
MR: We were talking about musicians you can't play with anymore. Can you explain why Miles Davis has resonated so thoroughly with the world, almost like no other musician?
JS: I don't know, I'm trying to figure it out myself. I know that Miles just cast a spell with his sound that came out of that trumpet. If you go back and listen to what they did on Porgy & Bess, Kind Of Blue, his best recordings, to me, it doesn't get any better than that. Also, he was able to overcome mere technique. A lot of the other really famous guys had this incredible technical thing, but he somehow went around that. This is all combined with Miles' personality and he was kind of a matinee idol handsome guy at a time when black people weren't allowed to be movie idols and he just went ahead and became one anyway in the fifties. So there's this whole sociological thing with Miles and with jazz. He became larger than life, but the music speaks for itself. His best music has no bulls**t. It's great and I was just really drawn to it, and he was so ballsy. He just went and did whatever he was feeling.
MR: What do you think of the state of jazz right now?
JS: You know what? I try just to think about the state of music. Jazz lives within it and has learned from it. For me, it's people like Miles who had this real dedication to spontaneity and being in the moment with the music and making something special happen right now, and then it was gone in the wind, and you had to put it together in a different way the next day and allow it to happen differently every time. That, to me, is the incredible tradition in jazz that the greats have and that's alive. But it's music. The bad thing about what they call "jazz" is that it's taught in schools to thousands of people who are proficient at it. Unfortunately, the audience out there might associate jazz with something they might have heard their college band play and it's not sexy. Music's got to be somewhat sexy, doesn't it?
MR: Absolutely, but I've always thought that jazz encompassed so much more than how we categorize certain musics anyway.
JS: Oh yeah, jazz is the whole music of our country. That's the whole deal. I can't separate rock 'n' roll and boogie-woogie and folk music from jazz. I can't do it. I can't separate The Beatles from jazz!
MR: Well, there's an album for you... John Scofield Plays The Beatles.
JS: Well, I'd love to do that someday...Lennon/McCartney, that's some great music.
MR: Yeah, absolutely. Hey, I really appreciate this interview and your time, John.
JS: Thanks so much for doing it!
Transcribed by Galen Hawthorne
Tracks:
1. Camelus
2. Boogie Stupid
3. Endless Summer
4. Dub Dub
5. Cracked Ice
6. Al Green Song
7. Snake Dance
8. Scotown
9. Torero
10. Curtis Knew
11. Just Don't Want To Be Lonely
Transcribed by Galen Hawthorne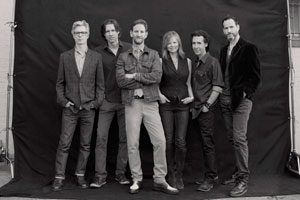 photo credit: Rodrigo Palma and Jordie Turner
RUSTY TRUCK DEBUTS "BUILDINGS"
The song lifted from their album Kicker Town, Rusty Truck's "Buildings" now has the companion iBook video featured below. It's the latest in a string of creative adventures for the band that include an accompanying Kicker Town book by RT frontman Mark Seliger and Condé Nast, former head photographer for Rolling Stone. About the song, Mark explains, "Kicker Town is our 2nd album and truly a team effort that included a 7 day recording session at the 'Villiage Studio' in LA and a big Nashville weekend of some rewrites and lyric overdubs. My aim was to put the "western" back into country on this record and connect each song with a little journey that felt cinematic and lush."
REAL LIFE. REAL NEWS. REAL VOICES.
Help us tell more of the stories that matter from voices that too often remain unheard.