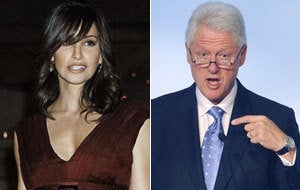 Vanity Fair is standing by its story insinuating that Bill Clinton had an affair with Gina Gershon.

In a statement to TMZ, V.F. honcho Beth Kseniak says, "Todd Purdum's article does not indicate that former President Bill Clinton had an improper relationship with Gina Gershon. The story merely examines the concerns of some of Clinton's aides about reports of his behavior. We don't believe that any correction is warranted."
Earlier this week, Gershon had her lawyers fire off a letter to the venerable publication:

The demand letter claims the article "outrageously insinuates that Ms. Gershon has had an inappropriate sexual relationship with President Clinton. This is absolutely false."

The letter demands "a retraction and correction."
In the July Vanity Fair, a profile on Clinton mentions "more recent high-end Hollywood dinner-party gossip that Clinton has been seen visiting with the actress Gina Gershon in California."