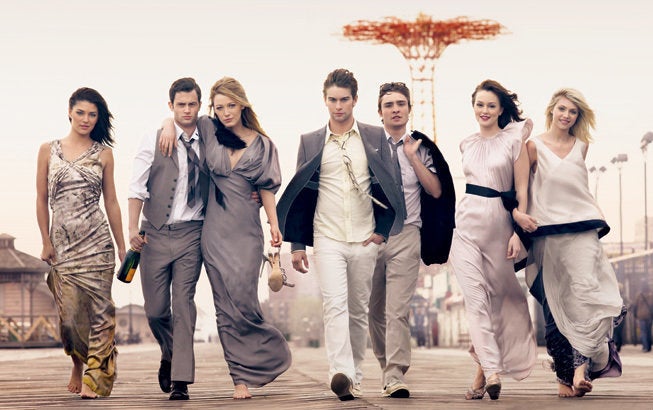 Vanity Fair features the new wave of Young Hollywood in the August issue, with a cover starring Kristen Stewart, Blake Lively, Emma Roberts, and Amanda Seyfried. James Wolcott reports on the up-and-comers and writes that when it comes to politics, there's only one candidate in this year's election.

Although a few are coy about their preference, Wolcott writes that "the majority of our respondents, unafraid of commitment, [are] in flying formation for Air Obama.... The candidacy of John McCain seems to have drawn complete blanks, goose eggs. It's true that McCain never had a real shot at the Hollywood youth vote, but it's as if he didn't even exist within their frequency range."

Aside from their political leanings, and on a lighter note, they share first Hollywood moments, inspirations, favorite movies, and choose sides in the fashion and music battles (Jimmy Choo or Christian Louboutin? Nike or Chuck Taylor? Rihanna or Carrie Underwood?)

The Jonas Brothers' Kevin Jonas, 20, calls The Outsiders his favorite movie, and when asked if he ever misses a "normal" childhood, tells Vanity Fair, "I never went to prom, but it's, like, whatever. Once you actually ask the girl, then it's all downhill from there. Or that's what I've heard." His brother Nick, 15, says Johnny Cash is on his iPod, and third brother Joe, 18, names Barry Gibb from the Bee Gees as an inspiration. "He's from a brother band, so is kind of a mentor to us."

Christopher Mintz-Plasse, 19, who played McLovin in Superbad, describes his first Hollywood moment thus: "Well, I'm a Jessica Alba fan, so the first time I met her kind of blew my mind because she was a huge fan of me. I was like, 'Really? You're like screaming because you see me?'" And Jonah Hill, when asked about his sneaker preference, says, "I'll give New Balance a shout-out. Hopefully they'll send me some free shit."

Photographed by Mark Seliger, the portfolio includes: Amanda Seyfried, Emma Roberts, Blake Lively, Kristen Stewart, Christopher Mintz-Plasse, Zöe Kravitz, Emma Stone, Olivia Thirlby, Jessica Szohr, [Gossip Girl cast] Penn Badgley, Chace Crawford, Ed Westwick, Leighton Meester, Taylor Momsen, Jay Baruchel, Kat Dennings, the Jonas Brothers, Rob Brown, Michael Angarano, Summer Bishil, Hunter Parrish, Josh Peck, Rachael Taylor, Jonah Hill, and Amber Heard.

The August issue of Vanity Fair hits newsstands in New York and Los Angeles on July and nationally on July 8.

See the portfolio
Calling all HuffPost superfans!
Sign up for membership to become a founding member and help shape HuffPost's next chapter