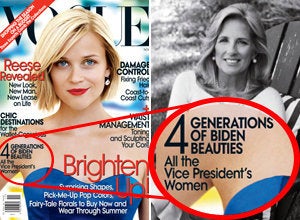 Vogue takes a bold political step with its November cover, headlining a feature on the Biden Women "All The Vice President's Women."
The feature, which includes a beautiful spread of four generations of the women in Joe Biden's life (seen below), describes Jill Biden as "remarkable" and is based on the premise that, "If Senator Biden is elected, he'll bring along a close-knit family of strong, independent women."
But while the article includes the conditional "if," the headline, and cover line, treat the Bidens as if the election is a done-deal and Jill has already started picking out the curtains for Number One Observatory Circle (the official Vice Presidential mansion).
A representative for Vogue said of the cover line, "Win or lose, we thought it was a clever coverline that would serve to get people's attention."
The magazine's editor-in-chief, Anna Wintour, also used her November editor's letter to talk about the growing presence of women in politics, and to highlight the magazine's previous coverage of political women (including its prescient profile of Sarah Palin in the February issue).
Wintour, who made headlines when she used her February editor's letter to chide Hillary Clinton for refusing to appear in the fashion magazine's pages, praised the New York Senator, calling her a "transcendent figure" and saying "she has made an important intervention in the lives of all American women, not simply with her drive and catalyzing energy but by keeping issues of special concern to us — health care, reproductive rights, education — at the forefront of political thinking."
Wintour further said that she was "frankly stunned" by the Biden women's "loveliness and poise" and described Jill Biden as "beautiful and largely private."
The article can be read online at style.com, or in the November issue, which features Reese Witherspoon on the cover and hits newsstands nationwide on October 21 (New York and LA newsstands October 15).
Below, an image from the Biden spread: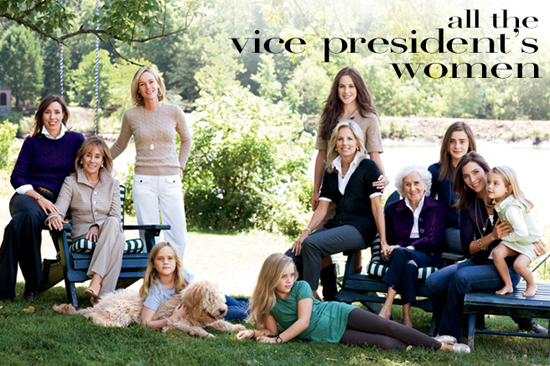 from left: Senator Biden's niece, Missy Owens; her mother, Valerie Biden Owens; Hunter Biden's wife, Kathleen; her daughters Maisy, eight, and Finnegan, ten; Jill Biden and daughter Ashley; Senator Biden's mother, Catherine ("Jean") Finnegan Biden; Kathleen's eldest daughter, Naomi, fourteen; Beau Biden's wife, Hallie; and her daughter, Natalie, four. On Jill Biden: Ralph Lauren Black Label cardigan. Anne Fontaine shirt. Michael Kors trousers. Details, see In This Issue.
Photographed by Arthur Elgort.
Sittings Editor: Tonne Goodman.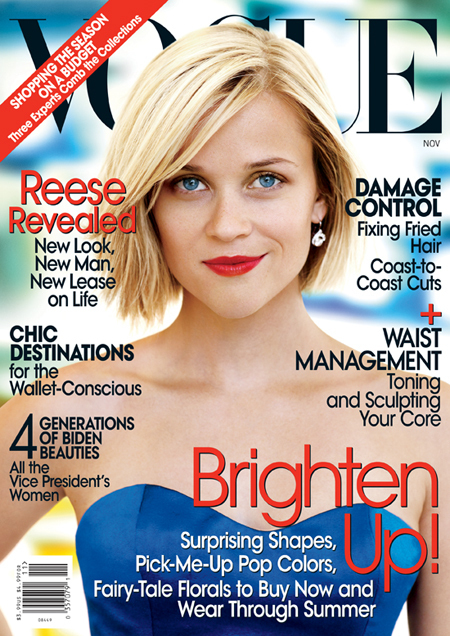 Calling all HuffPost superfans!
Sign up for membership to become a founding member and help shape HuffPost's next chapter