I learned a lot from my yorkie Smoky during my 18 months of combat in the SWPA and the Far Pacific during World War II. She made me grateful for all the Christmases after. In the unforgiving jungles of New Guinea, the coral rock Biak Island at the equator, the semi-tropical Luzon, and just after the war on Okinawa during Typhoon Louise, my tiny dog taught me a lot about giving and receiving--although I would only realize it later. Here are a few simple truths that wartime with my Yorkshire terrier taught me:
Friendships must be honored and celebrated. I saw many of my fellow comrades keep a silent shield around their emotions. Yet there is no denying that in the heat of combat friendships can be formed. Not only between men, but between animals and men. Smoky became my best friend during many active days and lonely nights. She also calmed many a sick and lonely soldier. Her unconditional love--love that only a dog can give--taught me to value, honor, and work hard at maintaining my friendships.
Sometimes hand-made Christmases are the best ones. The year was 1944. We celebrated Christmas with one lone "tree"--a leafless stalk standing on an empty 55-gallon oil drum shared with the center pole of a six-man tent. The bare limbs had draped paper chains, dangling bullets, brass belt buckles, dog tags, red ribbons from packages from home, and an usual array of Christmas seals taken from envelopes and floated from string. It was pathetic yet funny and endearing at the same time. Smoky cuddled up among the bottom boughs. This year, my family is taking pleasure in the simplicity and love of the holidays by making home-made ornaments and gifts for our furry and human friends.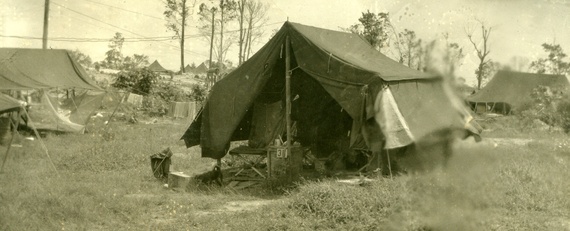 Bill and Smoky's makeshift tent in the combat zone of Biak Island, 1944. Photo courtesy of William Wynne. The best gifts are living. As the weeks and years of war progressed, I began to really appreciate this living gift of a dog that was bestowed upon me. I grabbed her up during red alerts before any possible bombs began to fall. It was most dangerous at the beginning of arrival at the next front air bases. Slowly we would gain air superiority and the danger would diminish. Yet I never stopped putting her safety first. The best gifts are living--be they animal or human friend.
Unconditional love is hard to come by. A dog's affection is unending under any condition. Smoky was kept tied to my cot by a parachute shroud when I was away in daytime. She slept with me under my mosquito bar to protect her from any possible crawling critters at night. She was much safer walking at heel off the leash in the squadron area where she visited and was coddled by men of iron. Smoky was therapy for all. And I have found no person that will overlook all of my weaknesses like she did.
A good, old-fashioned game of tug-a-war is underrated. Between battles we played. Smoky retrieved objects as I had taught her. But her favorite game was tug-a-war with a sock. She would fight with all of her little might, all four pounds of her. She tenaciously hung when lifted off the ground and was still snapping her little body at the end of the sock. I could fast spin her in a very tight circles and she clung like a bulldog all the way. Yet a stubby tail was wagging in joy. This year, I had my great grand-kids try it with their dogs. It kept them engrossed for nearly 45 minutes--quite a feat!
After the war, and at Christmas time in particular when we performed up to four shows a day in different locations around Cleveland, Smoky thrilled several generations by riding a scooter, walking on top of a drum, and walking a tight wire blind fold, set to music. It was all learned overseas. I was aware that Smoky was a continuous Christmas gift to several generations regardless of the season.
The years have passed. Smoky comes to my mind frequently. As one writer remarked after reading my memoir Yorkie Doodle Dandy, "Whenever I think of Smoky I go hug my dogs." As your dogs provides you and your family with Christmas spirit year round and endless affection, the holiday season is time to reciprocate. Offer both human and canine friends and family more sincerely spent time and affection.
William "Bill" A. Wynne is a decorated World War II veteran, dog trainer, award-winning photojournalist, and community advocate. He also owned and trained the Yorkshire terrier Smoky, one of the most famous dogs in history, and wrote about their fun-loving exploits in his memoir Yorkie Doodle Dandy. To learn more about Bill, visit him on Red Room.