Following his strong Seeing Things solo debut, Jakob Dylan furthers his adventures beyond The Wallflowers with his latest album, Women And Country. Like some of the best of The Band's travelogues, this album tracks the artist's inner and outer journeys, not really from the traditional singer-songwriter's confessional perspective, but from an observer of life's truths. The album's production chooses roots over rock, and T-Bone Burnett guides Dylan on his most satisfying musical journey to date.
Mike Ragogna: You recorded your previous album Seeing Things with producer Rick Rubin, and the critics loved it, many even raving about its sparseness. But you took a totally different path with your new album, using T-Bone Burnett and an Americana or roots approach. After recording this project and looking back at Seeing Things, what are your thoughts about it now?
Jakob Dylan: Well, in reference to Seeing Things, there was nothing there but the songs and the performance, and that was what I wanted to do. I didn't know any other context for them other than the sound of an acoustic guitar, I didn't know what I thought would become of it afterwards. But I just kind of felt that a lot of the ideas were unexplored, I didn't think it was enough. I wanted to do that, I'm glad I did it, but I don't know that I would do it again anytime soon.
MR: Women And Country is an extremely different album.
JD: With this material and T-Bone, we're able to set a stage, give it a place, give it a dialog, not unlike theater or a play. From the minute we started, I saw myself as kind of a player amongst other players with the role of narrator. And it was a unique way for me to look at doing all these things. I hadn't come across this way of doing it before. But once it started, it felt completely solid, I felt absolutely at home, and it was a unique way for me to tell stories again.
MR: The sound of this record, I guess mainly because you hooked-up with T-Bone who's now the King of Roots, comes off as unclassifiable genre-wise, even era-wise. Was that the intention?
JD: Yeah, I think so. I wouldn't speak for him, but I think T-Bone has so much experience and he's been doing it for such a long time, that he just learned to disregard what is frivolous and what isn't gonna matter in the end. A lot of times, that means looking backwards, not because you're pining for the past, but in as much we never improved on certain things. Certain things were better at one point, and then with technology, we just got off-track. The way that those things sounded...there's a good reason older records sounded better. Equipment really wasn't in the way. I would think if you ask T-Bone, he would suggest that's what he's proven to be true.
MR: And between your Wallflowers records, your last solo album, and this one, it's obvious you're all about making records that sound authentic.
JD: My thing is I just care about how things sound. I don't care about what cable goes between that and that. I can tell when things are going through a computer, my ears are already telling me that I prefer it not to. I just want it to sound good. T-Bone gives me that opportunity, he and his engineers, like Mike Piersante, have already sorted through all that kind of stuff. So, I don't think I wanted to make a record that sounded, by any stretch, "old-fashioned," I'm not interested in that at all. I really just hoped that it would sound great today. Would it have sounded great twenty, fifty years ago? I hope it sounds good fifty years from now, and I don't think it's any secret that a lot of stuff you're hearing right now won't sound good in even five years.
MR: Because of all the harsh computer-generated sounds?
JD: Because it's technology based, and it's trend based. I just want stuff that has substance, that, hopefully, you can put in a time-capsule, and it will sound as relevant fifty years from now. But a lot of that's the way it's recorded, and that's something that T-Bone and Mike Piersante have learned really well how to do.
MR: In some respects, I think after creating O Brother, Where Art Thou, T-Bone took a sledgehammer to pop.
JD: Yeah. But I think his ears are open to everything, I think T-Bone is a big fan of current music. I don't thing he's generational in that way. There's so much stuff right now, and just because we're further doesn't mean we're any better.
MR: With years and years of recordings proliferating, it's also a cumulative effect.
JD: There was just less stuff in the world. Why were people better? We say we love the records in the fifties and sixties. It's not just the technology, but, yeah, the people were better (players) too because they didn't have anything in the way screwing up their information yet. They didn't have poor influences yet. You couldn't really like a bad guitar in 1960 'cause everybody was pretty good. You could call the union for a bass player because everybody they had was going to be really good. There wasn't all this other stuff--we won't name names--that just mucked everything up over the last thirty years or so. It's really a struggle now to just get to the essence of what anything could and should be.
MR: Yeah, good point. Now, on Women And Country, the front cover features a man and his mate on horseback, and the first song, "Nothing But The Whole Wide World," begins what seems to be a very optimistic journey. It's got some great lines such as, "No rich man is worth his weight in dust," and, "God wants nothing but the whole wide world for us," and the track sets up a path, a mindset for the album where everything is possible.
JD: Right. Well, you know, I think it always is a journey. I think there's always been hope in my songs, no matter how they've first appeared. I think there's always been a shred of hope in everything I've written 'cause I like that balance. I don't like to sing things that just sound like they're going straight down the tubes, and they're circling the drain, and there's no hope. It doesn't feel good in any way to sing.
I think the record, the material, represents where I'm at, where we are today. Those things interest me a lot in songwriting--the human nature of how people think, and the muck that we wind up in. That's the stuff that I think makes great songs. I wouldn't be the go-to guy for anybody's halftime, get-the-crowd-into-it. But I'm okay with that. I'm a big fan of some of that music, I just don't think that's where my strength is. I don't think I have anything unique to offer in that department.
MR: Although it would be interesting to watch a crowd get contemplative during halftime. You do have a unique style, especially on this album.
JD: With this record, when I listen to it, I'm well aware that there's something singular that I'm able to do that I don't hear the next person doing. I'm not sure they have a way to describe it to you, but I can hear it come back to me when I listen to the speakers too. I think that's what everybody hopes to have at some point. I've always said that I've never struggled to be unique or progressive, I don't think that good people really spend time doing that. The people that were really interesting, they were just born interesting. Their way of looking at things was interesting. It wasn't a guitar sound or a threatening line they sang, that's not what made people have curiosity. You're kind of born with something, I think you have to wait with patience to see what that is sometimes.
MR: You mentioned how you like to explore the muck we wind up in. In "Truth For A Truth," you not only convey that experience musically, but your lines like "I'm a virtueless man in the midnight hour," "An eye for an eye, a truth for a truth, you would go blind if you only knew," and "...guilty of loving you in the worst way" get right in the grit of it. Quite frankly, in a lot of ways, that describes, well, guys. It's a very true observation, from a guy's perspective, about how they might feel within relationships.
JD: The way you described it right there is great. If I'm the guy saying that, it sounds really arrogant. (laughs). On the one hand, I hope people hear those kind of things. On the other hand, if that's not important to them, then I hope there are other things they like about the stuff too. Yeah, man, you just described it very well.
MR: I appreciate it, thank you for saying that. So, how did the musicians for this record come together?
JD: Well, I knew all those people. T-Bone's been refining his way of making records for some time now, and he's collected a couple different variations of the band. They have a lot to offer someone like me, which is a great sound they've already kind of defined, and they have a shorthand and chemistry that he's spent a lot of time working on. I knew that when talking to T-Bone, that's what I was gonna have. I knew that was going to be the setting, and (it) put a fire under me right away.
MR: How did you score Neko Case and Kelly Hogan to record with you and back your tour?
JD: Neko Case and Kelly Hogan came about when we started recording. I started leaving spaces knowing there was going to be harmonies here and there, and I think it was probably (T-Bone's) idea that it should be a woman. I thought that would be very cool, very unique, to have a woman sing the whole record with me. And Neko is on the top of a lot of people's wish lists this year. I honestly thought we were getting a little too adventurous because she's had such a great year and did so many things. I didn't know that she was going to have time.
MR: And they're on a lot of the tracks, my personal favorite being "Down On Our Own Shield" where the harmonies are seamless with your lead vocal.
JD: It was really important to me that they sing as many songs as they did. I would have been happy for Neko only being able to sing one or two songs, but to be part of the band... We already have such a big, great band sound, that I already felt that I was part of something special. I just wanted to make sure that continued, and not have a grab bag of people filling in spots on the record. We were already so far.
MR: And you've also been touring with them?
JD: Yeah, we've done a handful of shows already together. Neko and Kelly Hogan, and Neko's entire backing band is coming out.
MR: Having worked in the reissue world for years, I was looking forward to your Wallflowers collection even though I think I have all of your CDs.
JD: Yeah, it was tough, the whole oddness of putting together a collection when that's what people do on iTunes now. They make their own collection. So, it felt really weird having to put together an official collection. I mean, it just seems so outdated. It's tough.
MR: Yeah, it seems like the concept is fading.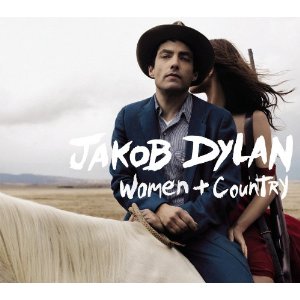 Jakob Dylan - Women And Country
Tracks:
1. Nothing But The Whole Wide World
2. Down On Our Own Shield
3. Lend A Hand
4. We Don't Live Here Anymore
5. Everybody's Hurting
6. Yonder Come The Blues
7. Holy Rollers For Love
8. Truth For A Truth
9. They've Trapped Us Boys
10. Smile When You Call Me That
11. Standing Eight Count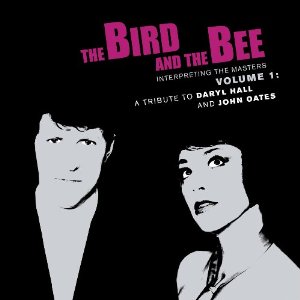 The Bird And The Bee - Interpreting the Masters, Vol. 1: A Tribute to Daryl Hall & John Oates
Oh, this album's so adorable, you just have to give its widdle, non-biodegradable, indestructible-for-a-thousand-years compact disc a big squeeze. Basically, it's Inara George winging about worker bee Greg Kurstin's synthy pop garden filled with mainly eighties Hall & Oates poppies. You may get a little fey fever from the cutesy beds of midi'd flora, and there are soooo many twees in this musical landscape. But by the time you reach "Sara Smile," the gate's closed, you're in, so just glug your Benedryl, live the woozy.
It's all very Juno, no glossy over-production, and "She's Gone" is a beauty, please release it as a single, would you? With Hall & Oates popping-up like wildflowers (check out the pee-in-your-pants-funny H&O cover band, Adult Education, in She's Out Of My League), you might just catch a break with these lounge-y poptail swingers.
Tracks:
1. Heard It On The Radio
2. I Can't Go For That
3. Rich Girl
4. Sara Smile
5. Kiss On My List
6. Maneater
7. She's Gone
8. Private Eyes
9. One On One
CALL THE POLICES, GOT SOME PRESS RELEASES (ugh, sorry, it was late...)
MTV.com Presents: K'NAAN & WALE Live in NYC March 31st at 9:30pm ET

New York City's The Fillmore at Irving Plaza to Play Host To Tour Kick-Off Concert Event

Acclaimed hip-hop artists K'NAAN and Wale kick off their nine date co-headlining Spring tour this Wednesday, March 31st at New York City's The Fillmore at Irving Plaza. MTV.com will be on hand to webcast the concert, and fans can tune in to MTV.com for the live stream beginning at 9:30pm. During set changes fans will get to check out music videos and exclusive rehearsal footage shot earlier in the week. Fans will also have the ability to interact with others throughout the show by posting status updates and live commenting.

The pair has an electric chemistry, which undoubtedly will leave fans counting down the minutes to the start of what is tipped to be one of the hottest concert events of 2010. The full performance will be available for on-demand viewing the following Wednesday, April 7th on MTV.com. Full tour dates are below. Check out the following links for a sneak peak at the show: http://www.youtube.com/knaan#p/u/0/oLXX5BZ8LUg and a personal message from K'NAAN: http://www.youtube.com/knaan#p/u/1/dnTij-r_sks

D.C. native, Wale, has previously toured with Mark Ronson and JAY-Z and is also slated to perform at Coachella, Bamboozle, and D.C United's season opener as part of their "It Takes More" Concert Series. Wale has been described as "hip hop's hungriest mind and most incisive tongue" with raps that "are some of the most playfully sophisticated in the industry" (Paper Magazine). His album, Attention Deficit, has received critical acclaim since its release, and according to Spin, "sheds light on Wale's evolving personality, and his circuitous story-raps reward deep listening."

K'NAAN's voice will be heard across the globe as his song, "Wavin' Flag," becomes the soundtrack for Coca-Cola's promotional coverage of the 2010 FIFA World Cup™. The Wall Street Journal recently said of "Wavin' Flag": "the upbeat anthem about freedom has a good chance of becoming one of the most ubiquitous new songs of the year." The track is an upbeat, empowering remix, from Troubadour K'NAAN's 2009 sophomore album (A&M/Octone). Do not miss your chance to see him for yourself!

Confirmed East Coast Dates:
*denotes co-headlining date with Wale.
3/31 New York, NY @ The Fillmore at Irving Plaza*
4/01 Boston, MA @ House of Blues*
4/02 New Haven, CT @ Toad's Place*
4/03 Baltimore, MD @ Ram's Head Live*
4/04 Washington, DC @ 9:30 Club*
4/06 Philadelphia, PA @ Trocadero*
4/08 Atlanta, GA@ Center Stage*
4/09 Williamsburg, VA @ College of William & Mary
4/11 Chicago, IL @ Metro
4/13 Cleveland, OH @ House of Blues*
4/14 Columbus, OH @ Newport Music Hall*
Release Debut Take A Vacation!
Out June 8th
First Single "Change" To Be Released April 5th Amidst Band's First US Tour!
"The Young Veins has legs of its own to stand on. And arteries that are chock-full with the blood of past masters." - SPIN Magazine
Ryan Ross has spent the better part of his late teens as the chief songwriter for the wildly popular Las Vegas band, Panic! at the Disco. Throughout the band's two albums, Ryan exhibited a writing progression that began to fall increasingly outside the lines of the band's context. While Panic! were on their last world tour for Pretty. Odd, it became clear that Ross's and bandmate/co-writer Jon Walker's newest compositions needed a more fitting home. Ross and Walker picked up and moved west to California, forming their new quarters under the moniker- The Young Veins.
Following closely in the verve of pop-tunesmiths of yesteryear, California-based 5 piece The Young Veins arrive with their debut, Take A Vacation!, on June 8th (One Haven Music), produced by Alex Greenwald (Phantom Planet) and Rob Mathes (Panic!, Carly Simon, Lou Reed). The live band is made up of Ryan Ross on vocals and guitar (Panic! at the Disco), Jon Walker on vocals and guitar (Panic! at the Disco), Andy Soukal on bass, Nick White (Bright Eyes, Tilly and The Wall) on keyboards and Nick Murray on drums. The album is a tightly-packed 29 minute collection of energetic, yet dreamy and joyful songs. The bluesy-guitar driven lead single, "Change" will be released April 5th amidst the band's first North American tour, which kicked off last week in California.

Take A Vacation! was recorded at Castle Oak Studios and Sunset Sound in LA, and features guest vocals and instrumentation by fellow Angelenos Chief , Alex Greenwald, The Like and Jason Boesel (Rilo Kiley). The LP embraces archetypal styles of the 60's with inflected elements of surf rock, psychedelia, and brit-pop. From the Phil Spector inspired, head-bopping melody of title track "Take A Vacation!" to the dreamy layered vocals on "Cape Town," to the rollicking power pop of "Young Veins (Die Tonight)," the album boasts an impressive collection of gorgeously warm and inventive songs that tip their hat to the vast musical palate of their creators. Take A Vacation's! song progression exemplifies the bands attention to the classic arch of the acclaimed LP's from the masters that came before.

At just 23 years old, Ryan Ross and Jon Walker have penned an album that shines a light squarely on their personal influences and recent geographical relocation. With each song clocking in at 3 minutes or less, Ross and Walker's honey-sweet vocals are coated with the bands choral harmonies and wistful "oohs and ahhs." Featured vintage instruments including the wurlizter, harmonium and stylophone added to the organic, minimal production from Greenwald and Mathes make a glorious concoction.

The Young Veins' have just taken their new songs on the road this spring for the very first time. SPIN Magazine called their recent L.A. concert "a streamlined set of throwback rock." Take A Vacation! will make you want to rock, sway, and hum along to the nostalgic freewheeling rock these gentleman have fashioned.

To build excitement around the band's first U.S. tour, which included a rousing set at SXSW '10, The Young Veins launched a TwitTix contest, asking fans to post their favorite vacation photos for a chance to win tickets to one of the shows. More info on the contest can be found at http://twitpic.com/190dhd.
Popular in the Community