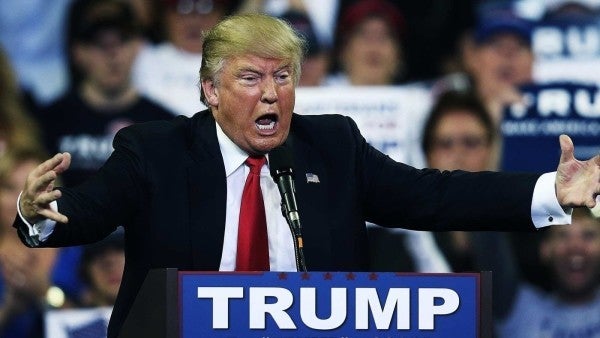 In psychological terms, an enabler is someone who passively permits or unwittingly encourages negative, or maladaptive behavior patterns. A reinforcer is a factor or stimulus that increases the frequency or magnitude of a desired behavior. What we are witnessing in the infancy of the Donald Trump Presidency is an unstable platform upon which the 45th Commander-in-Chief rests; a platform that is being held up by pillars of rampant enabling and reinforcement.
There are four main pillars that currently support (and enable and reinforce) this wobbling platform: (1) Trump's "world class narcissism" with all of its psychological and behavioral idiosyncrasies, (2) the support of his electoral base which includes elements of populism, nationalism, and, unfortunately, sexism, racism, and xenophobia, (3) the members of his White House inner circle, and (4) most, if not all, of the GOP members of Congress. It is not surprising that these four support columns often depend on one another to remain upright.
How is it that this platform could be constructed in the first place?
If you speak with psychological researchers, clinicians, and/or political analysts, they may point out several primary factors, including but not limited to:
How do we continue to challenge the teetering stability of the platform?
As documented by several investigative journalists and columnists, Donald Trump's perch atop this platform may be short lived based on the potentially dangerous consequences of his malignant narcissism, the increased scrutiny and revelation of his alleged Russian ties, his refusal to divest financially coupled with his conflicts of interest, ongoing violations of the Emoluments Clause of the United States Constitution, and the presence of inexperienced, unqualified, and extreme thinkers within his team of advisers (e.g., Steve Bannon, Stephen Miller).
As far as the pillar that is Trump's narcissism, Trump is who he is and there is little to no hope of changing his narcissistic ways no matter how much he is called out for his exaggerations, insecurities, lies, mistruths, grandiosity, lack of empathy, vindictiveness, or delusional behaviors. The deconstruction of this support beam would require the initiation of the 25th Amendment (by Vice President Mike Pence and members of Congressional leadership) or through Articles of Impeachment (which would also require the GOP-controlled Congress).
What about breaking up the pillar that is the inner circle? The addition of new National Security Adviser H.R. McMaster may reduce Steve Bannon's role in the White House but it is difficult to imagine his removal (although there is pending legislation aimed at doing just this) altogether. There is also the possibility that McMaster follows the lead of other intelligence agents and leaves the post due to conflicts with the President. However, the nepotistic and fiercely loyal ties of his children and in-laws most likely represent an immovable force.
The disturbing question is how far over the line (of ethics, of conflicts of interest, of the bounds of reality, of decency) does this President have to go for the GOP to swap their position and prioritize people over Party?
Can the GOP support of Trump be toppled? An overwhelming majority of the evidence shown to date suggests that Republican Congressional leaders such as Mitch McConnell, Paul Ryan, and Jason Chaffetz will not take any steps toward Trump's removal from office (via Impeachment due to verification of Russian ties or indisputable conflicts of interest) as long as the GOP agenda is being advanced by the novice President.
The disturbing question is how far over the line (of ethics, of conflicts of interest, of the bounds of reality, of decency) does this President have to go for the GOP to swap their position and prioritize people over Party?
That brings us to the next, best hope of tearing down the dysfunctional platform holding up President Trump – the so-called Fourth Estate – the free press and members of the media. Despite his best efforts to undermine their credibility, mainstream media outlets rely on fact checking and subscribers. The media has the reach and efficacy to scrutinize all four of the pillars upon which the 45th Presidency rests.
"The mental condition of the President of the United States is legitimate a subject of journalistic concern as it is of everyday conversation."
For clinician scientists such as myself and journalists across platforms to not raise issues of concern would be as Siegel states, "a betrayal of public trust," the turning of our backs on glaringly bizarre and seemingly dangerous behavior, and the normalization of a President who achieved office by unprecedented means and who discharges the duties of his Office from a compromised position.
REAL LIFE. REAL NEWS. REAL VOICES.
Help us tell more of the stories that matter from voices that too often remain unheard.
BEFORE YOU GO