* Enbridge tentatively plans to install new pipe on Monday
* Estimates 1,200 barrels spilled from Line 14
* No restart estimate for 318,000 bpd pipeline to Chicago
* Canada company under fire for safety as $3 bln expansion begins
GRAND MARSH, Wis., July 29 (Reuters) - Canada's Enbridge Inc prepared on Sunday to replace part of a pipeline that leaked more than 1,000 barrels of oil in a Wisconsin field, shutting down a key conduit from Canada and provoking fresh ire from Washington.
The spill on Friday is the latest in a series of incidents that threaten to damage the reputation of a company that launched its most ambitious expansion program ever just two months ago. It came almost two years to the day after a ruptured Enbridge line fouled part of the Kalamazoo River in Michigan.
On Sunday, Enbridge said it tentatively planned to install a new section of pipe on Monday, July 30, although it was still unable to say when the 318,000 barrels-per-day Line 14 would resume service or what had caused the spill, which blackened a small field but did not appear to cause major damage.
"The line has been uncovered to begin removing the failed section and send it to a metallurgical lab for examination," U.S. Pipeline and Hazardous Materials Safety Administration (PHMSA) spokesman Damon Hill said. A PHMSA official said that all of the pooled oil had been cleaned up.
The closure of the line, which transports mainly light crude to Chicago-area refineries, had little impact on U.S. oil futures, which dipped 5 cents to $90.08 a barrel in late Sunday trade. But a prolonged closure could support domestic prices in the cash market if regulators order additional work.
Although the spill appeared to be relatively small and quickly contained, it comes at a delicate time for Enbridge, which suffered another leak in Alberta, Canada, a month ago and endured a scathing report from U.S. safety regulators over its handling of the Michigan incident in 2010, with employees likened to the "Keystone Kops" for their bungled response.
"Enbridge is fast becoming to the Midwest what BP was to the Gulf of Mexico, posing troubling risks to the environment," U.S. Representative Ed Markey, the top Democrat on the Natural Resources Committee, said in a statement.
"The company must be forthcoming about this entire incident, and deserves a top-to-bottom review of their safety culture, procedures and standards," said Markey, an outspoken critic of increasing imports of Canada's heavy oil sands crude.
Canada is the largest source of foreign crude for the United States, supplying over 2.4 million bpd of the more than 8.3 million bpd of imported by the nation on average in July. Enbridge's lines, the world's largest crude oil pipeline system, carry the lion's share of those shipments.
Officials from the U.S. Environmental Protection Agency (EPA) and the Wisconsin Department of Natural Resources are also on site, Enbridge said in a statement.

Just two months ago, Enbridge kicked off one of the most sweeping expansions in its history, announcing a multibillion-dollar series of projects aimed at moving western Canada and North Dakota oil to Eastern refineries and eliminating costly bottlenecks in the U.S. Midwest.
Line 14 is a 24-inch diameter pipe that was installed in 1998, making it a relatively new line. Enbridge said it had been inspected twice in the past five years.

Analysts said the impact of the disruption on Chicago refineries will depend largely on how much crude they have stockpiled as well as the length of the outage. Total Midwest crude inventories have hit a record high over 110 million barrels over the past two months, according to data from the U.S. Energy Information Administration.
But it wasn't expected to affect global oil prices, which have been balancing the risks of a large-scale disruption in Iranian crude against the struggling world economy this year.
"I think that the pipeline (outage) is more likely to have a greater company impact that it will on the oil (futures) market," said Jason Schenker, president of Prestige Economics LLC in Austin, Texas.
A surge in production from North Dakota and Canada has built up inventories in the U.S. Midwest due to a shortfall of capacity to move the oil into the Gulf Coast refining region.

TWO LANDOWNERS, ONE HOUSE 'COVERED'
In most cases, smaller pipeline leaks can be repaired quickly, although regulators may require significant work if they find any cause for alarm. Following the leak in Michigan two years ago -- which spilled roughly 15 times more oil than the Wisconsin leak if initial estimates of the Friday incident prove correct -- one line was shut for more than two months.
Enbridge said two landowners had been affected and that one family had been relocated for their safety and comfort, but that most of the spill was restricted to the pipeline right-of-way. It kept its estimate of the spill at around 1,200 barrels -- about as much as would fit in six very large oil tanker trucks.
It found some oil on two small farm ponds, but said they did not connect to moving waterways and that drinking wells did not seem to be affected.
Local residents said one house had been "covered with oil". Oil trucks, Enbridge vehicles and about a dozen crews were working in the area, which had been cordoned off by sheriff deputies. Local law enforcement officials said they had been told it may take up to 30 days to clean the area.
Enbridge also said it had briefly shut down two larger adjacent lines -- the 400,000 bpd Line 61 and the 670,000 bpd Line 6A -- but both were pumping again within a day. Together with Line 14, they form the backbone of Lakehead, a 2.5 million bpd network that is the main route for Canadian exports.
Another line, the 180,000 bpd Line 13, which carries diluents from Chicago to Edmonton, Alberta, was restarted late Saturday evening, Enbridge said.

Just weeks ago, the U.S. National Transportation Safety Board blasted Enbridge's handling of the July 2010 rupture of its Line 6B near Marshall, Michigan, which led to more than 20,000 barrels of crude leaking into the Kalamazoo River.
The NTSB said it found a complete breakdown of company safety measures, and that Enbridge employees performed like "Keystone Kops" trying to contain it. The rupture went undetected for 17 hours.
U.S. pipeline regulators fined it $3.7 million for the spill, their largest ever penalty.
The incidents, plus the most recent spill in Alberta, have caused furor just as the company seeks approval for its C$6 billion Northern Gateway pipeline to Canada's West Coast amid staunch opposition from environmental groups and native communities that warn against oil spills.

Support HuffPost
The Stakes Have Never Been Higher
Related
Before You Go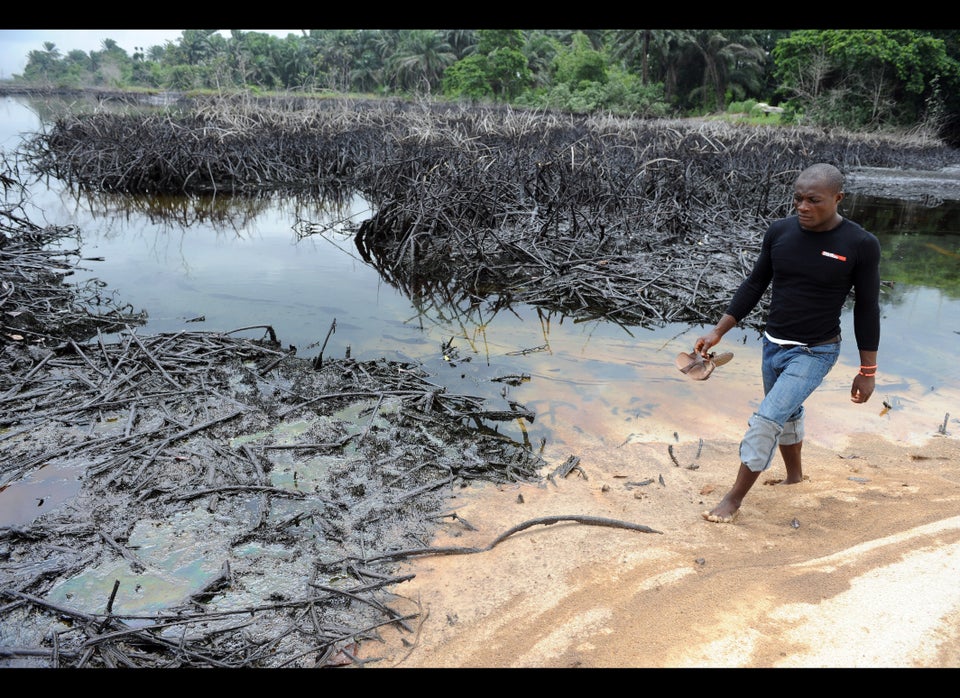 Oil Spills Since The Gulf Disaster
Popular in the Community