Though it's unusual in these times for a celebrity to be admired by three generations of women I wasn't surprised when my daughters gave my mother a Taylor Swift keychain. They purchased it with their 83-year-old grandmother in mind while at the pop star's recent concert.
For this parent, Ms. Swift is more than a pop star. She's a very talented and inspiring young woman with lyrics that summon the profound feelings and empathy of a vast audience of listeners. This is why so many parents and grandparents openly embrace her as a role model for the younger generation.
A generation often brought down by cyber bullying and critical condemnation via social media, it's easy to understand why my daughters and their peers save their money for the exorbitant concert ticket prices (for which the entertainer has little control over) and why parents are willing to drive hours to take their kids to one of her concerts. It's much more than an evening of her pop hits with a quick Hello to Philadelphia (insert the name of your local concert arena) smoldering in the bright lights and smoke screens.
Taylor Swift personalizes everything she does onstage and off. She reaches out, as best she can -- being one person, to her millions of fans from all over the world. She also shares her own misconceptions, personal growth and setbacks in a very real and honest manner letting her fans know they are not alone.
It's amazing to see her uplifting concert clips being shared by her fans on social media. How wonderful is that to have Taylor Swift inspire the younger generation to the point of sharing. Sharing all that is good and encouraging is what these young people need most. Studies reveal that this next generation is far more stressed than previous ones because of pressure put on them from the cost of college tuition, lack of employment opportunities and social media.
At her 1989 tour concerts this summer Taylor Swift continues to bring out special guest(s) that bring the audience to their feet with rambunctious cheers. Most recently, she shared the stage with the entire US Women's Soccer team, honoring their world class victory and paying tribute to these remarkable women to the delight of her audience (made up mostly of young girls aspiring themselves to do something "remarkable")
At a time when it's hard to sell records, Ms. Swift continues to personalize her work by adding Polaroid pictures to her most recent 1989 release and also adds personal background narration to her lyrics. She takes the time to bring her fans into her world. Allow them to feel her sorrow and her gratitude.
My friend, another mother, told me "I drove home from her concert in Northern Jersey (2 hours away) with my daughters at 2 a.m. It was worth it." Most parents plead with their kids, "Take me." Now how many performers can we say that about?
Ms. Swift's backstory gives an understanding to her present day being of a conscientious, driven and grateful young woman. She grew up on a Christmas tree farm in Wyomissing, PA. At 14, determined to be a music star, she pleaded with her parents to take her to Nashville so she could make her dream come true.
Years of hard work and honing in on her talent brought her to the zenith of success. Staying on top can be attributed to her creative talent, devotion to fans, the inspiration to a world of followers both young and old and her quest to make the world a better place through kindness and giving. She's not afraid to share her vulnerability or her anger in a very caring way. A case in point was when someone upstaged her at an awards show. After that happened, my daughter and I were talking about it (as was most everyone else). "She's lovely," my daughter said. "When she was interviewed about it, all Taylor wanted was an apology. She never said anything mean or nasty. All she asked for was an apology."
Taylor Swift is a trendsetter and a force to be reckoned with when it comes to all that she touches. For instance, in her "open" letter entitled "To Apple, Love Taylor," she eloquently takes on the Apple Music empire with great care and integrity. In the end, Apple Music conceded. This is what our younger generation can learn from their "superstar."
My mom loved her keychain and enjoyed the pictures along with the stories my daughters told her about the Taylor Swift concert experience. Mostly, she liked the fact that her granddaughters were given an evening of happiness with memories returning to them through Swift's music. "It was a joy to hear them hum her songs."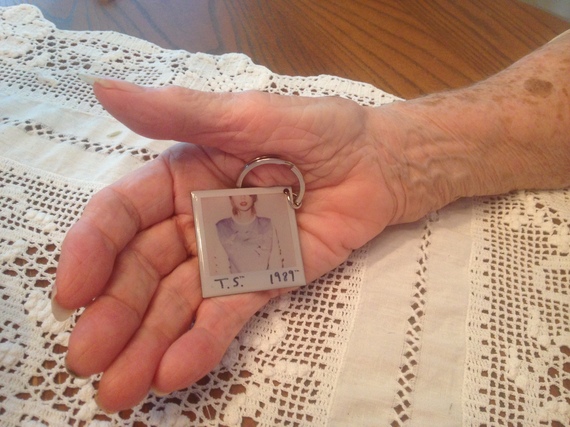 Calling all HuffPost superfans!
Sign up for membership to become a founding member and help shape HuffPost's next chapter