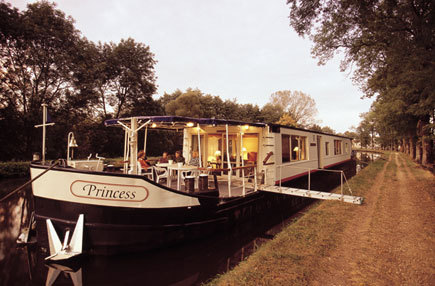 Imagine bucolic, fanciful, fairytale scenery, dappled with stunning chateaux and idyllic sunsets. Tantalizing haute cuisine and royal service are coupled with an elaborate décor and a cascade of Grand and Premier Cru wines. Bienvenue a PRINCESS: For seasoned voyagers as well as novices, this is a kaleidoscope dream getaway...it is a rich rainbow parfait.
Meandering tranquilly on the unapologetically scenic region, the 8-passenger luxury barge cruise is in the heart of the Upper Loire Valley, where a network of canals link Paris to the chateau country of the southwest, a favorite respite for French royalty. The PRINCESS was formerly the private barge of shipping magnate David K. Ludwig.
A cornucopia of gastronomy and sensory extravaganza of architecture welcome you on your six-day cruise. The elegantly-appointed barge includes a staff fit for King and Queen. Meals aboard include succulent local cheeses and sizzling pastries, as well as classic French fare. I devoured the brioche, pain au chocolat, and later fantasized about the Camembert, with a flute of Moet, followed by a crème caramel nothing short of spectacular. My "Barge-mates" provided both scintillating conversation and ample intellectual stimulation during our excursions. While the world spins frantically out of control at a lightning speed, I relearned the joy and art of good living. Joie de vivre! Bon gout! Alfresco dining is an option for casual imbibing. Dinners ashore often include Michelin-starred restaurants with elegant gastronomy, as well.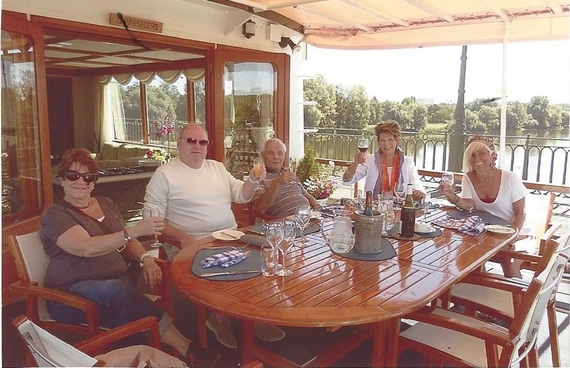 I will long treasure the quaint charm of the village of Sancerre, where we shared a private wine cellar tour and tasting. Overall the gastronomy both on board and ashore is a stunningly creative nouvelle interpretation on local fare, such as escargots de Bourgogne. Total reverence for cuisine reigns. Christened the Garden of France, the Upper Loire showcases pastoral countryside, landscape, architecture and royal culinary skills. My fortunate new friends and I sampled local authentic wines, did some trekking, and biking. Dinner ashore at the Auberge des Templiers in Les Bezards was divine. I was impressed with the tour of the majestic medieval town of Gien. You'll cherish the day trip to the magnificent Chateau de Chambord, the largest of the Loire Valley chateaux.
The 6-night sailings (April to November) delve into French culture on board and ashore with a rich tapestry of enticing amenities on all French Country Waterways cruises.
The genuine French experience extends to each of the gourmet meals: pastries and breads, bought each morning, and freshly squeezed juices for breakfast, innovative cuisine prepared by talented chefs, who use seasonal ingredients to create classic French fare. Additionally, each lunch and dinner is complemented by a selection of Grand Cru and Premier Cru wines, chosen from a pre-season tasting of nearly 200 bottles, and three new cheeses, which range from well-known French varieties to small, locally-sourced offerings.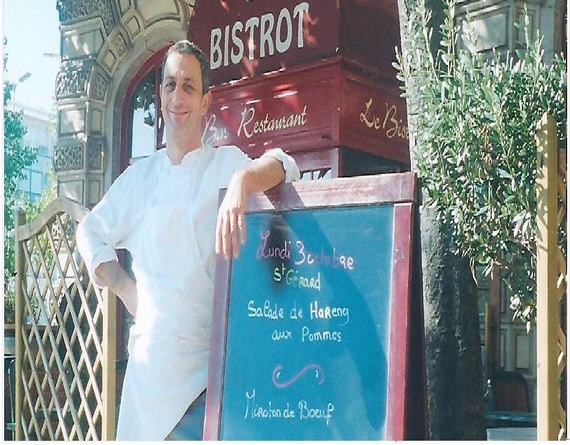 For 28 years French Country Waterways has been offering elegant vacation experiences aboard its own fleet of luxury canal barges. The barges are available for individual bookings and for charter by families, friends and groups up to 12. Special room rates are offered at several deluxe hotels in Paris for guests wishing to extend their stay.
The beauty of Burgundy's fabled Cote de Or wine-growing region reveals itself as the 12-passenger Nenuphar sails along the Canal de Bourgogne; the narrow 18th century Canal du Centre, overlooking vineyards of the Cote de Beaune; and the meandering River Sabine.
The 12-passenger Adrienne, luxuriously outfitted with six king suites, splits her season between the Champagne and Alsace-Stanislas, one of the most beautiful and distinguished squares in all of Europe; and cosmopolitan Strasbourg and its 12th century cathedral, one of Europe's most stunning examples of Gothic architecture; and a wine tour and tasting of crisp, fruity varietals in Traenheim.