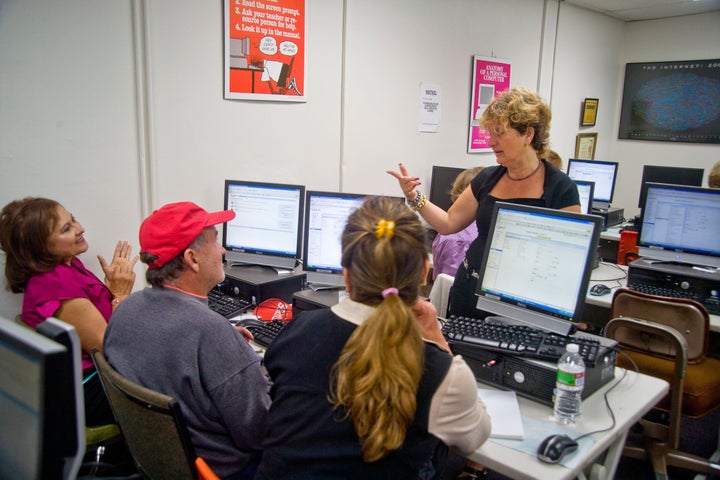 Transitioning into an "encore career" can be a lengthy and expensive process, and more support mechanisms are needed to help post 50s bridge the gap, according to a study released today by the MetLife Foundation and Civic Ventures, a non-profit San Francisco think tank focused on how baby boomers can contribute to social problems through work in the second half of life.
Nine million people ages 44 to 70 who are already in encore careers, on average, started to think about their second acts at age 50, and took about 18 months to make the transition, according to the survey of nearly 2,500 Americans who have already jumped or want to move into encore careers.
Financially, more than two in three respondents who are already in encore careers experienced gaps in personal income during the process. One quarter said they earned no money and 43 percent said they earned significantly less than they had at their previous jobs.
"The financial hardship of the transition really jumped out at us as one of the big challenges," said Jim Emerson, executive vice president at Civic Ventures. "Most people currently in encore careers didn't have much in the way of resources to turn to; most depended on their spouses."
Of those who experienced time with little to no income, nearly four in five respondents experienced a gap of six months or more; 36 percent said their income gap lasted more than two years. It's no wonder then, that of the 31 million people who said they are interested in an encore career, 40 percent do not feel secure enough financially to launch a career that combines passion and purpose in the current economy, the study found.
One of those who successful transitioned to an encore career is Lisa Rogers, 53, a family self-sufficiency manager with the Norwalk Housing Authority in Connecticut. (She participated in the press conference with Civic Ventures.) At 50, Rogers was laid off after 18 years as a director of software engineering for a corporation. She had been an active volunteer with the Alzheimer's Association and wanted to move into the non-profit sector, but was rebuffed for lack of experience.

Rogers attended a three-month program focused on helping seasoned professionals transfer to the nonprofit sector, followed by a two-month fellowship. That paved the path to her new job, in which she helps 220 families in one of Connecticut's largest and lowest-income housing projects with employment, education, childcare and other issues.

"The transition wasn't easy -- my husband and I had a substantial reduction in income for 14 months," Rogers said. "I did receive some unemployment benefits and my savings were reduced. My biggest concern was with health insurance and I was grateful for Cobra benefits. The work is incredibly rewarding; I know I'm making a difference and at the end of day it's a great feeing." (Not all encore-career seekers want a traditional work situation -- nearly one-quarter hope to start their own businesses, the study noted.)
On a policy level, Civic Ventures is lobbying for tax-advantaged savings vehicles to help support older workers changing careers. The state of Washington, for example, has introduced "lifelong learning accounts," preferential savings vehicles to pay for education and training. Employers can match workers' contributions to the accounts.
Related
Popular in the Community