For the past 9 days, we have been privileged to attend the United Nations Climate Change COP 21 in Paris with a group of York College students and professors supported by the American Chemical Society. We have been within an arm's reach of the UN Secretary General Ban Ki-moon as he walked right by us on his way to a press conference down the hall, attended the 2015 Winners of the UN Climate Change Solutions Awards Fete where rapper Sean Paul performed, and participated in several scientific briefings by NASA and NOAA officials at the famed HyperWall at the US Center. But it took a humble farmer from Kenya to move us to tears and make us really understand the human toll of climate change.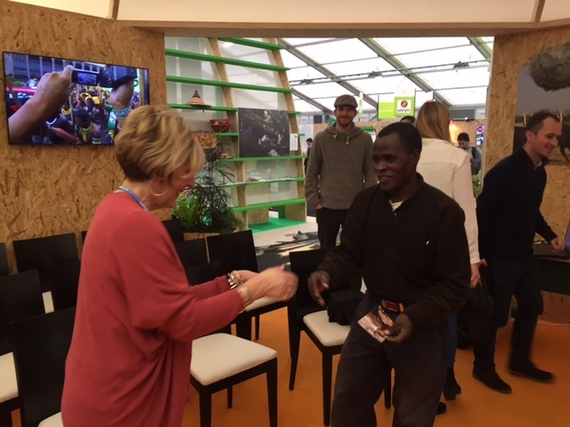 Figure 1: Leigh Foy meeting Kisilu after viewing "Kisilu: The Climate Diaries" at COP21
We met Kisilu Musya at the Indigenous People's pavilion in the Climate Generations area of the COP where an international "fair" type atmosphere prevailed. Kisilu is a subsistence farmer, trying to support his wife and 9 children in a "primitive" home with a metal roof and earthen brick walls back home in his native Kenya. He is educated and speaks English amazingly well. He talked about returning to his rural community to begin farming after looking for other jobs didn't pan out well for him in more urban areas. Kisilu went on to explain to us that what is changing for farmers in his country are the weather patterns that they rely on to grow their food. Normally the climate in Kenya has predictable rains that fall in a seasonal pattern. Farmers know these patterns and use them to plant their crops accordingly. In the past few years, however, he has witnessed precipitation patterns swinging wildly from drought (which was devastating to his food production), to floods (which destroyed his mature food crop trees), to a once-in-a-lifetime windstorm that destroyed his home and threatened the lives of his family. With each of these onslaughts of nature, Kisilu has been amazingly resilient and has pressed forward with a plan to combat climate change on his local level by organizing his community to plant trees! An independent filmmaker found out about his quest and gave him a small camera to record his daily struggles.
Kisilu goes out into his community and tries to educate his neighbors about climate change. He explains to them that the way they can help combat this threat is to plant trees and change their farming practices to keep livestock away from the fledgling trees and to plant more drought resistant crops. He does all of this on a volunteer basis which requires great sacrifices from his wife (who must take up more of the burden of the daily backbreaking farm work in addition to her role of taking care of the house and the children). He confessed "there is sometimes a war inside my head" that tells him he should quit his quest to fight climate change in his community but then he says that path is only "thinking of today and not of the problems of tomorrow". And so with the support of his wife and his community, he presses on - walking to remote areas and talking to others about the need to change their farming practices and plant trees. The filmmakers have taken the daily footage of his life and have produced a documentary called "Kisilu: The Climate Diaries" which premiered for those of us in attendance at the COP. The documentary deeply moved us. It clearly shows a courageous man, a loving family man, and a climate change warrior on the front lines. Kisilu said he understands that others far away from him are making decisions that affect his life and his livelihood but he isn't waiting for governments to act - he is fighting with what he has at his disposal. He is educating others about climate change and planting trees with simple tools and bare hands.
Our encounter with Kisilu at the COP shook our foundation. We really hadn't realized how changes in climate could affect so many others struggling to survive. Moreover, how could we as educators, a high school science teacher and a college professor, best share what we have learned here at this historic climate convention? The last day of the COP we joined several thousand others in a peaceful march at the iconic Arc de Triomphe to urge the nations of the world to act to limit greenhouse gases that alter the Earth's climate patterns. As we was walking along with the parade who did we see? None other than Kisilu taking pictures of the march with his little hand held camera! We shouted and waved to him but he obviously didn't remember us. But we will always remember him - a symbol of the human struggle to survive and the noble pursuit of educating others about climate change and simply planting trees. Now that the world has an historical climate change agreement from Paris, perhaps we will have more tools than this to move towards a sustainable future for all Earth's citizens.
For more information on Kisilu's documentary, visit www.kisilumovie.com. Photos by Leigh and Greg Foy.
Popular in the Community