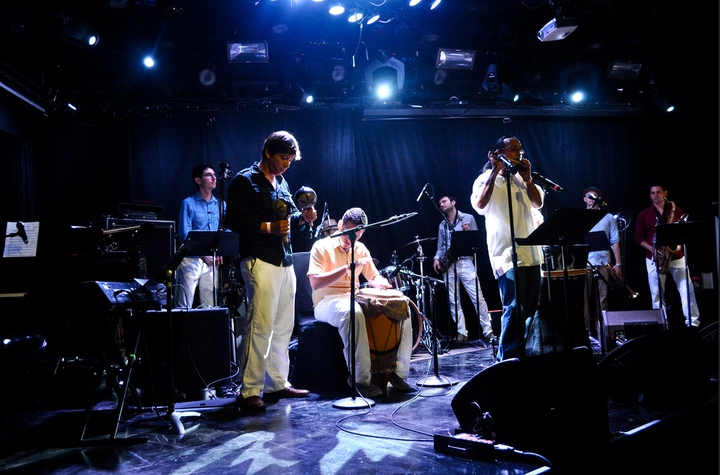 NEW YORK -- The city's largest Colombian music festival celebrates its 12th year on Saturday at Le Poisson Rouge in the Village.
The eclecticism that defines the annual event has packed the venue for the last few years with a diverse group of New Yorkers, some who have ties to Columbia and others who don't. It's not uncommon to see three generations of people dancing side by side.
"We hope that people bring their kids," Pablo Mayor, the festival's founder and director, told The Huffington Post. "This is music for the community."
Dozens of Colombian-born musicians trained in jazz, classical and other styles have built a thriving music scene based in the borough of Queens, and are dedicated to exploring and developing their country's musical roots. Bands that have emerged over the last two decades from that scene might mix Cumbia and big band jazz, or Gaitas and punk.
They've also built relationships with other musicians in other Latin and immigrant communities around the city. This year, Mayor's Folklore Urbano will pay tribute to the music of East Harlem, home to a Puerto Rican community that played a key role in creating Salsa.
Mayor, who teaches music in El Barrio, as Spanish speakers refer to East Harlem, says he hopes to keep young people connected to the musical traditions that gave rise to Salsa in the 1950s and 1960s.
"I came to a neighborhood where you heard music on every corner," Mayor said. "I want to communicate that to people."
But while the festival was born to celebrate Colombian traditions, Mayor says this year the bands were selected with the aim of showcasing new artists who are pushing Colombia's musical roots in new directions.
Los Aliens will play a set of electronic music anchored by traditional Colombian rhythms, featuring the drumming of Andrés Jiménez from Colombian punk-funk outfit MAKU Sound System. The new large-ensemble bullerengue band Bulla en el Barrio will play the festival for the first time. The Gregorio Uribe Big Band, which released its first full-length record last month, will close the show.
Watch the video for Gregorio Uribe Big Band's "Yo Vengo" below:
REAL LIFE. REAL NEWS. REAL VOICES.
Help us tell more of the stories that matter from voices that too often remain unheard.