Pope Francis, when you arrived for the first time in the United States, it was my privilege to be among the throngs of people welcoming you to our home. It was so gratifying to know you would be visiting a prison, and addressing the U.S. Congress, and the United Nations on Climate Care. Your challenges to people of faith to address the needs of the poor inspire me to say YES to you as a Pope of the people.
Your encyclical, LAUDATO SI': On Care for Our Common Home, will help the world of faith and civil society face our climate crisis caused by human beings. Your passionate insistence on facing the facts, with faith and courage, is truly a miracle of our time. Your work to galvanize people of all faiths to shift away from a fossil fuel dependent world could literally save us.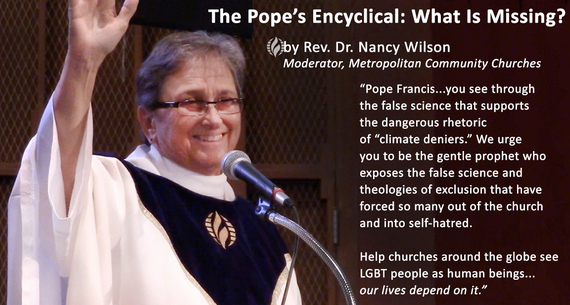 When you connect Climate Care to the issues of poverty and income inequality, we know it is profoundly prophetic. We are cheering you on, and anticipate with great hope that the message you give to both the U.S. Congress and the United Nations will inspire them to do what is right. You bring good news, indeed!
However, as I read through the encyclical, one thing stood out for me. In this comprehensive, scholarly, sophisticated, scientifically accurate, intellectual effort, there is a fundamental flaw. It is not surprising, but it is profoundly troubling.
Nowhere in this document does your encyclical demonstrate any awareness that the status of women -- politically, economically, socially -- is a factor in both climate change and the terrible poverty you seek to overturn.
Women are a majority of the world's people and, with their children, are the poorest of the poor. Women and children are the most vulnerable to the ravages of climate change and the vicissitudes of war and politics.
It is patriarchy, the domination of women, the denial of their moral agency, and selfhood that contributes to the suffering, exploitation, exclusion, and impoverishment of women. These experiences give us an epistemological knowledge regarding body, family, reproductive health, politics and, yes, climate change that is difficult to come by in the hallways that lead to the Vatican. The epistemological gaze at Heaven seems to allow Vatican officials to barely acknowledge the existence of women.
We know that you have seen us, and blessed our children, but the absence of women from the encyclical reveals a blind spot--or even theological glaucoma--that blocks out all but the tunnel vision of patriarchy in the Roman Catholic hierarchy and its magisterium. In the entire encyclical, I could only find one quote from a woman, a long dead woman, Theresa of Liseaux.
Is there not one woman alive today, a woman scientist, a theologian, not one poor woman, who has anything of value to say, to contribute to the conversation?
Despite erudite critiques of modern and post-modern culture in the encyclical, no critique of oppression of women is noted, let alone elucidated. Women are so collapsed into "the family" that they can only be glimpsed in discussions about the degradation of human life and family--once again with no analysis of how grinding poverty, racism, and prisons breaks up families, and leave women and children to fend for themselves in the United States and so many other countries.
Holy Father, may I call you that? In my flock within Metropolitan Community Churches, many are women who felt called to the priesthood. Almost 40% of our members and pastors came of age in the Roman Catholic Church. Besides being excluded as women from the full life of the church, others felt it necessary to leave the church of their birth families because of judgment and rejection for being lesbian, gay, bisexual, or transgender (LGBT). I imagine this makes your heart ache.
It makes it that much sadder that LGBT people are caricatured in the encyclical as being a symptom of a self-obsessed, consumer culture. We are seen as somehow part of a conspiracy against the "traditional family," part of a "culture of death."
That theology will only cause more death, especially the deaths of queer people struggling for human rights in many countries, including predominantly Catholic countries. Pope Francis, you could be a powerful, mitigating force in many Easter European and African countries where there are large Catholic populations. Can you help the Roman Catholic leaders recognize the intrinsic value of LGBT lives?
If you look for the poor, you will find us there. Will you wash our queer feet, too? We are the poor; we are the dispossessed; we need human rights. We are part of the human family. Do you know about the transgender women of color who are murdered at a shocking rate in so many places in the world? Truly, Pope Francis, we are "the least of these" with whom Jesus asked us to identify. Can you tell me why there is not one word in the encyclical to acknowledge the diversity, beauty, and wonder of the human family? The church's silence allows LGBT people to be imprisoned, executed, and persecuted with impunity.
We, queer people long for a healthy planet and we long for our lives to be lived without fear. We, too, are people of faith, who are created in the image of God, and who see our diverse, beautiful identities as just another part of the glorious diversity inherent in creation - which is not made in "man's" image, but in God's image!
Today, I promise to pray for you. I see the good you are doing, and I pray that God leads you to do more. Just as you openly counseled the church to include divorced Catholics, as part of the Body of Christ, please know that it would save lives of countless women and children if you would accept a more modern understanding of family and family planning. You are a scientist by training and the fact is, access to family planning mitigates poverty, and saves the lives of women and their children. Poor women need a Pope who understands the science of these facts.
Pope Francis, you are the Pope who must also lead Catholics beyond a belief that LGBT people are moral failures or self-obsessed individuals apart from families. We all have families. Many of us have pain in our families that is made worse by false science and judgmental theologies of sexuality.
You see through the false science that supports the dangerous rhetoric of "climate deniers." We urge you to be the gentle prophet who exposes the false science and theologies of exclusion that have forced so many out of the church and into self-hatred. Help churches around the globe see LGBT people as human beings--our lives depend on it.
You and the people of Metropolitan Community Churches share the love of God and God's people. It is our job to hold up a mirror to each other when we fall short--and you have been so candid about not being perfect.
I must tell you that, as much as I am thrilled by your commitment to the environment, your crucial blind spots--glaucoma tunnel vision--around gender, family, and sexuality, undermine the most important papal encyclical in 50 years or more. No one could have predicted you would be a Pope so full of mercy. We were stunned when you said, "Who am I to judge?" when asked about homosexuality. Today, we know you are a leader with a vision, so, Holy Father, don't judge us, listen to us, especially those of us who claim that our faith undergirds our common humanity. Start by listening to LGBT Catholics, the way you are listening to those who have been sexually abused by priests. There is a deep need for truth and reconciliation among those who are LGBT and grew up Roman Catholic.
Pope Francis, we need a Vatican III that focuses on the human family as it is, not as it was, or was idealized, hundreds of years ago. We need a Vatican III that actually hears the brilliant, committed voices of women and of LGBT people of faith. Just spend a year or so listening. If you cannot spend a year listening, start with a month. It will change everything - including the climate.
Calling all HuffPost superfans!
Sign up for membership to become a founding member and help shape HuffPost's next chapter